For an athlete to win all his or her fights without losing any is a rare feat to achieve. Floyd has made that record as one of the most successful boxers in the world. He has made a considerable fortune with his gloves, and as one of the highest-paid athletes, Floyd Mayweather net worth is mouth-watering. He had the money fight that fetched him $300 million within a period of one year.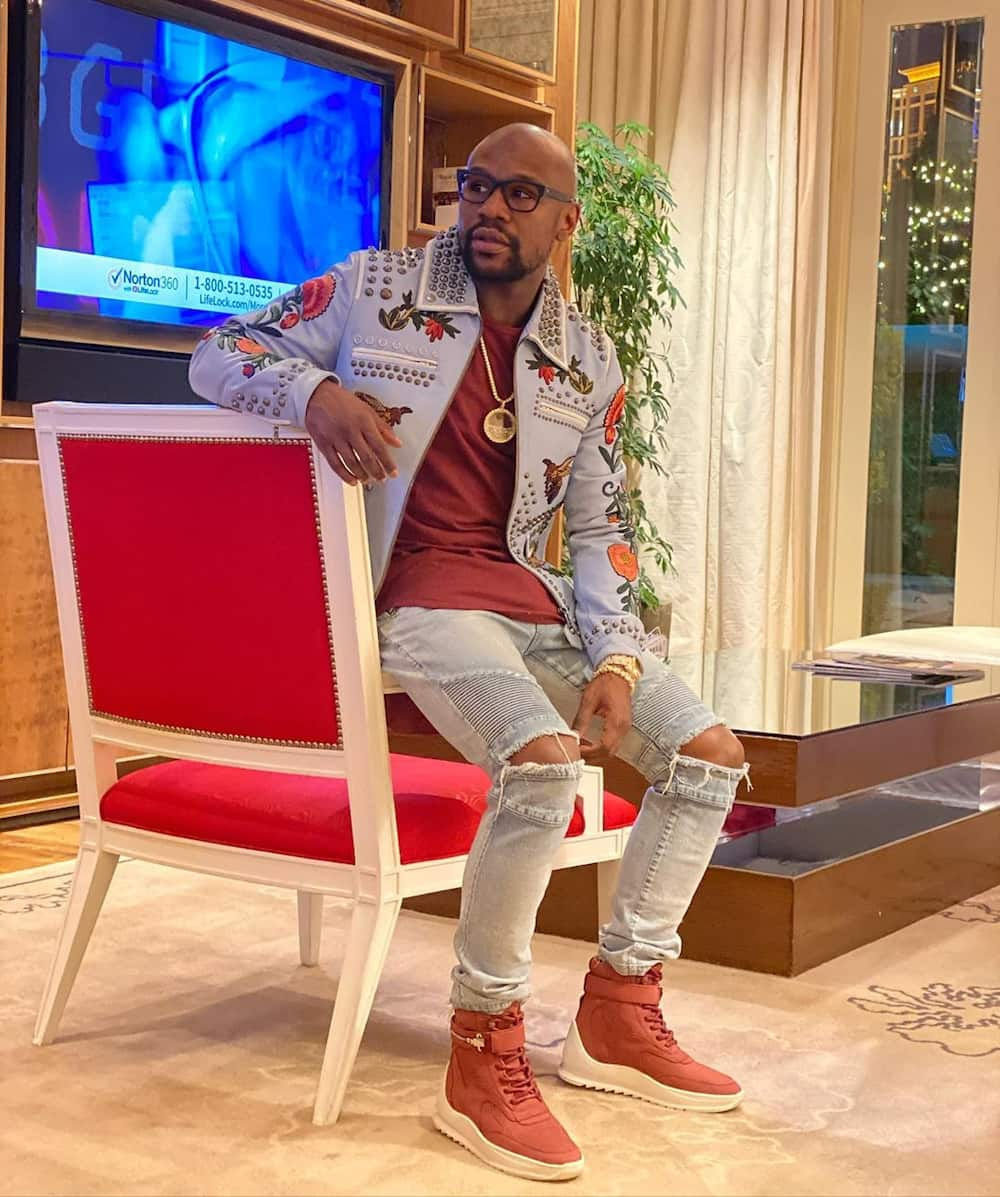 Floyd Mayweather net worth 2017 went up by millions of dollars after his fight with Conor McGregor. It was an incredible fight that went in his favour. Apart from that, the fight against Manny Pacquiao was a deal-breaker for the American champion. Incredibly, a total of $73 million were made from gate tickets and $600 million on pay-per-view.
Mayweather's profile summary
Full name: Floyd Mayweather
Date of birth: 24th of Feb, 1977
Birthplace: Grand Rapids, Michigan
Age: 43 years old
Nationality: United States of America
Gender: Male
Height: 5 feet and 8 inches (1.73 m)
Profession: Professional boxer, actor, and athlete
Hair colour: Black
Net worth: $565 million
Weight: 70kg
Background information on Floyd Mayweather
Who is Floyd Mayweather? Floyd is an American boxer. He was born in Grand Rapids, Michigan, as Floyd Joy Sinclair. Interestingly, Floyd Sr., his father, was a welterweight contender, and he has uncles who were IBO super featherweight, WBA super featherweight, and WBC super lightweight champions. When Floyd was much younger, his father would take him a lot to the gym. From there, he began to through punches, and by seven years of age, his first pair of boxing gloves already fitted him.
READ ALSO: Tsepo Masilela biography: age, measurements, wife, parents, current team, salary, stats, Instagram, cars, house and net worth
In the early days of his career, he was often called "Pretty Boy" because of his face, which was unmarked. He got a bronze medal from Olympic even before he became a professional boxer. Aside from that, he has three national Golden Gloves. As of the time of publishing this article, Floyd Mayweather age is 42 years. He was born on the 24th of February, 1977.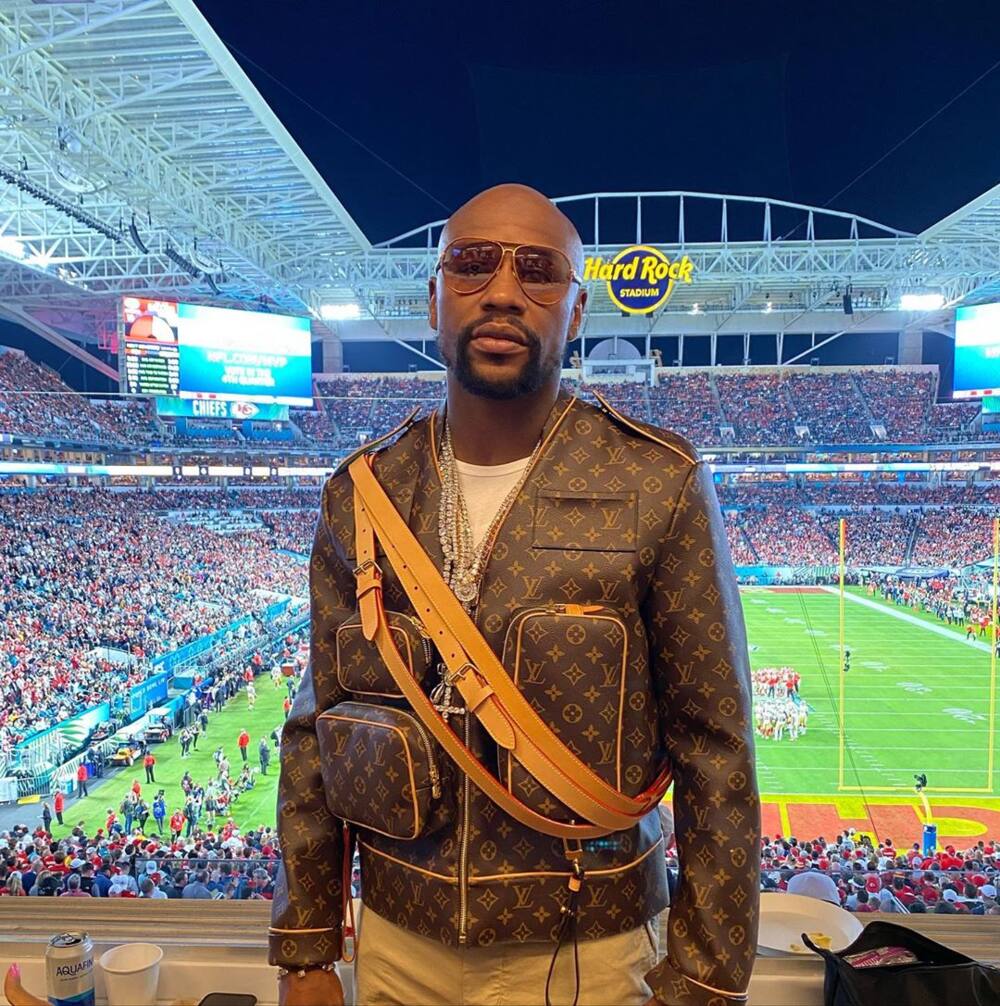 Floyd Mayweather net worth
Floyd is, no doubt, one of the most successful athletes of all time. According to Celebrity Net Worth, Floyd Mayweather net worth is estimated at $565 Million. But then, this is not a surprise considering a total of 50 wins and 0 losses that he had recorded in his career. Floyd took home the sum of $300 million for his win against Conor McGregor in August 2017. Earning such an amount in a single fight is mind-blowing.
But before then, he had earned $250 million from his fight against Manny Pacquiao in May 2015. How much did Mayweather win throughout his entire career? According to Kurt Badenhausen of Forbes, the total money Mayweather has earned throughout his career amounts to $1 billion. Interestingly, from 2012 to 2014, he made the Forbes' list of the highest-paid athletes in the world.
Floyd's children
Floyd Mayweather children are from different ladies who he had relationships with in the past. Does Floyd Mayweather have a son? Yes. He has two sons whose names are Zion and Koraun, and two daughters whose names are Iyanna and Jirah Mayweather.
How many girlfriends does Floyd Mayweather have?
The professional athlete has had multiple relationships with many ladies in the past. Though a few of them were rumours, some of them were true. They include Chilli, Doralie Medina, Jennifer Duran, Keyshia Cole, Shantel Jackson, and Lindsay Lohan.
READ ALSO: Hlaudi Motsoeneng biography: age, married, matric, WITS, political party, SABC, salary, and latest news
He was engaged to Josie Harris between 2005 and 2010 and Shantel Jackson from 2010 to 2014. Many sites have spread Floyd Mayweather wife rumours, but at the moment, there is no confirmed information that he is married.
Mayweather's body measurements
The rich champion stands tall at 5 feet and 8 inches (1.73 m) with a bodyweight of 154 lbs (70 kg).
Floyd Mayweather Jr. division
The professional athlete holds five division titles even though many have criticised him on the basis that his titles are not legitimate just like Manny Pacquiao. They claim that the professional athlete has been getting many titles because Floyd Mayweather fights with weaker opponents.
However, to determine the veracity of this statement, it is important to look at his titles and the persons he fought with. The value of his wins should be examined within these two contexts. We can remember Victor Ortiz was declared a welterweight champion for his victory against Andre Berto.
How many cars does Floyd Mayweather have?
Floyd's excess spending on exotic cars drew the attention of the taxman. It was reported in 2017 that he had a credit of more than $30 million in outstanding taxes to the IRS. He has over 20 luxury cars in his garage in his Las Vegas home. Some of Mayweather cars include: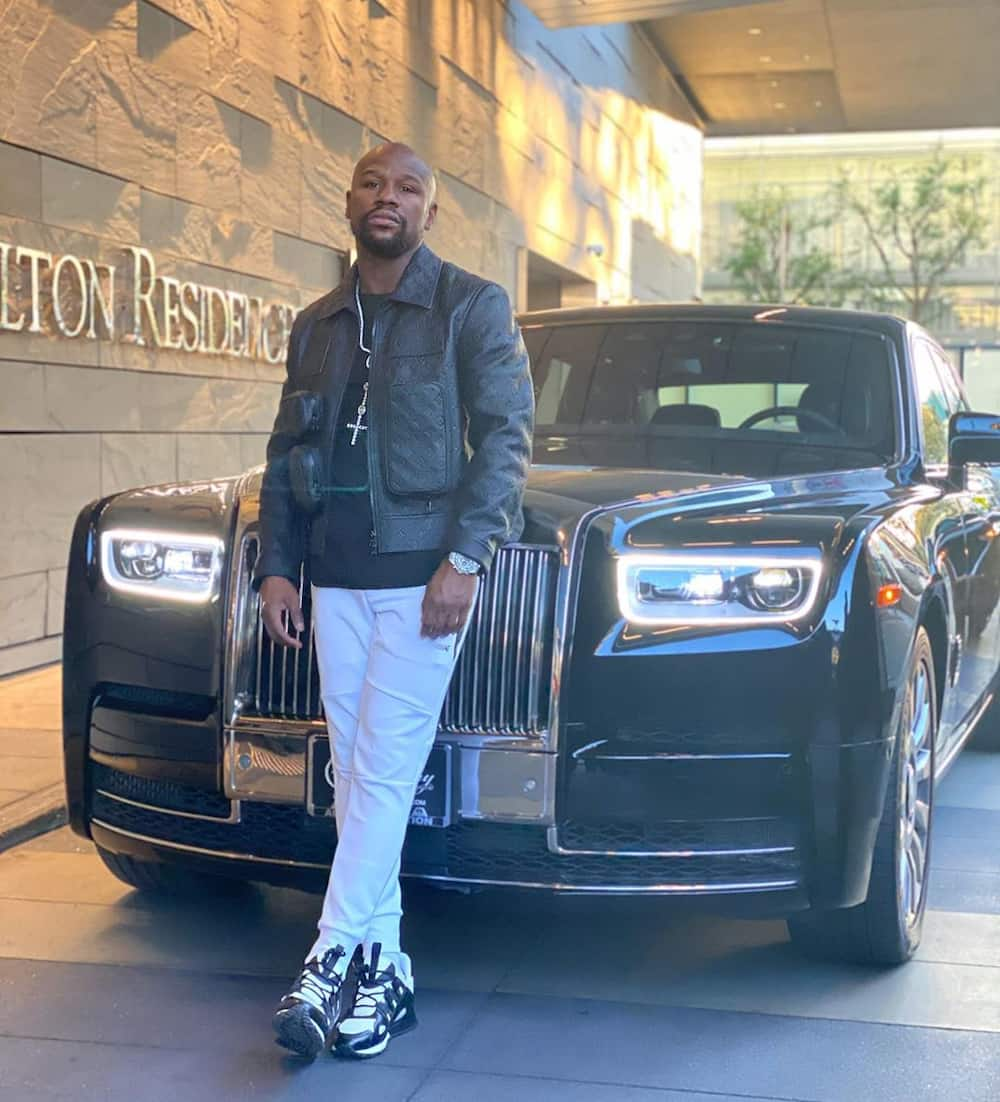 Koenigsegg CCXR Trevita;
Bugatti Chiron;
Bugatti Veyron;
Bugatti Grand Sport Vitesse;
Pagani Huayra;
Aston Martin One-77;
LaFerrari Aperta;
Ferrari 458 Italia.
Floyd Mayweather jet
The famous boxer is in the habit of showcasing his wealth on his official Instagram page, at least, as a way of entertaining his followers. On one occasion, he posted some photos of his private jet which he called ''Air Mayweather.''
The aircraft is estimated to worth $60 million. It flys for a range of Mach 0.85 or 650 mph (1,050 kilometres per hour). The brand of the machine is Gulfstream G650.
Floyd's houses
Floyd Mayweather house has been a subject of discussion among many people because of its worth. It is almost like paradise on earth. The retired boxer paid the sum of $25 million to own the mansion located in Los Angeles. Inside the house, one can find a 12-seat cinema, a candy shop, and a wine rack that can contain 225 bottles.
Floyd broke many unexpected financial records within his career history. The amount of money he got from a single fight was unprecedented. Since 2006, it is interesting to know that the least amount he made from a single fight was $25 million. Unlike many athletes, Floyd Mayweather net worth is still stable even though he has dropped his gloves at the moment.
READ ALSO: