If you are a South African and you do not know the Ladysmith Black Mambazo group, then you should check your history books for the first South African Cultural Ambassadors to the world. It was a title given to them by SA's first president and a big fan, Nelson Mandela. But the title was not given without merit. The Zulu singing group is the only African musical group that has received more than 15 Grammy nominations. Their award in 2018 for Best World Music Album is their fifth Grammy title since 1960 when their journey began.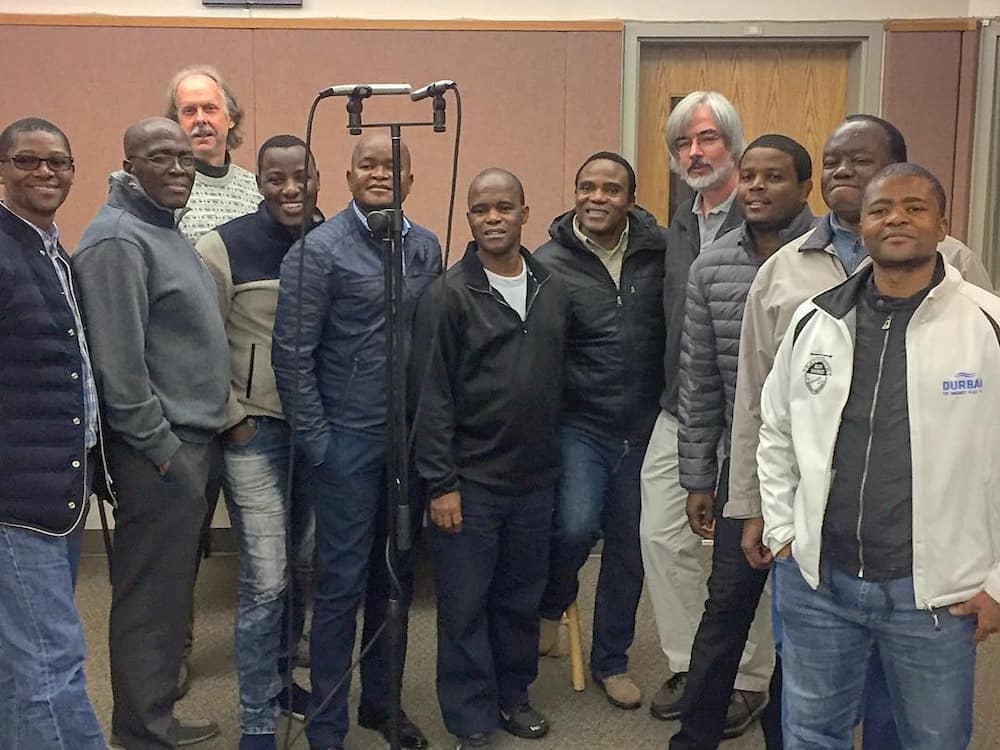 Indeed, the group has been consistent and exceptional. However, their achievements have had its sad moments. On February 11, 2020, the group announced the demise of the founding leader, Joseph Tshabalala. Therefore, in tribute to him, this article gives you the complete facts about Ladysmith Black Mambazo.
When did Ladysmith Black Mambazo start?
Ladysmith was founded in 1960, and the journey began with a local farm boy in KwaZulu Natal. The group was almost like a family affair, which made people ponder, 'Who is the leader of Ladysmith Black Mambazo?'. Joseph Shabalala formed the group together with his brothers and cousins.
READ ALSO: Kenny Kunene bio, family, education, businesses, house, cars, net worth
By early 1980, the group has already dominated the South Africa music scene. However, their fame spread across the world after meeting with Paul Simon, an American musician. The unique collaboration between Paul Simon and Ladysmith Black Mambazo resulted in the popular album known as 'Graceland'.
One year after, they released 'Shaka Zulu', the album that earned them their first Grammy. After that, the awards kept coming. In 2004, another Grammy came in for the song Raise Your Spirit. More Grammys came in 2009, 2013, and 2018. Their recognition is not limited to singing alone as they had an Oscar nomination in 2001 for their documentary movie called On Tip Toe: Gentle Steps to Freedom. The film was about the group and their journey into stardom.
What does Ladysmith Black Mambazo mean?
The young farmer, Joseph, carefully coined the name to symbolize everything about the group. For instance, Lady Smith is their hometown, and it is where the members are living today. The word 'black' meant more than just their skin colour; it is referred to as the strongest farm animal, the oxen. The most important part of their name is Mambazo, which means chopping axe in Zulu. Together, Black Mambazo stands for their vocal strength, which led to their success.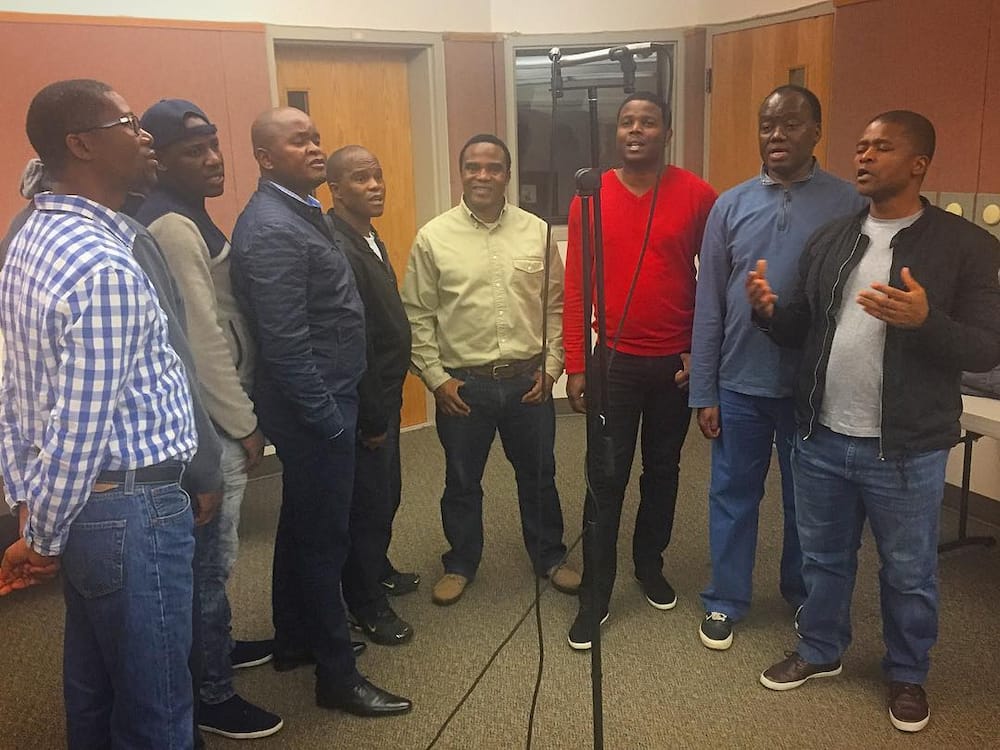 The Zulu singers gained popularity after their breakthrough record contract in 1970. Their unique music evolved from the South African mines, which consist of poor miners. The miners enjoyed only one music genre — Isicathamiya. Joseph, together with his group members, won several local competitions singing this unique genre. For Ladysmith Black Mambazo, traditional heritage was everything; they preserved, lived, and sang about it.
They have gathered the highest amount of Grammy nominations than any world music group. If you doubt their fame, you should know that the Zulu choristers have had famous collaborations that include Josh Groban, Dolly Parton, and Stevie Wonder. They have also featured in the soundtracks of popular movies like The Lion King II from Disney studios and Coming to America.
It is no surprise that Nelson Mandela was a big fan. In fact, the group travelled with him to Norway for his Nobel Peace Prize Award in 1993. After bidding goodbye to apartheid in 1994, they sang at the inauguration of the first South African president. This was enough reason to brand them as the Cultural Ambassadors of South Africa. After more than five decades of singing, the group leader, Joseph Shabalala, decided to quit the music scene. He passed the baton to his sons, who had been initiated into the group in 1993.
READ ALSO: Zinhle Ngwenya bio, family, wedding, advocate, car, profile
How many members are in Ladysmith Black Mambazo?
The number of Ladysmith Black Mambazo singers is always changing. The group started with Joseph (founder), Headman, and Jockey Shabalala. They also had their cousins, Albert and Abednego Mazibuko. The other founding members are Jabulani Dubazana and Russel Mthembu. The sons of Joseph, Thulani, Msizi, Sibongiseni, and Thamsanqa, also joined the group later.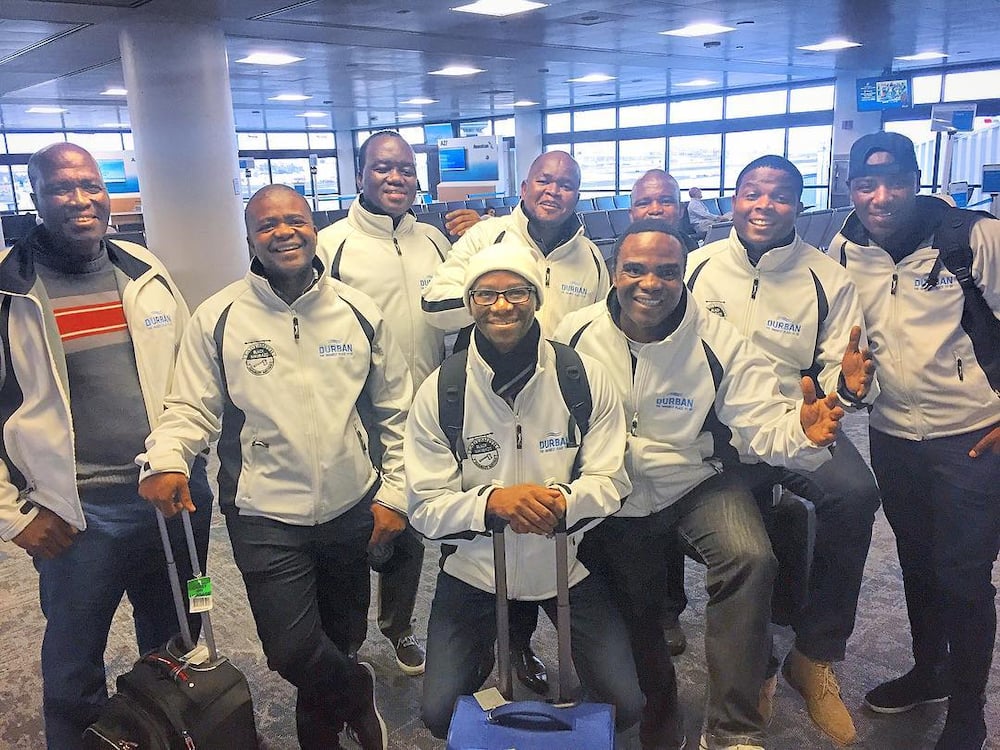 Headman Shabalala died in 1991. He died after an altercation with another man while driving on the highway. According to witnesses, the unidentified man brought out his gun and shot him on the road where the argument had started. Another sad demise was in 2006, and it was about the other brother, Jockey Shabalala.
Jockey died from natural causes as he suffered from multiple ailments. Today, the elder brother and founder, Joseph Shabalala, is dead. However, we know that Ladysmith Black Mambazo songs will forever remain in our hearts.
What genre is Ladysmith Black Mambazo?
The name of their genre is Isicathamiya and Mbube. The Zulu choristers are famous for their acapella renditions, mostly in the Zulu language. Their style is unique and can be heard in all Ladysmith Black Mambazo albums. For instance, in the award-winning Shaka Zulu album, Ladysmith Black Mambazo 'Hello my baby' song was popular both locally and internationally.
Their music also reveals the effect of apartheid on South Africans. They coloured their music with the sufferings of the average South Africa man. This can be seen in the touching melody of Ladysmith Black Mambazo homeless song, which was released in 1986.
Truly, Ladysmith Black Mambazo has been using their music to inspire and change the plight of South Africans in the apartheid era. They have not stopped using their harmonious voice to pass their message. They will always be remembered for placing South African music on the world stage.
READ ALSO: Noni Gasa bio: age, family, bursary, academy, profile