South African artist Ntsiki Mazwai is a woman that has managed to stand out from the crowd with provocative comments. Briefly.co.za recently discovered that, at the core, Mazwai is a proudly African individual with the interests of humanity and progress at heart.
PAY ATTENTION: Click "See First" under the "Following" tab to see Briefly.co.za News on your News Feed!
Ntsiki Mazwai has recently gained something close to infamy with her provocative comments on social media.
But the homegrown artist has cleared the air, revealing she uses online platforms to encourage debate and its not how it's been interpreted:
"My Twitter account is a platform for engagement, it's a platform for us to debate different points of view so that we can get better as humanity. So, when I tackle racism I'm creating a platform for black people and white people to talk. When I tackle patriarchy, I am creating a platform for men and women to speak."
READ ALSO: Ntsiki Mazwai feels all Africans should be allowed to roam freely
Briefly.co.za recently had the opportunity to chat with Mazwai about Africa's place in the world, her vision for it and her message to Mzansi with her art:
1. Would you agree that Western personalities and trends are influencing Africans to move away from what makes us unique?
I would definitely agree with that and further add that this is a result of Imperialism and the American monopoly over media. The standard is always America, we Africans don't actually have a real African mainstream media platform pushing our own narrative and standards. There is no radio, TV or news platforms that celebrate African authenticity. EVERYTHING is just an imitation of western trends. The African identity is completely lost.
Hlaudi ( Motsoeneng) was correct when he said 90% local music this was a step in the right direction but because we are so colonized we didn't even realize it.
There is no reason black women should be wearing foreign hair... That trend is a western trend influenced by the media. I feel sad when I see how much influence media has on us and how we are losing our prolific African values. I feel sad because I feel that our values are more humane and communal than the vanity and Individualism of the west. We are also so much more culturally rich, I feel like we have sacrificed ourselves in order to fit in.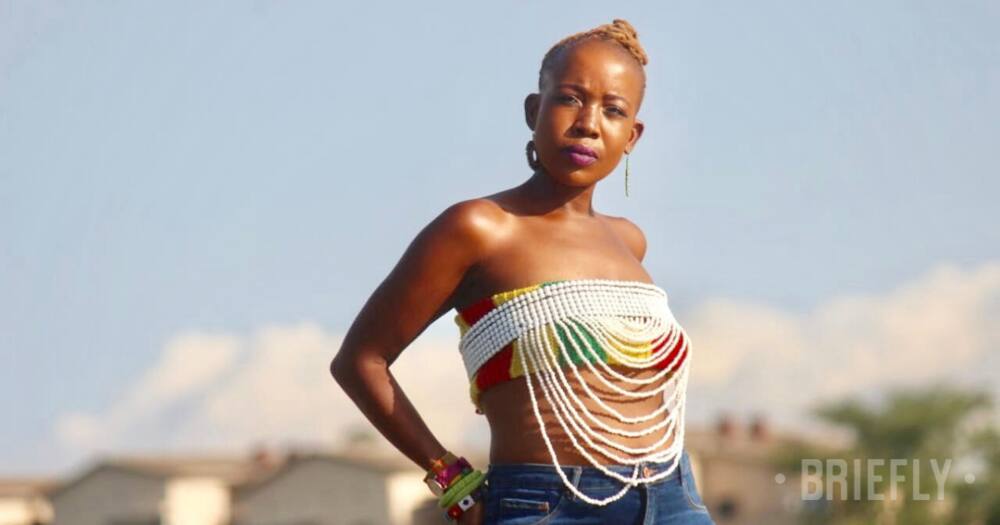 2. Which traditional trends would you like to see expanded on when it comes to homegrown designers and artists?
I wish local artists and designers would be more comfortable in their skin. I wish we would stop looking to the west for inspiration and validation but rather look within our rich culture. I wish to see them experiment more with our different ethnic groups and cultural traditions. I would like to see art that is distinctly African as a pose to an imitation of America or Europe.
I would like to see artists teach the world about us and our own ways. I would want to see artworks that reflect our ancient ones in their splendor.
I feel like Africans have distanced themselves from themselves I would like to see artists move back to being comfortable being African. I would like to see more confidence in being unique. There is a lot of diversity in South Africa, I would want to see that reflected in the art we produce.
I would want to see more Black and less White Lite
3. When you visualise a modern Africa, what stands out the most for you?
In my modern Africa... Owing to the fact that Africa is feeding the world..... Everybody would have a roof over their head. There are no homeless people in the African vision I hold. In Africa we never had homeless people, this is a new trend that came with colonialism.
My modern Africa goes back to ancient times wherein a community, nobody is homeless.
4. If you had to convey your core message with your poems and beadwork pieces, what would it be? Do you use different mediums to convey separate ideas or are they all inherently you?
I think that in a perfect south Africa I would get to enjoy my creative gifts and make songs and poetry about love and other important matters of having fun, but the social-political climate of SA dalliances does not allow for such dalliances. I have the responsibility to use my art and voice to affect change in SA. In the absence of African media, we artists have to be mediums of communication.
I have an interesting relationship with my gifts. The beadwork is introspective and gives me an opportunity to try to unpack all my feelings about life experience. It is a sacred energy that goes INWARD.
The music/poetry, on the other hand, is an outward expression. It is where I get to show off my energy to the world. These gifts work together because one is loud while the other is grounding. I believe in the circles of life and I believe that's how my creative cycle works.
I think my bodies of works represent different aspects of me but I also think that in the end, all my multiple personalities are giving one message.
That message is freedom. I think that everybody has the right to be their true selves. I suppose that's why I'm so loud and present because I believe I have the right and life privilege to be here and enjoy my experience on this earth. I use my voice so that we can all enjoy our life experience here.
5. You recently highlighted the importance you set on education, is this something you feel celebrities don't promote enough?
I absolutely think that knowledge is power. Even if you can't afford formal educational training I think you should always be feeding your mind with information. It is amazing how one small piece of knowledge can have an impact on the course of your life. Ignorance is not bliss. Ignorance will make you miss valuable opportunities. I think that we live in a time that underestimates the power of being smart in this world.
I think our celebrities focus a lot on beauty. I do not think that this is a sustainable way to build a life. Looks come and go but nobody can take knowledge away from you. I think that one of the best things I ever did for myself was to go back to school to get my Masters. That degree has empowered me in so many ways and I know that it is still going to work for me long after I have lost my youth and thick thighs. I wish I had the funds to do my Ph.D. really, there is nothing quite as empowering as being clever. And I do acknowledge that not everybody is an academic but I do think it's important to have at least one thing you're really knowledgeable about. It just makes you a little bit more interesting.
6. What are your viewpoints on the current situation in South Africa?
The current South Africa needs communication or it's going to implode. The gap between the rich and the poor needs to be addressed otherwise crime shall continue to rise and even more violently.
I think our politics are dead and I don't know what to expect 10 years from now. The lack of strong female leadership is glaring and could lead to the collapse of the system. I don't see the new generation of women holding men up any much longer.
I just don't know what to expect with South Africa because one minute you think we are getting better and the next minute our ugly underbelly is exposed.
South Africa needs a clear communication channel that is going to unite everybody.
Enjoyed reading our story? Download BRIEFLY's news app on Google Play now and stay up-to-date with major South African news!