- From April 2020, South Africans who were denied access to advanced education by the previous regime's system can apply to study for free at Harvard University
- The top international university established the Harvard South Africa Fellowship Program
- It's intended for mid-career professionals who have been educationally disadvantaged by past laws and resource allocations in Mzansi
PAY ATTENTION: Click "See First" under the "Following" tab to see Briefly.co.za News on your News Feed!
South Africans who were previously disadvantaged by the previous regime's laws now have the opportunity to study at one of the world's best and most prestigious universities.
Harvard University established a programme that's intended to help mid-career professionals who have been educationally disadvantaged by past laws.
Those who have shown considerable skill in their chosen fields could have the opportunity to partake in the Harvard South Africa Fellowship Program in Boston, Massachusetts.
The aim of the programme is to equip the successful individuals with tools that they can use to further South African political, social and economic progress.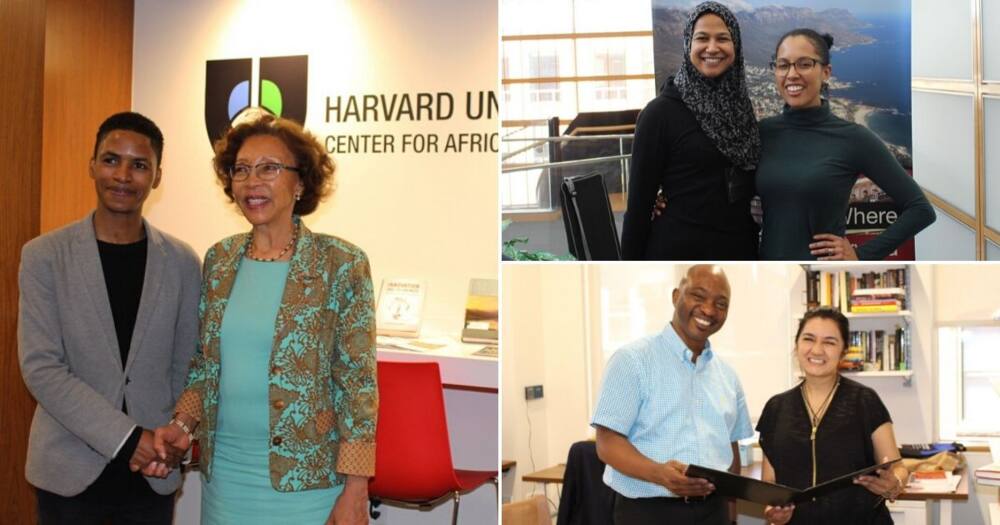 READ ALSO: Siblings caught on video helping kids cross water, inspire SA
Briefly.co.za took a look at all the details to help those interested understand the process and programme in depth.
According to our source, Masi Tontsi, fellowships are for up to one year of study in one of Harvard's Professional Schools or Graduate School of Arts and Sciences.
Successful applicants' tuition will be provided by the school and general administrative funds for programme management, stipends and airfare for the fellows are provided by the Office of the President and administered by the Center for African Studies.
"The Harvard University Center for African Studies is globally recognised, interdisciplinary body committed to broadening knowledge about Africa and engagement with African perspectives through scholarship, collaboration and dialogue," Tontsi revealed.
The programme was established by former Harvard University President Derek Bok in 1979 with the aim to address the needs of South Africans who were denied access to advanced education by the apartheid system.
Derek Curtis Bok is an American lawyer and educator and Harvard University's 25th resident from 1971 – 1991. He was also the 7th Dean of Harvard Law School (1968-1971).
Despite creating the programme for previously disadvantaged individuals, anyone can apply.
"The programme is for any South African who has shown considerable skill in their chosen fields and stand to benefit from advanced training, and, it is hoped, can use that advanced training to further South African political, social and economic progress," Tontsi said.
Since 1979, 217 South Africans benefited from the Harvard South Africa Fellowship Program.
Mid-career professionals can apply by clicking on the link. The deadline for applications is 15 April.
Enjoyed reading our story? Download BRIEFLY's news app on Google Play now and stay up-to-date with major South African news!