Brad Pitt is an American film producer, humanitarian activist, and actor. He is a renowned actor and you may know him from any of his numerous movies and awards. Some of his successful appearances include Ocean's Eleven (2001), Once Upon a Time in Hollywood (2019), Troy (2004), Mr. & Mrs. Smith (2005), and many more. Due to his success, he is considered one of the most influential figures in the entertainment industry globally.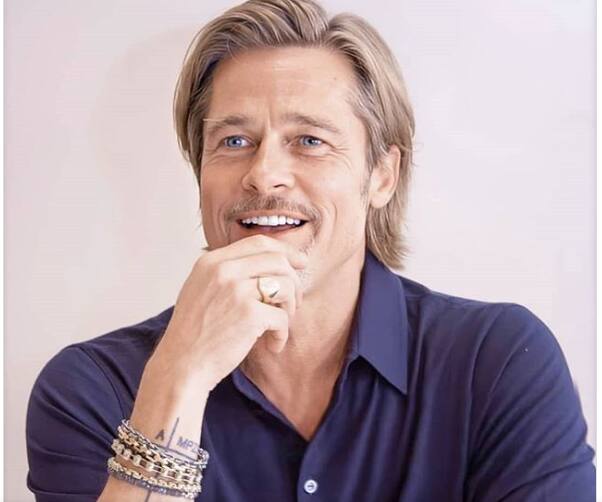 What's Brad Pitt's real name? Did you know that Brad Pitt held the mantle of the most attractive man in the world for several years by numerous media outlets? Clearly, there is so much about him. Here is the interesting life story of this icon that will give you a better understanding of who he is.
Brad Pitt profile summary
Full name: William Bradley Pitt
Date of birth: 18th December 1963
Place of birth: Shawnee, Oklahoma, United States
Brad Pitt age: Will be turning 57 years old at the end of 2020
Nationality: American
Relationship status: Divorced
Occupation: Actor, humanitarian activist, and film producer
Brad Pitt height: 1.83 meters (5 feet 11 inches)
Brad Pitt net worth: About $300 million
Famous for: His multiple movies, awards, and holding the title of the most attractive man for years
READ ALSO: Lupita Nyongo bio, family, boyfriend, movies, books, car, house, profiles
Brad Pitt biography
Is Brad Pitt from Oklahoma? Who is Brad Pitt's father? Brad was born in Shawnee to parents William Alvin Pitt (father) and mother Jane Etta (née Hillhouse) in a conservative Christian house. Brad Pitt father, Alvin, was a trucking company proprietor while Brad Pitt mom was a school counsellor. Eventually, they moved to Springfield, Missouri where he grew up with his siblings Julie Neal (born 1969) and Douglas Mitchell (born 1966).
When he was of age, Pitt went to Kickapoo High School also in Springfield. At school, he was an avid athlete participating in golf, tennis, and swimming. He was also into school debates and musicals. After high school, he went to the University of Missouri in 1982 and majored in journalism (Advertising specialization). Just before completing school, he went to Los Angeles where he learned acting.
Brad Pitt career
During his struggling days in LA, Roy London gave him some acting lessons, and in 1987, Pitt's career started with uncredited parts in three films. The films, which were all in 1987, are No Man's Land, No Way Out, and Less Than Zero. In the same year, he made his TV debut in a soap opera called Another World, which was on NBC. His first leading role did not come until 1988 in the film The Dark Side of the Sun although it was released in 1997.
However, 1994 was the major turning point in his career when he starred in the film Interview with the Vampire: The Vampire Chronicles, where he played the role of Louis de Pointe du Lac. The glittering cast included the likes of Kirsten Dunst, Tom Cruise, and Antonio Banderas. In the next year, he starred in the movie Seven together with Gwyneth Paltrow and Morgan Freeman.
In 1999, he starred in his popular film Fight Club where he played the role of Tyler Durde, which was based on the book by Chuck Palahniuk. In preparation for that movie, he consented to remove his teeth and did extensive fight training to perfectly do the part. Despite mixed opinions, the film was well-received worldwide.
In 2004, he had two starring roles as Achilles in Troy and Rusty in the popular Ocean's Twelve movie. Just like before, his hard work came to the fore when he spent six months of sword training in preparation for Troy. More recently, he worked on Once Upon a Time in Hollywood in 2019 and Ad Astra in the same year.
As a humanitarian activist, he is a support of the ONE Campaign, which helps fight AIDS and poverty in developing nations. He has visited a number of these countries and donated substantial amounts of money to these causes. In his endeavors, he has worked with the likes of George Clooney and Matt Damon.
Brad Pitt movies
What's Brad Pitt's latest movie? What movie is Brad Pitt working on now? His latest movie is Kajillionaire (2020) and other upcoming movies include Irresistible (2020) and Blonde (2020). He is filming 11 episodes of The Underground Railroad television series, and Americanah (2020) is one of his pre-production films this year. Other Brad Pitt pre-productions include The Curious Incident of the Dog in the Night-Time and Black Hole. He is the executive producer of Untitled Chris Cornell Documentary (announced) as well as the producer of Wrong Answer (announced) that is expected in 2021. Some of his numerous films and TV appearances include:
Big Men
The Departed
The Last Black Man in San Francisco
Deadpool 2
Less Than Zero
Spy Game
Seven
Head of the Class
Pretty/Handsome
Selma
A Mighty Heart
The Lost City of Z
War Machine
Tales from the Crypt
Blonde
Okja
Minari
Moneyball
Glory Days
Vice
Jump Street
The Curious Case of Benjamin Button
Once Upon a Time in Hollywood
Kalifornia
Cool World
The Jim Jefferies Show
Babel
Ocean's Thirteen
12 Monkeys
True Romance
A Stoning in Fulham County
Fury
True Story
Hunk
The Scorsese Holiday Special
Mr. & Mrs. Smith
The Favor
Another World
Cutting Class
Killing Them Softly
Across the Tracks
Inglourious Basterds
Irresistible
God Grew Tired of Us
Sleepers
Nightingale
Moonlight
Confessions of a Dangerous Mind
Freddy's Nightmares
A River Runs Through It
Kick-Ass 2
Burn After Reading
Brad's Status
The Private Lives of Pippa Lee
Eat Pray Love
Thelma & Louise
Hitting the Apex
The Counselor
The OA
Jackass
By the Sea
The Audition
Beautiful Boy
Contact
Happy Feet Two
12 Years a Slave
Sinbad: Legend of the Seven Seas
The Time Traveler's Wife
No Man's Land
Interview with the Vampire
The Assassination of Jesse James by the Coward Robert Ford
Ocean's Twelve
Johnny Suede
Running with Scissors
Too Young to Die?
The Dark Side of the Sun
Legends of the Fall
The Big Short
Being John Malkovich
Fight Club
The Devil's Own
The Tree of Life
Allied
King of the Hill
Dallas
Two-Fisted Tales
Kick-Ass
Friends
The King
Ocean's Eleven
Voyage of Time
No Way Out
The Normal Heart
Growing Pains
Ad Astra
Megamind
Troy
Seven Years in Tibet
The Image
World War Z
Year of the Dog
Snatch
The Mexican
Meet Joe Black
The Tehuacan Project
Happy Together
Brad Pitt awards
Has Brad Pitt won any Oscars? His list of illustrious awards includes the following:
2020: Once Upon a Time in Hollywood - Best Supporting Actor by the Academy Awards or "Oscars"
2019: Once Upon a Time in Hollywood - Best Film Actor in a Supporting Role by the BAFTA Awards
2019: Once Upon a Time in Hollywood - Best Supporting Actor – Motion Picture by the Golden Globe Awards
2019: Once Upon a Time in Hollywood - Best Supporting Actor by the Chicago Film Critics Association
2014: The Normal Heart - Outstanding Television Movie by the Primetime Emmy Awards
2014: 12 Years a Slave – Best Picture by the Academy Awards
2005: Mr. and Mrs. Smith - Choice Movie: Rumble by the Teen Choice Awards
1996: 12 Monkeys - Best Supporting Actor – Motion Picture by the Golden Globe Awards
Brad Pitt dating history
Pitt's dating history is also quite interesting. First, Brad Pitt and Jennifer Aniston were married on July 29th, 2000 in a private ceremony that was held in Malibu. They separated in early 2005 but officially divorced on October 2nd, 2005. Brad Pitt and Angelina Jolie then got married on August 23rd, 2014 after dating for about 9 years and having kids in between. However, the two officially divorced on 12th April 2019. He has also dated other personalities like Robin Givens, Juliette Lewis, and Jill Schoelen in the late 1980s and early 1990s.
Brad Pitt kids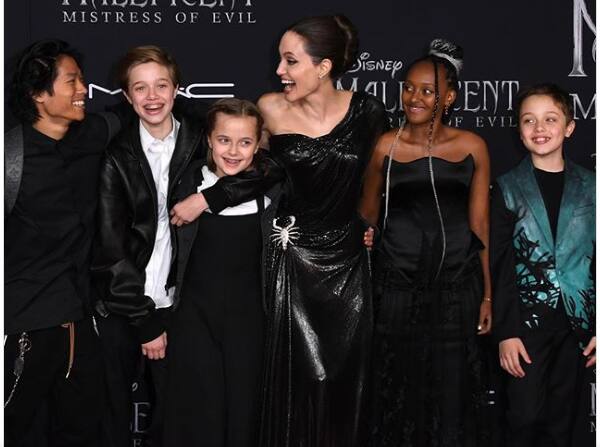 Brad now has six children with three of them being adopted and the rest he had when he was with Angelina. His first paternal child, Brad Pitt's daughter, is called Shiloh Nouvel Jolie-Pitt, who was born in Swakopmund, Namibia on May 27th, 2006. The other two are twins, a boy and a girl, (Knox Léon Jolie-Pitt and Vivienne Marcheline Jolie-Pitt) and were born in Nice, France on July 12th, 2008.
The adopted children are Maddox Chivan Jolie-Pitt (born August 5, 2001, in Cambodia), Zahara Marley Jolie-Pitt (January 8, 2005, in Awassa), and Pax Thien Jolie-Pitt (November 29, 2003, in Ho Chi Minh City, Vietnam). He adopted all three while married to Angelina.
Brad Pitt latest news
Many years after he became famous, Brad is still a big name, and his acting talent is still at its peak as confirmed by Brad Pitt Oscars 2020 awards recently. All this for his movie Once Upon a Time. Brad Pitt and Jennifer Aniston were also spotted together, and fans are hoping that since both of them are single, then they should get back together.
READ ALSO: Joaquin Phoenix bio: Wife, movies, awards, Oscars 2020, net worth, drugs
It is without a doubt that Brad Pitt is a legend who has had his fair share of ups and downs. As we wait for more of his films, which is your favourite Brad Pitt movie to date? Share with us your opinion in the comments section below.
READ ALSO:
Harrison Ford bio: Movies, wife, net worth, children, latest news
Alex McGregor biography: age, songs, albums, football, record label, modelling, movies, and Instagram
Chris Brown biography: age, daughter, girlfriend, Rihanna, parents, movies, and net worth
Noah Centineo bio, girlfriend, family, movies, TV shows