Best pumpkin fritters recipe in South Africa
A good pumpkin fritters recipe ensures that you get fluffy and light fritters. Pumpkin fritters are popularly known as pampoen koekies here in South Africa. It is a popular snack or side dish in most households. Here is how to make it yourself at home.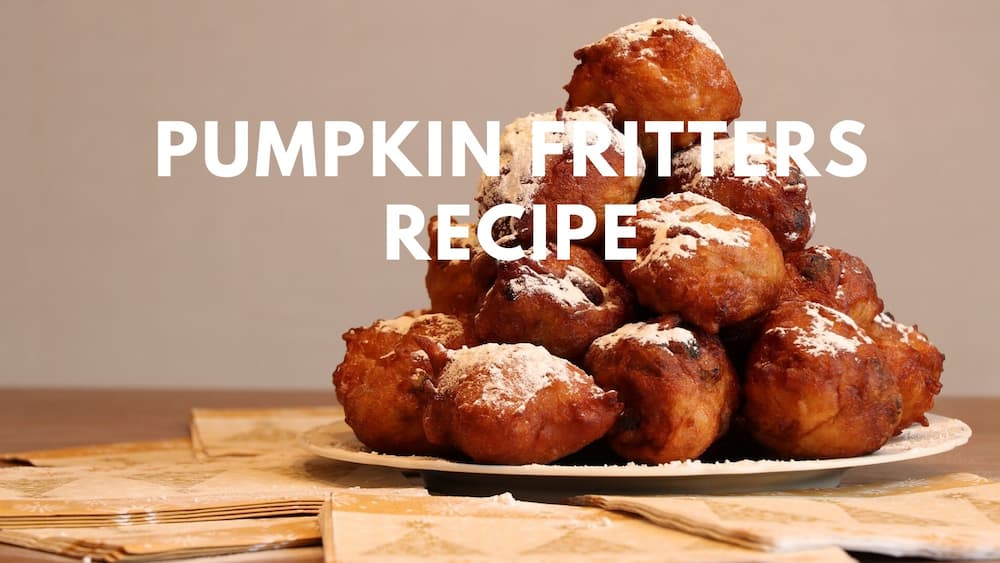 If you are looking for a healthy snack, then eating pampoen koekies should be your first option. They are delicious when eaten while still warm and fresh. That is why we brought you this recipe for pumpkin fritters.
Pumpkin fritters recipe South Africa
Preparing this delicious snack is not hard if you follow an easy pumpkin fritters recipe. The process is straightforward.
What you need
We will show you how to prepare soft and light pumpkin fritters with a cinnamon-sugar coating. The ingredients for recipe pumpkin fritters to yield around 12 fritters include:
2 dry cups of cooked and mashed pumpkins
½ cup of all-purpose flour
½ teaspoon of salt
1/2 teaspoon of nutmeg
1 spoon of ground cinnamon
1 teaspoon vanilla extract
2 teaspoons of granulated sugar
2 eggs
200 ml milk
Oil for frying
For the cinnamon sugar coating, you will need:
50 grams of castor sugar
2 teaspoons of ground cinnamon
Instructions
Below are easy to follow directions on how to make pumpkin fritters recipe.
Ensure the pumpkin is drained correctly because a lot of moisture might result in a runny batter.
If you have a processor, put the ingredients in a processor. If not, place them in a mixing ball and mix them properly.
Add beaten eggs and the vanilla extract and then stir thoroughly to form a thick batter. A good batter should maintain a good shape when placed on a spoon.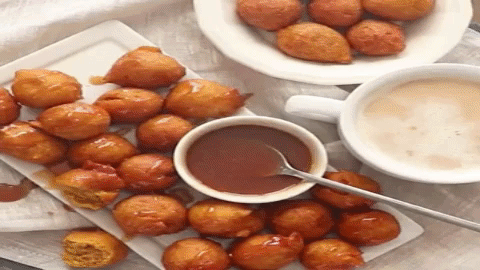 4. Add a little amount of milk if the batter is still stiff or more all-purpose flour if the batter is runny.
5. Heat some oil in a slightly deep pan. The amount of heat at the beginning should be medium to high. You can adjust the temperature later.
6. Take full tablespoons of the ready batter and place them in the hot oil. Ensure they are not placed very close to each other.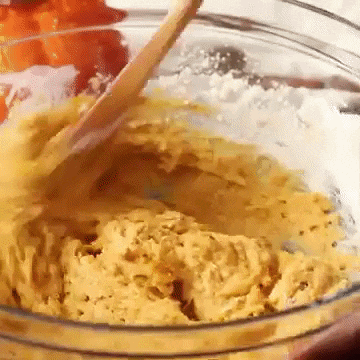 7. Let them fry until they are golden brown and firm on one side and then turn them so that they are fried on each side.
8. Remove them from the oil using a slotted spoon and then place them on an absorbent paper.
9. Place them in a bowl and sprinkle the cinnamon sugar on them while still hot.
10. Serve while warm as a dessert or as a side dish.
READ ALSO: Best peppermint crisp tart recipe South Africa
Q&A
How do you make corn fritters from scratch?
Corn fritters are so tasty, easy to make, and less time-consuming.
Ingredients
You will need the following to make three dozen corn fritters.
1 cup of self-rising flour
1 teaspoon of sugar
1 teaspoon of salt
½ cup of milk
1 ½ cups of corn (fresh)
Cooking oil
Process
Put the flour, sugar, and salt in a mixing bowl and stir.
Add corn, eggs, two teaspoons of cooking oil, and milk to the mixture and continue to stir to make the batter.
Scoop the mixture using a teaspoon and place it in hot cooking oil.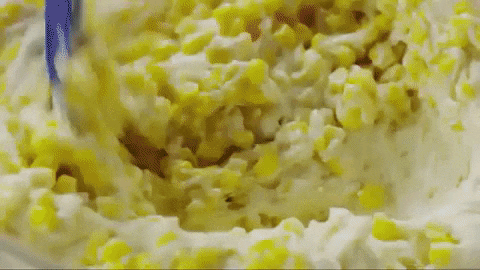 4. Cook until golden brown on both sides.
READ ALSO: Easy South African pancake recipe
How do you make pumpkin pancakes from scratch?
Learning to make fluffy pumpkin pancakes is the wisest thing to do. Here is an easy to follow recipe.
Ingredients
You need the following elements to make around eight medium-sized pumpkin pancakes.
1 cup of whole wheat flour
1 tablespoon of baking powder
¼ teaspoon of nutmeg
1 cup of milk
1/3 cup of pumpkin puree
1 egg
2 tablespoons of sugar or maple syrup
½ teaspoon of vanilla excerpt
2 tablespoons of coconut oil or melted butter
½ teaspoon of cinnamon
Process
Place the flour, cinnamon, baking powder, salt, and nutmeg in a mixing bowl and stir thoroughly.
In another bowl, place the pumpkin puree, milk, egg, vanilla excerpt, melted butter, and maple syrup and whisk to ensure proper blending. Put the ingredients together and stir to eliminate any lumps.
Heat the pan with medium heat until hot. If the pan is not non-stick, add a little oil on its surface.
Scoop 1/3 cup of the batter and place it on the pan. Wait for about 3 minutes until you see small bubbles forming on the surface of the pan. Flip the pancakes to cook the other side until somewhat golden brown.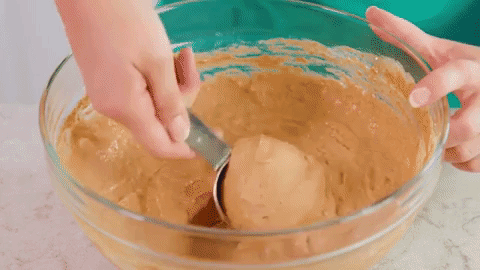 5. Serve while hot or cover with a tea towel to maintain their warmth.
READ ALSO: Tastiest ever banana bread recipe with oil | Best banana bread recipe
What can I cook with pumpkin?
Pumpkin is a delicious meal that can be combined with other ingredients as outlined.
1. Organic chicken
A mixture of pumpkin and organic chicken results in a creamy and tasty soup.
2. Spinach
You do not have to look far to find healthy meals for the family. A mixture of pumpkin and spinach can be served with rice.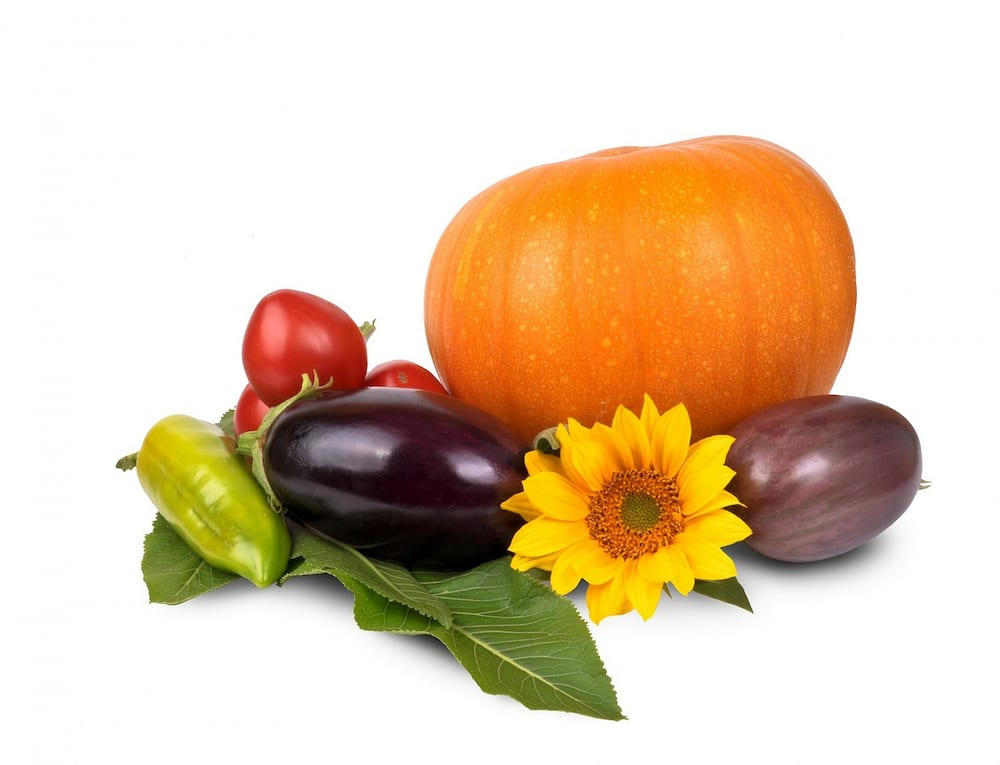 3. Goat cheese
You cannot find anything tastier than this combination.
4. Potato
Once you taste a pumpkin and potato dish, you will say goodbye to other dishes.
5. Black bean chili and beef
So yummy! You should try this one.
READ ALSO: Cottage pie recipe: easy and quick
How do you steam a pumpkin?
You can avoid purchasing canned pumpkin and make yours at home. When making it yourself, you are advised to use a pumpkin that has not been cut. One that has been cut may contain mold.
What will you need?
Kitchen knife
Vegetable peeler
Steamer basket
Large pot and lid
Fork
Instructions
Here is a step by step guide.
Using a vegetable peeler, remove the skin from the pumpkin.
Using a kitchen knife, cut the pumpkin into two, and then remove seeds and stringy innards from it.
Cut it into size-able cubes.
Put a steamer basket on the pot and pour water to touch the bottom of the basket.
Put the cut cubes in the basket and cover them with a lid.
6. You need medium heat to boil the water and then reduce the amount of the heat and simmer the water for about 25 minutes.
7. Use a fork to check if the pumpkin is soft.
8. Once cooked, remove the steamer basket from the pot and place the pumpkin in a bowl.
READ ALSO: Quick, easy and tasty Kassler chops recipe in South Africa
Your loved ones will thank you if you know the right pumpkin fritters recipe. There is no better way to ensure your family is happier and healthier.
READ ALSO:
12 easy South African desserts recipes
Easy crunchies recipe: South Africa style
How to cook spinach the South African way
Source: Briefly.co.za