- An entertaining video showed a touching display of emotions - joy. Kids were filmed being super happy for their teacher's new ride
- A caring woman decided to buy groceries for a man who asked her for two tins of fish
- All this and more entertained South Africans this week
PAY ATTENTION: Click "See First" under the "Following" tab to see Briefly.co.za News on your News Feed!
1. SA loves video of kids celebrating teacher's whip: "That dance move"
A large group of learners at a local school allegedly went wild, as one of their favourite teachers showed off his new whip.
To celebrate his achievement, enthusiastic students chanted in the background, while some showcased their dance moves.
Video footage of the special moment was shared via Twitter and went viral, with the video being viewed more than 40 000 times.
Briefly.co.za gauged the massive response after it was shared by Africa Facts Zone on Sunday.
Based on the reactions, social media users across Africa fell in love with what they saw.
READ ALSO: Zola Nombona: "Hiding a pregnancy is not a joke, my darling"
2. Kind woman buys man groceries after he asks for tins of fish
A woman, Christelle Mokhuoa, took to the #ImStaying Facebook post to share how one young man's struggle touched her heart.
Mokhuoa revealed she was approached by a man who asked if she could assist him with maize meal and two tins of fish.
"Yoh my heart melted," she said and decided to bless the man. Mokhuoa told him to take whatever he needed and she ended up buying him much more than he asked for.
She learned the man was unemployed and had been looking for side jobs to do but has been hungry for several days.
South Africans applauded Mokhuoa's generosity and praised her for helping the young man.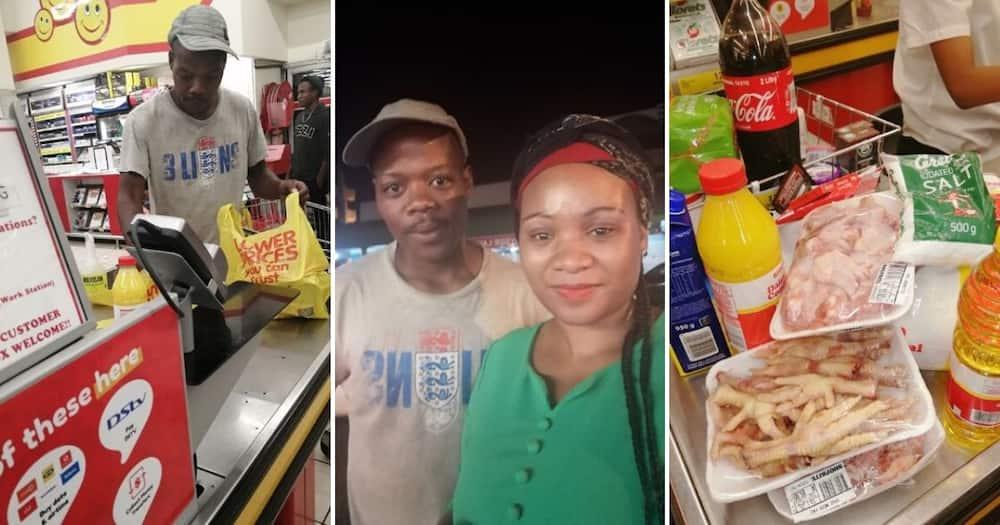 3. Halala: Mr and Mrs Ndlovu, Stephanie and Hungani tied the knot
One of South Africa's favourite couples, Hungani Ndlovu and Stephanie Sandows, appear to have gotten married.
The pair posted cryptic but obvious messages on social media, and although we haven't gotten to see the wedding (yet), it sure looks like they've taken the next step in their relationship.
The pictures that Hungani and Stephani shared do not reveal much, but what is revealed is enough for fans to be very happy about.
The pair has not responded to the belief that they're married, but it's possible that they're away on their honeymoon right now. Messages of congratulations came flooding in, and fans are filled with joy at this union.
4. Lasizwe shares heartfelt apology message dedicated to old friend Somizi
In a candid post on social media, Lasizwe Dambuza opened up about the pain he felt when he and Somizi were not on speaking terms.
He talked about falling out with him and how difficult it had been to deal with.
"Having a fallout with you was one of the most emotional situations I had to go through. What broke my heart was that our fallout was based on people's opinions about our relationship."
Lasizwe also remembered how they used to have very long chats that he missed.
"We used to have our long chats over the phone which I dearly missed and after a few years of not talking I must say that hit me hard."
The moving message ended on a more positive note as Lasizwe expressed his gratitude at making up with Somizi.
"I'm glad we had our talk and ironed out our issues. I'm SO looking forward to building a much more stronger bond and great memories with you."
Enjoyed reading our story? Download BRIEFLY's news app on Google Play now and stay up-to-date with major South African news!