True Love Teasers are here to reveal the actions that will unfold in March 2020. This Indian telenovela is a household favorite in South Africa. The turn of events will get you glued to your seat as you anticipate to see the action that follows. Now that Aakash is out of prison, will Meethi forgive him? Who will Vishnu marry: Meethi and Mukta? Will the wedding take place? You cannot miss it!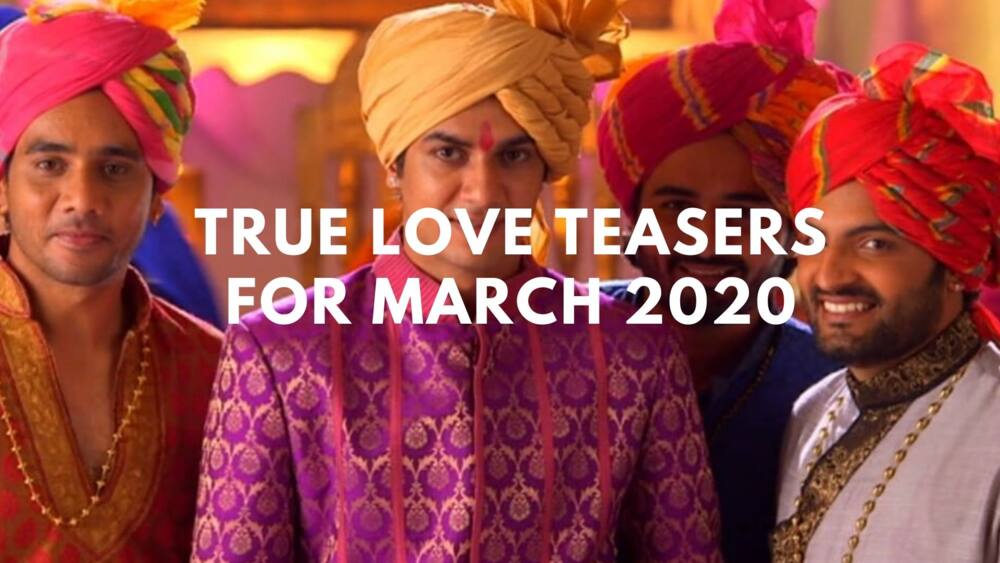 You have every reason to look forward to the episodes during the month. The following teasers give you a sneak peek into what you should expect in March 2020 episodes of this eye-catching telenovela.
What do True Love teasers for March 2020 reveal?
You should expect to see a lot of drama from your favorite Indian telenovela, as shown below.
Will Aakash be forgiven?
He is bailed out of jail by Rathore. Meethi and Jogi let him stay in the house, but Meethi wants him kicked out.
March/2nd/2020 (Monday)
Ep1177
Tapasya lets people know that Aakash was bailed out of prison by Rathore. How do people take it?
Ep1178
Damini makes Aakash aware that his mother has called.
March/3rd/2020 (Tuesday)
Ep1179
Rathore gives Meethi advice.
Ep1180
Mukta notices the change in Aakash. He persuades Meethi to let him stay.
March/4th/2020 (Wednesday)
Ep1181
Will Jogi Thakur accept Aakash's request and yield to his request?
Ep1182
Meethi accepts Aakash's plea. Jogi says it's okay for him to stay. Everybody is waiting for Damini's reaction to the turn of events.
March/5th/2020 (Thursday)
Ep1183
People at home are busy with the preparation of Meethi's birthday celebrations.
Ep1184
Meethi wants Jogi to send Aakash away from the house, but Jogi allows him to stay for 23 days.
March/6th/2020 (Friday)
Ep1185
Aakash has a present for Meethi, which he takes to her room, but Meethi is not pleased and gives it back to Aakash.
Ep1186
The anklet Aakash purchased for Meethi is stolen from him by some goons.
What is the reason behind Meethi wanting to get married to Vishnu?
Meethi lets Vishnu know that she is ready to get married to him. But why is she lying to the elders of the house?
March/9th/2020 (Monday)
Ep1187
Aakash is tested by Meethi, who tells him to ensure the cake and the food are ready in three hours.
Ep1188
There is an argument between Tapasya and Rathore because of Aakash.
March/10th/2020 (Tuesday)
Ep1189
Vishnu sends Mukta an e-mail while Mukta texts Vishnu requesting to see her. Are they in love?
Ep1190
Tapasya suspects Meethi and Vishnu are in love and lets Damini see the letter.
March/11th/2020 (Wednesday)
Ep1191
Vishnu and Meethi's picture is published in the newspaper after Vishnu mistakenly reveals to a reporter that Meethi is his wife.
Ep1192
Aakash opens up and lets Meethi know that he still loves her.
March/12th/2020 (Thursday)
Ep1193
Meethi wants Vishnu to marry her.
Ep1194
Vishnu is more than ready and accepts the proposal made by Meethi to make her his wife.
March/13th/2020 (Friday)
Ep1195
Vishnu wants Meethi to know that it is not right to lie to the elders of the house. What is she up to?
Ep1196
Kajari has something to tell Aakash concerning the child of Surbhi. Aakash leaves for Atishgadh with his luggage.
READ ALSO: Isibaya Teasers: March 2020
There is doubt concerning the wedding
Major preparations are underway for the wedding of Vishnu and Meethi.
March/16th/2020 (Monday)
Ep1197
Rathore reassures Aakash that he will save Kanha and Surbhi's child and tells him to remain in the house.
Ep1198
Meethi asks the priest to choose an appropriate wedding date.
March/17th/2020 (Tuesday)
Ep1199
Tapasya is not pleased when Rathore brings Surbhi to the house. Kanha still denies Surbhi's child.
Ep1200
Mukta reveals to Rathore about her love for Vishnu. She, however, feels Vishnu does not feel the same way.
March/18th/2020 (Wednesday)
Ep1201
Damini wants Mukta to accompany Vishnu as he goes to get the wedding ring.
Ep1202
Kahna agrees with Surbhi that he will let her into his life on condition that Aakash vacates their home.
March/19th/2020 (Thursday)
Ep1203
Meethi and Vishnu's wedding invitation cards are sent to various guests to invite them for their big day.
Ep1204
Vishnu is angry and reveals to Aakash that he will marry Meethi under any circumstance.
March/20th/2020 (Friday)
Ep1205
Rudra's men come to the mansion to abduct Meethi.
Ep1206
Meethi manages to run away from Rudra. How far will she go before being caught?
READ ALSO: Arendsvlei Teasers: March 2020
Is it Meethi or Mukta?
Vishnu expects to marry Mukta after professing his love to her and making arrangements to get her dressed as a bride.
March/23rd/2020 (Monday)
Ep1207
Rudra finds Meethi and Aakash as they try to run away.
Ep1208
Aakash gets assistance from Kanha and Jogi, who bring him home.
March/24th/2020 (Tuesday)
E1209
Damini wants Surbhi to stop starving by taking Kanha to see her. Does Kanha have a soft spot for her?
Ep1210
Aakash asks people to forgive him for what has happened as he signs the divorce documents.
March/25th/2020 (Wednesday)
Ep1211
Vishnu and Mukta meet, and he takes the chance to reveal that he loves her. Was Mukta aware of his feelings for her?
Ep1212
Sumitra finds out about Mukta and Vishnu's love for each other after getting the letter.
March/26th/2020 (Thursday)
Ep1213
Rathore advises Vishnu to make plans to have Mukta dressed as a bride.
Ep1214
Rathore goes behind bars. What is the reason behind this arrest?
March/27th/2020 (Friday)
Ep1215
Vishnu takes nuptial rounds with Meethi, thinking that she is Mukta.
Ep1216
Vishnu discovers that the bride's face is Meethi's and not Mukta's before putting the red mark on her forehead. He excuses himself and goes to the restroom.
March/30th/2020 (Monday)
Ep1217
Mukta tells Meethi that she loves Vishnu. What choice does she have?
Ep1218
Meethi opens up to Vishnu concerning Aakash and tells him the whole truth. How will the man react?
March/31st/2020 (Tuesday)
Ep1219
Rathore reveals shocking details to Tapasya. He states that Vishnu and Mukta are in love while Meethi is in love with Aakash.
Ep1220
Meethi is ready to reveal the truth to her family so that she can release Vishnu from their marriage.
READ ALSO: Imbewu: The Seed Teasers: March 2020
What happens to your favorite True Love characters?
A lot is going on in your favorite romantic telenovela this March 2020. Expect to see the following happening to various characters.
Aakash
He gets out of prison and seeks apology from people. He reveals to Meethi that he loves her, but she is reluctant to forgive him.
Meethi
She still loves Aakash despite arranging to have a wedding with Vishnu. Will she forgive Aakash? Mukta tells her that she loves Vishnu.
Vishnu
He agrees to marry Meethi, but he is in love with Mukta. Who will he choose between the two beautiful women?
READ ALSO: 7de Laan Teasers: March 2020
True Love teasers for March 2020 reveal the romantic relationships between different characters. Catch all the episodes of True Love on Glow TV on StarSat and OpenView on weekdays at 8.00 p.m. and 8.30 p.m.
READ ALSO:
Skeem Saam Teasers: April 2020
Kulfi The Singing Star Teasers: April 2020
Generations: The Legacy Teasers: April 2020