Drew Carey is an American comedian, actor, television host, sports executive, and voice-over artist. He is popularly known for The Drew Carey Show, The Price Is Right, and Whose Line Is It Anyway? Drew, as an award-winning performer, has an inspiring story of excellence that can leave many people in awe.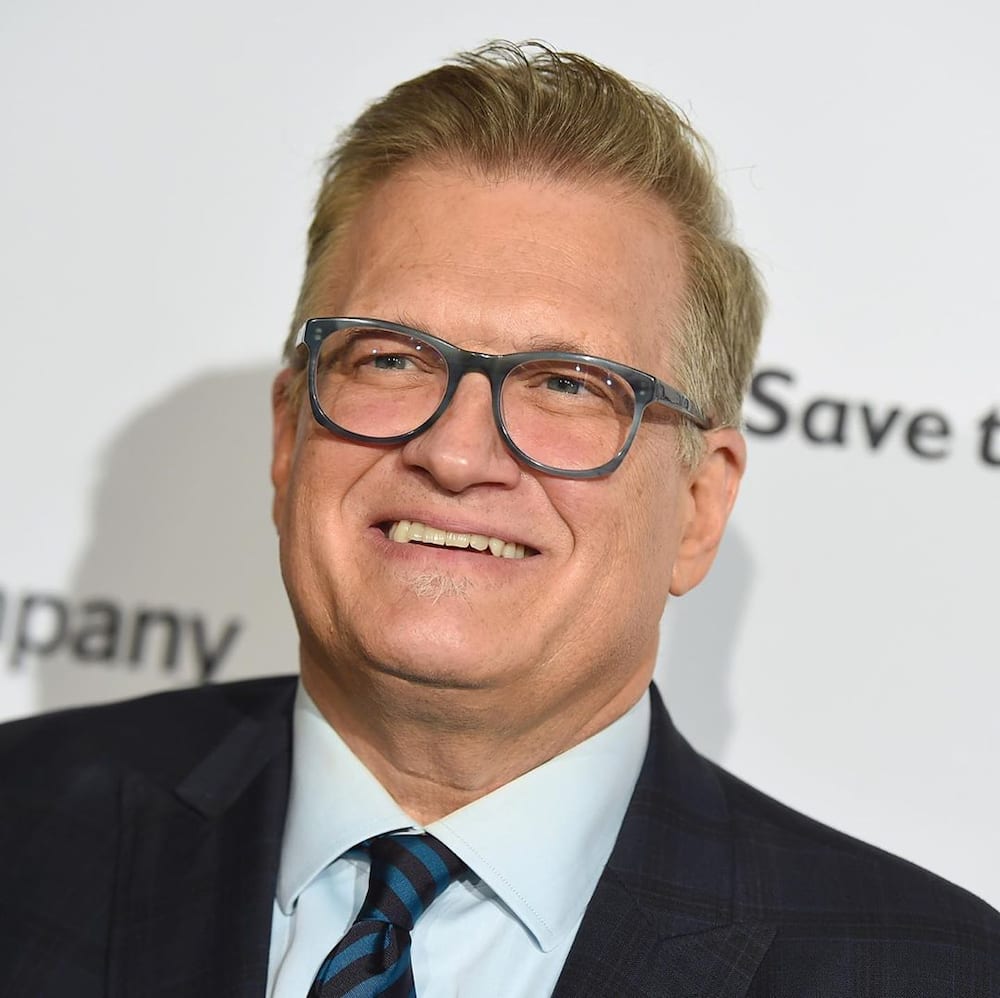 He is among the few entertainers who can boast of multiple talents. The legendary comedian has been officially in the showbiz scene for approximately 35 years now. Many people, especially admirers, cannot understand the magic behind his thriving career. Well, what is the story?
Drew Carey profile summary
Birth name: Drew Allison Carey
Date of birth: 23rd May 1958
Place of birth: Cleveland, OH
Age: 61 years old
Zodiac sign: Gemini
Parents: Lewis and Beulah Carey
Height: 5' 10"
Occupation: Comedian, actor, host, voice-over artist
Military career: 1981–1987
Nationality: American
Drew Carey biography
Drew Carey was born on 23rd May 1958 in Cleveland, Ohio. He is the oldest in the family of three brothers. Drew Carey father, Lewis Carey, passed away while he was eight years old leaving him under the care of his mother, Beulah Carey.
The names of Drew Carey brothers are Roger and Neal Carey. At the moment, there is little on the public about his siblings. Drew, like any other average child, was deeply affected by the death of dad. Often, he could spend his free time, after school, reading comic books and watching cartoons indoors.
Drew Allison was a student at Rhodes High School. He was an active student whose participation in the marching band was commendable. In the band, he played a coronet and a trumpet.
Later, he proceeded to Kent State University. He had difficulties concentrating on his studies in the institution. It led to him being expelled twice from the university. At some point, he worked as waiter in Cleveland.
READ ALSO: Nomzamo Mbatha bio: age, boyfriend, mother, sister and Isibaya
Left with no choices, he joined the United States Marine Corps Reserve for six years. Later, Drew decided to do what makes him happy, stand-up comedy. His decision was supported by David Lawrence, a DJ. David had a radio show and Drew used to write him jokes. Through comedy, he got the exposure that later saw him venture into other fields.
How old is Drew Carey?
At the moment, Drew Carey age is 61.
Who is Drew Carey son?
The comedian is a father figure to Nicole Jaracz son, ex-fiancée. She gave birth to the kid while in another relationship with a man whose name is yet to be established. The name of the 14-year-old boy is Connor. Despite the two parting ways, The Price is Right host remains to be the boy's dad.
Body measurements
At some point, he had issues with his weight. He acknowledged that the excess weight was a result of his diabetes condition. Luckily, he managed to drop 80 pounds in less than a year, retaining his previous posture. Drew Carey weight loss became a topic of discussion with some people seeking to know how he managed to achieve it.
How tall is the comedian? Drew Carey height is 5' 10".
Career
Arguably, Drew has had a career worth admiring. It all started in 1981 when he dropped out of school to pursue comedy. He later proceeded to join the United States Marine Corps (USMC) where he served in the rank of a sergeant for six years.
His love for comedy did not end even when he was in the military. He made a comeback in 1985, and after that, he started getting several invitations to perform in different clubs in Cleveland. By 1987, he had become a household name in the city, and therefore, he decided to compete in the Star Search in 1988.
It did not take long after he got discovered by famous people in the field, such as Johnny Carson. Afterwards, he got the platform he lacked while starting and decided to start his show. Well, his first show was titled Drew Carey: Human Cartoon. Later, he created other shows such as The Drew Carey Show.
READ ALSO: Tresor bio: age, real name, family, songs, albums, nominations, profile
Drew Carey television shows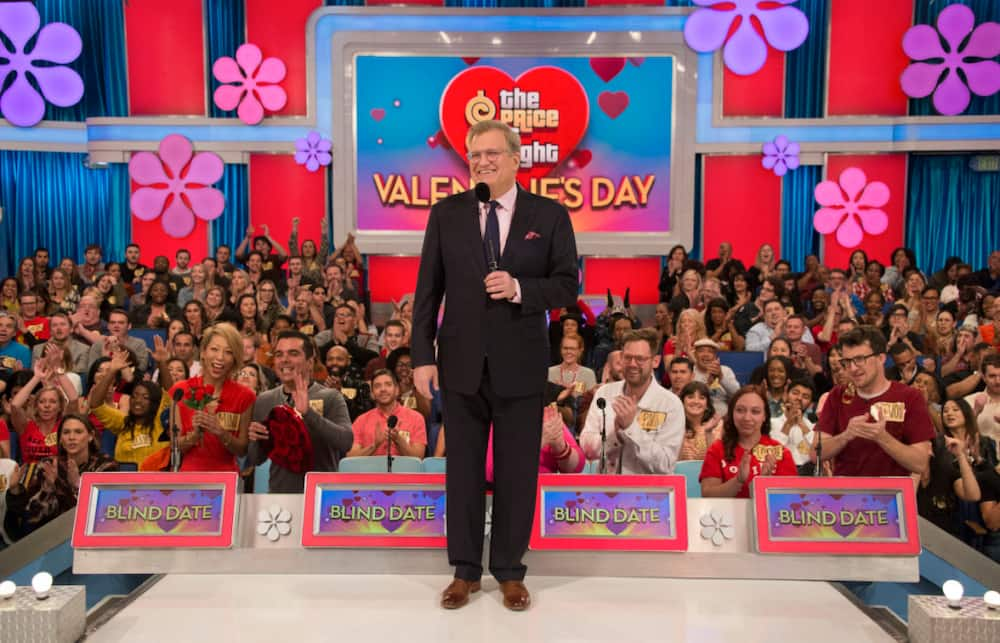 He is also known for making magical appearances in numerous television shows and films. Some of his TV shows features include:
The Price Is Right (1972)
WWE Royal Rumble (2001)
Dharma & Greg (1997 - 2002)
The Good Life (1994)
Freaky Friday (1995)
Whose Line is It Anyway? (1998)
Drew Carey's Green Screen Show (2004 - 2005)
Power of 10 (2007 - 2008)
The Simpsons (2008 - 2016)
Community (2010)
Drew Carey's Improv-A-Ganza (2011)
The Green Room with Paul Provenza (2010 - 2011)
Talking Dead (2012)
Play For A Billion
Scorpion (2016)
NCIS (2018)
American Housewife (2019)
The Masked Singer (2020)
Movies
On the other hand, he has appeared in films such as:
Coneheads (1993)
Play It to the Bone (1999)
Geppetto (2000)
Rock and Roll Back to School Special (2001)
Robbots (2005)
The Aristocrats (2005)
Jack and Jill (2011)
READ ALSO: Blaq Diamond bio, real names, songs, albums, Sjava, profile
Who is Drew Carey fiancé?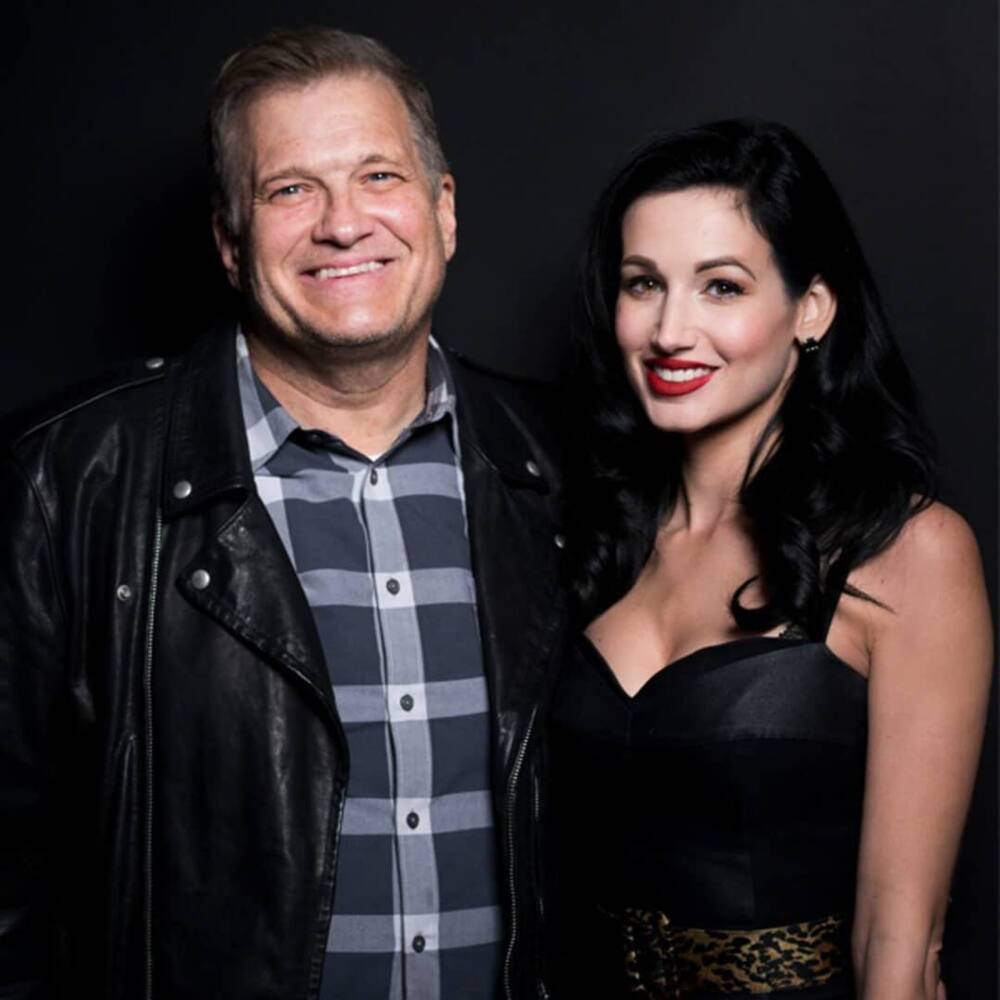 The Price Is Right host has been in two established romantic relationships. Unfortunately, all of them did not work out. First, he fell in love with Nicole Jaracz with whom they dated for a while before calling it quits.
In 2018, he announced his engagement to Amie Harwick, a Hollywood sex therapist. Similarly, the relationship between Drew Carey and Amie Harwick lasted for a few months.
In 2020, Drew Carey ex-fiancé, Amie Hardwick, was reported dead. Reports have it that her boyfriend was responsible for her death. She was laid to rest, and the boyfriend is in custody.
Drew Carey net worth 2020
He is among the wealthiest entertainers of 2020. According to Celebrity Net Worth, his net worth is approximated to be $165 million. Most of his wealth is accumulated from his television shows, acting, hosting gigs among many others. For instance, Drew Carey Price Is Right hosting gig is said to earn him a whopping salary of $12.5 million yearly.
Social media presence
Similar to other celebrities, Drew is active on most social media platforms. For instance, Drew Carey Twitter has 602k followers. On the other hand, Drew Carey Instagram account has 53.3k followers.
Indeed, Drew Carey is among the people who have helped to grow the American entertainment scene. His track record speaks on his behalf. Apart from hosting different popular shows in the country, he has also created his shows that have done exemplary well in the competitive world. What else could someone ask for?
READ ALSO:
Duncan (Sphamandla Mbambo) age, girlfriend, proposal, songs, albums
Nosipho from Uzalo (Nompilo Maphumulo) age, boyfriend, family, Uzalo, song, profile
Lawrence Maleka bio, family, soapies, profile, net worth