Reports show African start-ups raised close to $2 billion in 2019
- Research to determine the total amount of funds given to African start-ups in 2019 has resulted in varying reports
- Three firms, Disrupt Africa, Partech and WeeTracker, conducted research using various tools and came up with three figures
- Disrupt Africa arrived at $496 million, Partech concluded on $2 billion and WeeTracker stated $1.3 million as the amount
PAY ATTENTION: Click "See First" under the "Following" tab to see Briefly.co.za News on your News Feed!
There is an ongoing debate about the amount of funds raised by startups in Africa in the year 2019.
This comes in the wake of reports of various sums of monies given in support of businesses of startups in the year.
Briefly.co.za understands that three venture-funding studies carried out to ascertain the true facts led to three different results.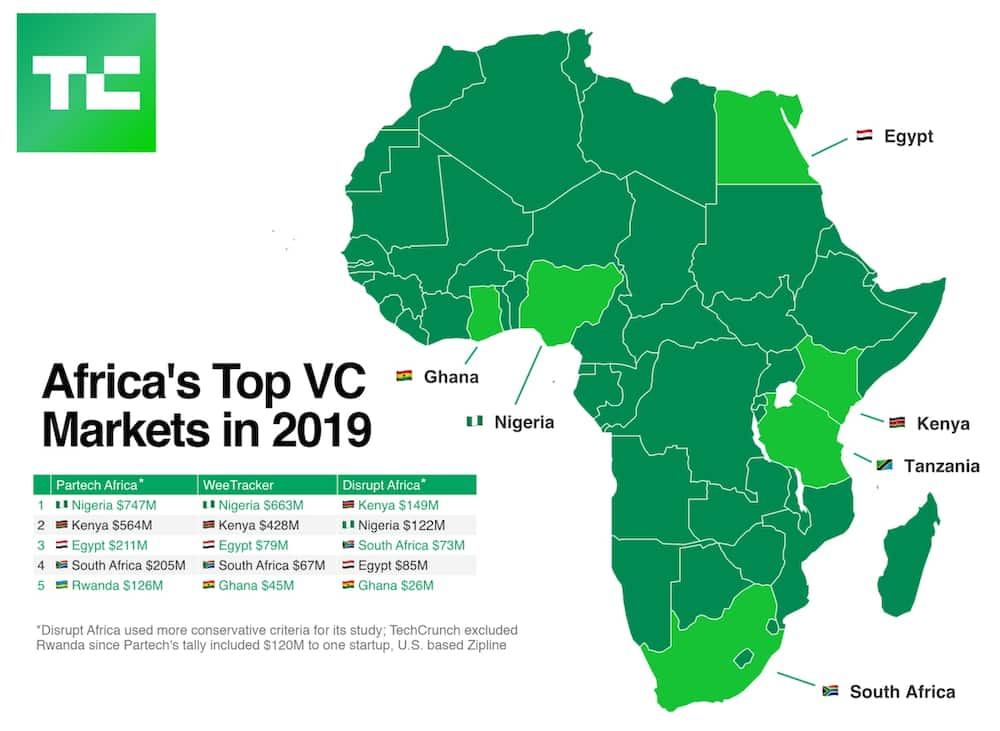 READ ALSO: Coronavirus: African countries have lost millions in 2 months
The tests were done by Disrupt Africa, a media outlet, WeeTracker, a database website and Partech, a global investment firm.
Per a report by Partech, African startups received a total of $2 billion from venture capitalists in the year 2019.
WeeTracker fixed the amount at $1.3 million and Disrupt Africa pegged the amount at $496 million.
Techcrunch.com reports that the variance in the figures of $1.5 billion could be traced down to venture capitalist valuations in the selected countries.
Partech and WeeTracker drew the same conclusions with regard to the top three recipients of funds in Africa and named them as Nigeria, Kenya and Egypt, in that order.
Disrupt Africa, however, believes Kenya took the top spot even though it's $149 million estimates for the country is about $500 million less than projections by Partech and WeeTracker's VC leader, Nigeria.
While WeeTracker's methodology included data on undisclosed startup investments, Disrupt Africa settled on a case-by-case basis.
Partech, on the other hand, adopted a liberal approach in its definition of an African startup, including investment for tech-companies that count Africa as their primary market, but not insisting they be incorporated or operate head offices on the continent.
READ ALSO: South African economy loses top spot in Africa to Nigeria
In other news, the Chief Executive Officer (CEO) of Tesla and SpaceX, Elon Musk, has thrown his weight being the CEO of Twitter Inc, Jack Dorsey.
This comes in the wake of reports of an attempt by a Twitter investor to oust Dorsey. Briefly.co.za understands that Paul Singer's activist hedge fund, Elliot Management, is seeking Dorsey's removal from office because he works as CEO in both Twitter and Square.
Twitter's employees have however taken a stand and voiced their support for Dorsey with the hashtag #webackjack.
Taking to Twitter, Musk noted that he supports Jack because he has a good heart, Business Insider reports. Elliot Management currently has almost a 5% stake in Twitter and is launching a campaign to get Dorsey removed from office.
He argues that Dorsey is not focused enough on Twitter and therefore needs to be removed from office.
Enjoyed reading our story? Download BRIEFLY's news app on Google Play now and stay up-to-date with major South African news!
Source: Briefly News