- Each time she sees her granddaughter enjoying a meal, 74-year-old Gogo Alvinah Dludla is filled with joy and gratitude
- Every meal is as a result of Gogo Alvinah's hard work which she undertakes daily together with her handicapped granddaughter, Zama Nkosi (23)
- The two are familiar faces in the community, known for being inseparable and sharing a special bond that warms everyone's hearts
PAY ATTENTION: Click "See First" under the "Following" tab to see Briefly.co.za News on your News Feed!
By Zakithi Dlamini - Freelance journalist
Together, Alvinah and Zama are seen roaming the streets, collecting cans and scrap metal without shame or complaint, just trying to put food on the table.
"I am only grateful to God for the gift of life and that at my age I am still strong enough to be on my legs all day, collecting items that feed my beloved angel. My love for her is what gives me strength. I would cross oceans for her," Gogo Alvinah told Briefly.co.za
Zama's parents both passed away while she was still very young and since then she's always been Alvinah's responsibility. Besides collecting cans, they also depend on a government grant.
Even though Zama is unable to talk, she will do everything in her power to be heard if someone treats her grandmother poorly. The two do everything together, from house chores, cooking and cleaning, going to church, shopping, collecting cans, they are always side-by-side.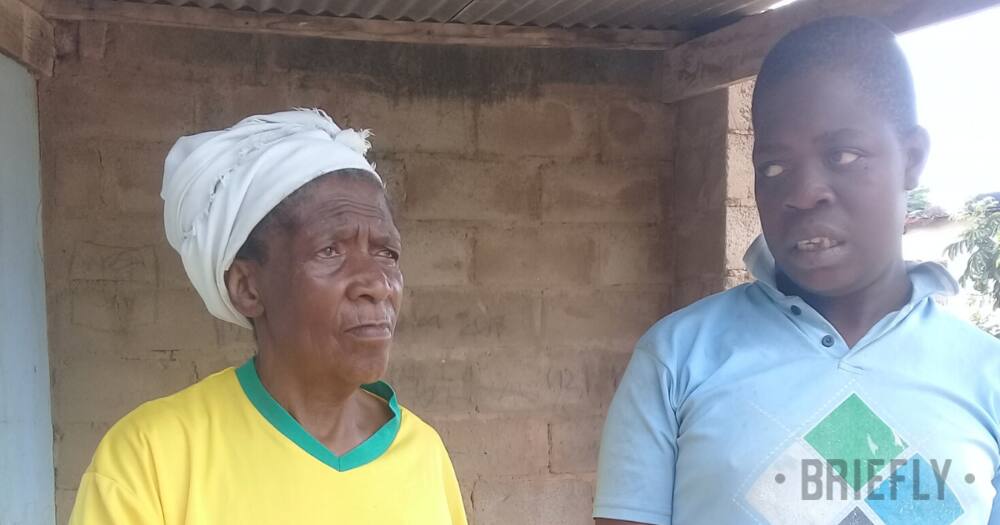 "I am so in love with my granddaughter," says Alvinah, "My love for Zama is too deep. I am too happy to provide for her. Everything I do is for her. I don't go anywhere without her. She's like my bodyguard, even when I'm in the bathroom, she patiently waits for me outside the bathroom door," added Gogo Alvinah.
READ ALSO: Halala: Dali Mpofu's son secures PhD at renowned Oxford University
Despite facing major difficulties in her life, this gogo with the heart of gold makes sure that her grandchild is well taken care of without asking for anything. No matter the weather, she is always smiling and laughing with Zama while collecting stuff that feeds her little family.
Besides caring for Zama, Gogo still has to make means to often travel to her son's house to help him as he suddenly went blind. However, she is still humble and able to smile to the world as everything is fine.
While many would be crying, complaining to God and asking for help, Gogo Alvinah's only request to God is that He prolong her days on earth and keep her strong for the Zama's sake.
"Zama is my life. The love I have for her is something money cannot buy. I may have nothing, but I have everything if I have Zama as she fills my heart with laughter and joy. No matter the circumstances, I thank God that he blessed me with her. If this was a marriage, we would say till death do us part," said Gogo Alvinah with a huge smile.
Enjoyed reading our story? Download BRIEFLY's news app on Google Play now and stay up-to-date with major South African news!