- After a professional rugby career spanning years, Springbok hooker Schalk Brits decided it was time to hang up his boots
- While he loved every minute of the sport, Brits said he needed to be home with his family
- The Springbok hooker, who was part of the winning 2019 team, revealed he would be working in finance from now on
PAY ATTENTION: Click "See First" under the "Following" tab to see Briefly.co.za News on your News Feed!
By Brandon Nel - Freelance journalist
"It was time. Not a pleasant idea, but nevertheless necessary."
These were the final-whistle words from the mouth of former Springbok hooker Schalk Brits last year after deciding to bow out as a professional rugby player.
According to the 38-year old, this was one of the best decisions he had ever made.
He loved every minute of his rugby career, but deep down he felt it necessary to make a change.
The father of three boys, Christian (7), Hunter (5) and Luke James (3), missed spending time with his brood and he missed being there for the milestones in their lives.
The final decision to hang up his togs was echoed as the right decision upon his return from the 2019 world cup tour.
Not even being a world champion could buffer the shocking words that poured from his son, Hunter's lips:
"Don't you love me any more, Daddy. You are never at home any more."
That was the exact moment that convinced him that he had to make the right decision.
The yearning to be with his boys, hold them, hear their voices, was so bad at times that he threw himself into the game and relied on his teammates to drive the ache from his heart.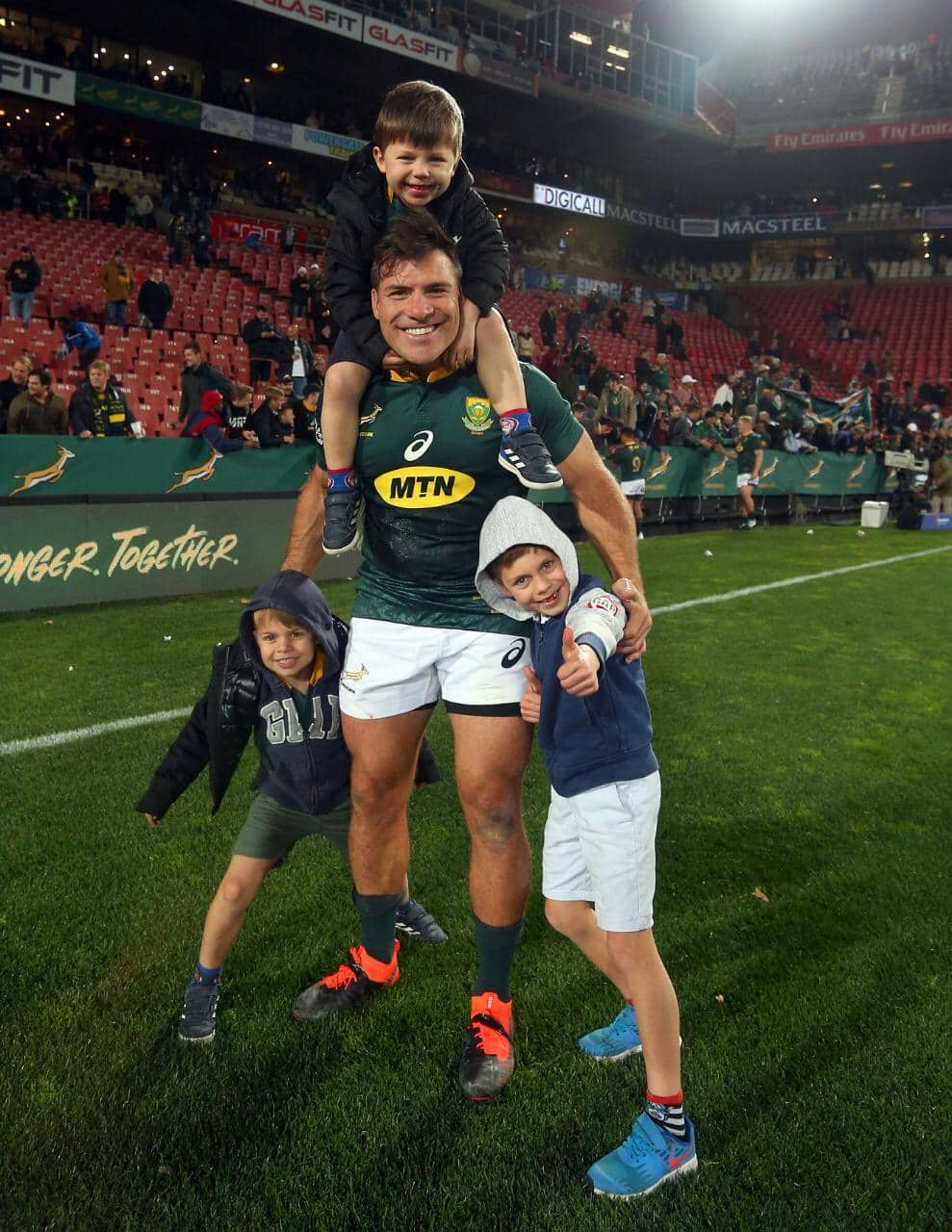 The worst was that his boys did not understand that rugby was actually his job, and that being away from home for prolonged periods was part of the work contract.
Brits told Briefly.co.za his wife of eight years was and still is his biggest supporter, whether it be for his rugby or any decisions he made in life.
Not only is Colinda the love of his life and a hands-on mother, but she is an excellent attorney.
"I have no idea what would have become of me if I did not have Colinda to keep me grounded when I felt like giving up. She is and always has been my emotional crutch. Nothing of what happened in my career and life was ever too trivial or too extreme for her.
READ ALSO: Beautiful lawyer gushes about winning a case: "My client is happy"
"Of course, I will miss rugby. It has been a part of my existence for 20 years, but the support I have received from my wife, family, teammates and supporters since deciding to stop playing rugby, has been immensely gratifying. Now it is time to focus on a new career in the financial sector."
Since being in the rugby spotlight since 2008, where he debuted for South African in a game against Italy, Schalk Brits was capped no less than 15 times.
His highlight, of course, was being part of the 2019 world champion team.
Born in Empangeni, KwaZulu-Natal, he had no idea that he would someday become the idol of many youngsters.
His prominent rugby career started sparkling when he joined the all-boys school, Paul Roos Gimnasium in Paarl, Western Cape. In 1999, at the tender age of 17, he signed his first professional rugby contract.
His friend, Derick Hougaard, has only good words about Schalk and said to Briefly.co.za:
"He is a winner. He has always been a champion, and is certainly one of the best players who ever played for our country."
These two friends hit it off since the first time they met.
"Schalla and I have travelled a long and interesting road since playing club rugby together. I wish him nothing but the best for his future ventures."
Enjoyed reading our story? Download BRIEFLY's news app on Google Play now and stay up-to-date with major South African news!