A student's books were delivered to him with a chopper after he forgot it at home, an elderly couple showed what true love looks like and Dali Mpofu's son bagged a PhD - what a week for good news. Prince Kaybee defended DJ Zinhle against nasty haters and Somizi gushed over Zahara - the celebs were full of love.
PAY ATTENTION: Click "See First" under the "Following" tab to see Briefly.co.za News on your News Feed!
1. Student forgets books at home, parents deliver them in helicopter
A video has gone viral on social media allegedly showing parents dropping off their son's books in a helicopter after he forgot them at home.
Ituh Mokhele, who goes by the Twitter handle @ItuhMokhele, shared the video on Twitter and he captioned the post:
"So guy forgot his bag at home and parents decided to bring the bag with a chopper at NWU. Shuu guys #KeaDrive #Sandton."
The video shows a student walking towards a chopper before he collects a bag and walks away again.
The person filming the clip can be heard asking who he is after saying: "I think he forgot his bag."
Take a look at the video below (Warning, the clip contains strong language):
2. Meet 105-year-old man and 96-year-old wife who have been married for 79 years
A black couple identified as A.J. & Lillie Reeves from Virginia who are 105 and 96 respectively, have celebrated 79 years of happy marriage.
According to a video seen by Briefly.co.za on Wsls.com, the couple has been recognised in the US House of Representatives Congressional record as the 2019 winners of Virginia's longest married couple award.
Reports indicate that A.J. & Lillie Reeves come from Truevine where they have lived their entire married life.
READ ALSO: Rouge denies beef with Nadia Nakai: 'Stop tryna cause drama'
3. Halala: Dali Mpofu's son secures PhD at renowned Oxford University
Sizwe Mpofu-Walsh is one inspiring young man. Not only did Sizwe complete his PhD, but he did it at one of the world's best universities.
Sizwe revealed he successfully completed his DPhil degree - which is the prestigious university's PhD qualification in Philosophy. The proud young man shared a couple of photos of himself and captioned it:
"I passed my DPhil viva at @UniofOxford!"
Sizwe is the son of Dali Mpofu - a lawyer and politician who serves as a former National Chairperson of the EFF.
Mpofu was the picture of a doting dad as he took to social media to share how proud he is of his son. The EFF member shared a photo of his handsome son and captioned it:
"Cometh The Hour...Cometh The Son...Cometh The Doctor! Today was a VERY big and tense day of the Doctor of Philosophy panel interview at Oxford University to defend the Thesis. News Just In: WE MADE IT!!! So you can call me Proud Father of the Doctor loading... or just uTata ka."
4. Prince Kaybee defends DJ Zinhle against body-shaming bully
Prince Kaybee just earned 10 000 brownie points in the eyes of female fans and probably DJ Zinhle too. Body-shaming is a horrible and rife act of cowardice. Celebrities are targeted hard because they are constantly in the public eye and it is not okay.
Prince Kaybee jumped to Zinhle's defence against a body-shaming cyberbully. Zinhle has been going through a lot lately with the whole AKA drama, but sis has held her head high through it all like the boss babe that she is.
Some coward social media user thought it would be funny to zoom in on Zinhle's tummy and make fun of her ever-so-slight bulge – gurl, most women would kill to only have a mini-roll compared to the whole bakery!
Prince Kaybee did not find it funny at all, he found it rather insensitive and pathetic. Being the absolute gentleman that he is, Prince Kaybee shared the post stating that he hoped Zinhle didn't even think twice about it.
"If Zinhle sees this I pray it flies over her head and she keeps slaying comfortably in her own skin."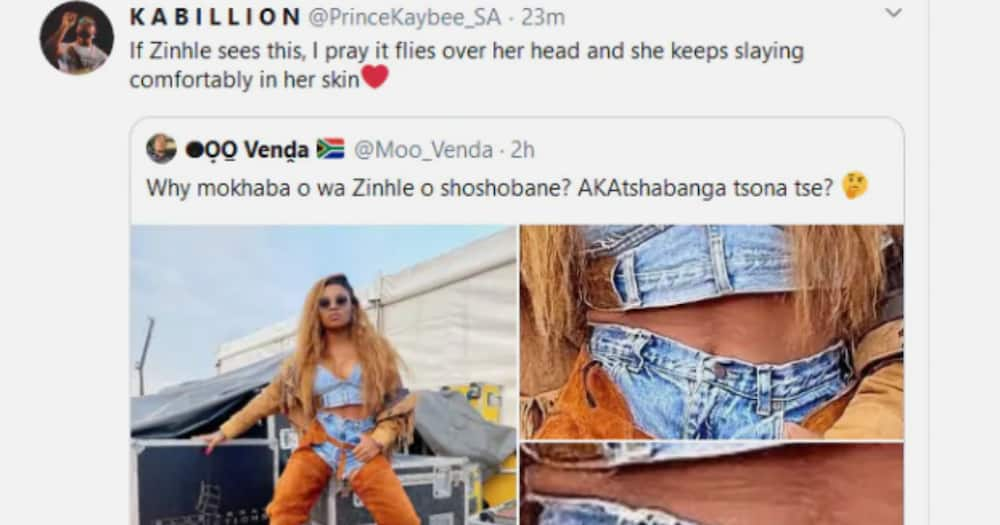 5. Somizi gushes about Zahara: "I'm loving the woman she's becoming"
Somizi noticed that Zahara is serving up serious goals this year and he's here for it. Taking to his Instagram account, the entertainer gushed about how he loves the woman that the award-winning singer is becoming.
He showed support for her and also called on his fans to do the same. It's always amazing to see celebs celebrate each other instead of throwing shade or being jealous.
Enjoyed reading our story? Download BRIEFLY's news app on Google Play now and stay up-to-date with major South African news!