- Participating in a Durban theatre production called The Durban Passion Play, two siblings found the loves of their lives
- Angela Steward and Cuan Saunders are not famous, however, it was on the stage where coincidentally they found love and met their spouses, however years apart
- The brother and sister say acting in the play has become a tradition in their family and a source of joy
PAY ATTENTION: Click "See First" under the "Following" tab to see Briefly.co.za News on your News Feed!
By Neesha Maharaj - Freelance journalist
The siblings first appeared in The Durban Passion Play at the Playhouse Theatre in 1992 after a friend asked their family to be cast members. The play has since become a significant part of their lives and the source of a heartwarming coincidence.
Angela met her partner, Malcolm, on set at the time when he played the role of a soldier:
"I always played the part of the crowd member. Malcolm and I were friends. In 1996 I found out Malcolm was not taking part. This prompted me to call him up and find out why. At the time he was busy with his law studies and couldn't be a part of the play. My calling him started many telephone conversations between us and eventually he asked me out for drinks with some of his friends.
"We dated for three years and eventually married in 2000. Malcolm proposed to be on top of the Royal Hotel. Coincidently it was at a Passion Play event," said Angela.
Two decades later and Malcolm and Angela have two children, Alexander, 16, and Catherine, 10, and continue to be cast members in the play despite having day jobs – Angela is a pre-school teacher and Malcolm is an advocate.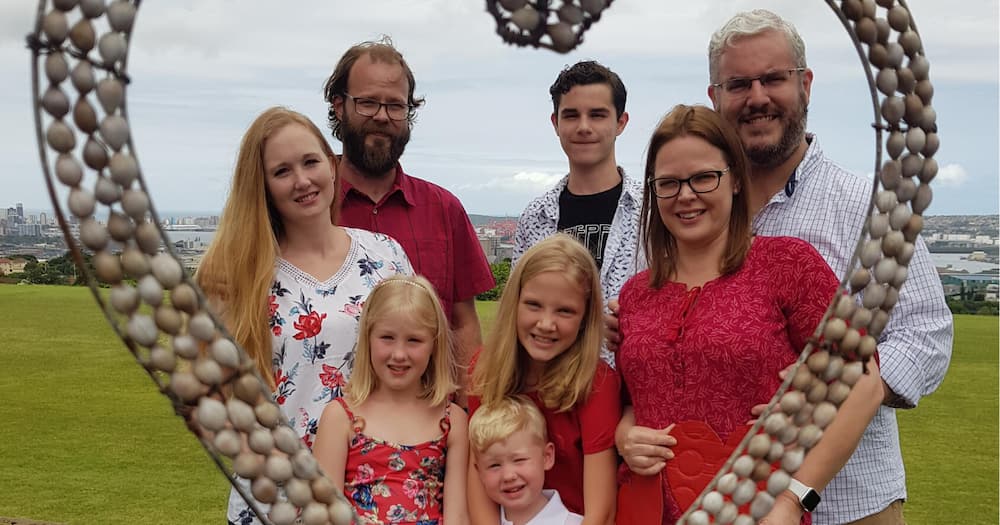 They still, to this day, volunteer every five years to be part of The Durban Passion Play when it is staged and have included their children in the production.
"We promised ourselves to take part in the play every five years. We're Catholics and believe it's our testimony to stand up and say what we want to. We do the play purely out of love. We love being part of this big production and meeting other people. This is an experience that many people don't get. We are not actors, just amateurs and love the experience of theatre," she added.
READ ALSO: DJ Zinhle suitably shades AKA while thanking her fans for catching her
Coincidentally, her brother, Cuan Saunders, also met his wife, Shantel, while playing a soldier in the play in 2005.
"Shantel and I got along well. We dated for two years and married in 2007. I proposed to her at Paradise Valley. I went down on one knee on top of the waterfall and proposed. She said yes and we now have two children, Shaylee, 8, and Liam, 4.
"We love appearing in the play and we are roped in to do other things. I designed the posters for the play and my wife, who did ballet for many years, choreographed some of the dances. We've appeared in the play for seven years now. It has become a family event and it's special because I met my wife through the play. Participating in the play is a celebration of us meeting many years ago. We love it," he added.
Clearly an appreciation for theatre brought more love into the siblings' lives and grew to have deeper significance for them and their families.
Enjoyed reading our story? Download BRIEFLY's news app on Google Play now and stay up-to-date with major South African news!