- Blindness is an unfortunate handicap, but true vision does not require the eyes
- Hein Wagner is proof of this statement
- Not only is he an inspiration to millions of people around the world, but a man who definitely does not lack courage and endurance
PAY ATTENTION: Click "See First" under the "Following" tab to see Briefly.co.za News on your News Feed!
By Brandon Nel - Freelance journalist
Blind athlete, Hein Wagner is an inspiration to so many who know his name. Not only is he an extreme adventurer, but he founded his own academy as well.
"Hellen Keller said that there is no better way to thank God for your sight than by giving a helping hand to someone in the dark," he said to Briefly.co.za.
He obviously agreed, hence his academy, founded in 2019, and aptly named the Hein Wagner Academy.
This non-profit company aims at educating the visually impaired to become economically independent but also freely participate in sports and especially the arts.
"Life is either an adventure or nothing," Wagner said.
For him, the word 'nothing' does not exist.
This blind extreme adventurer and motivational speaker has many accomplishments to his name.
Despite attending the Pioneer School for the Blind in Worcester, Western Cape, from the age of five, 100 kilometres from home, he has completed the Two Oceans Marathon, the Cape to Rio Yacht Race and the New York Marathon, and currently holds the World Blind Land Speed Record of 322.52 km/h.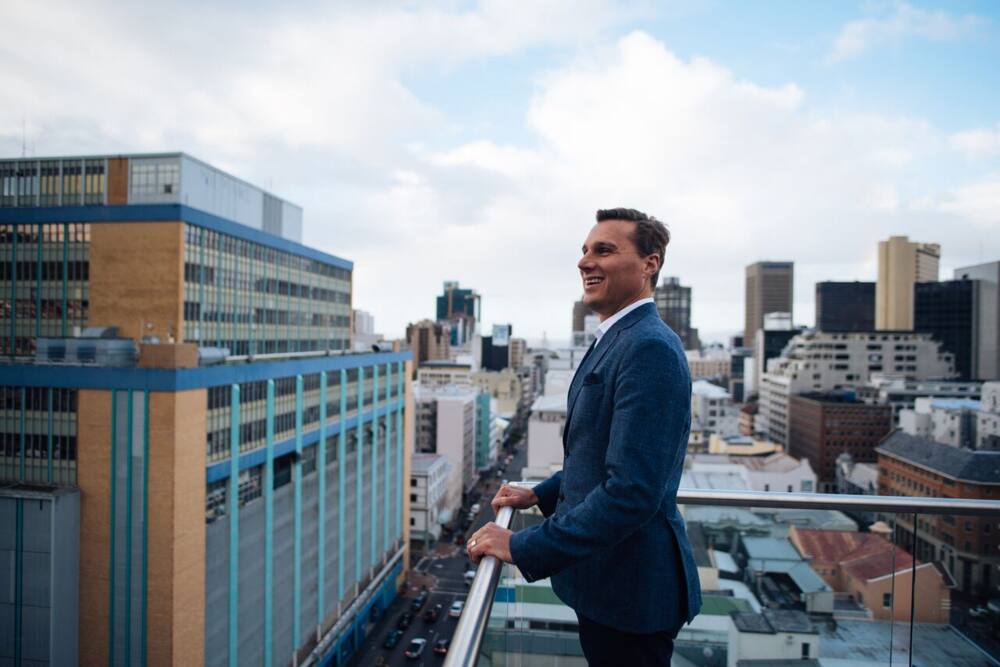 Can you imagine driving that speed, even as a sighted person?
As an adult, Wagner now acknowledges that him leaving the only safety called home at the age of five to learn to become independent was the best thing that could have happened to him.
"At first, I was insecure, scared and despondent, but it taught me from a young age to become independent," he said.
Teachers inspired him, and it was visible in his first school report card. He had clearly adapted to his environment and his non-visual world with finesse at that age.
The greatest thing in the world is to know how to belong to oneself. And he belonged, wherever he went and whatever he tried.
READ ALSO: DJ Zinhle suitably shades AKA while thanking her fans for catching her
However, as a normal teenager, albeit it one without sight, he also went through hormonal changes, and his mind went wild from the infinite questions about the whys in his life. Just because teenagers are sometimes perceived as the most irrational, moody people in the world doesn't mean that sometimes they don't hit the nail on the head with questions.
The most prominent one was 'Why was I born blind?' Of course, nobody had the answers he so desperately craved for, and this brought about a turn in the once good-natured boy. Suddenly he was a blind rebellious young man and didn't spare those that were in close contact with him.
"I went through hell trying to find answers, and it was only after I participated in a few extreme adventures that my personality changed," he said.
Wagner accepted his fate without further ado and realised that his blindness was what really set him apart from other people, and if he channelled his energy to the right places it could become a good thing.
His first job after matriculating was as a switchboard operator. He enjoyed it tremendously, but because he wanted to learn more about the rapidly growing technology sector he decided to venture into the IT industry.
His first two jobs were his first two "stepping-stones to greater achievements", his role as an international sales manager, where he managed a team of sighted individuals, was the talk of the town. He was highly respected by his staff, "and they loved my humorous nature", he said.
It was this nature and his ability to make fun of his own blindness that led to numerous invitations to act as a motivational speaker. This eventually turned into a full-time career.
People loved Wagner's humorous way of speaking about anything, including his disability. In a fun way, he made every audience realise that they could achieve anything that they dreamed about. Visualisation and perseverance. Those words were drilled into listeners.
"Laughter is a good thing," Wagner concluded.
Scientists tell us that laughter, humour and joy are important parts of life. Laughing lowers blood pressure, reduces stress hormones and increases muscle flexion.
It increases the circulation of antibodies in the bloodstream and makes us more resistant to infection.
And Wagner certainly is the right medicine for us.
Enjoyed reading our story? Download BRIEFLY's news app on Google Play now and stay up-to-date with major South African news!