Telenovelas have a way of translating a society set up to highlight the issues that people face and how to solve them. This is such a great way of creating an interesting plot while putting across essential messages. This is the experience that you will have if you watch Muvhango. Muvhango teasers for April could not bring the issue out any better.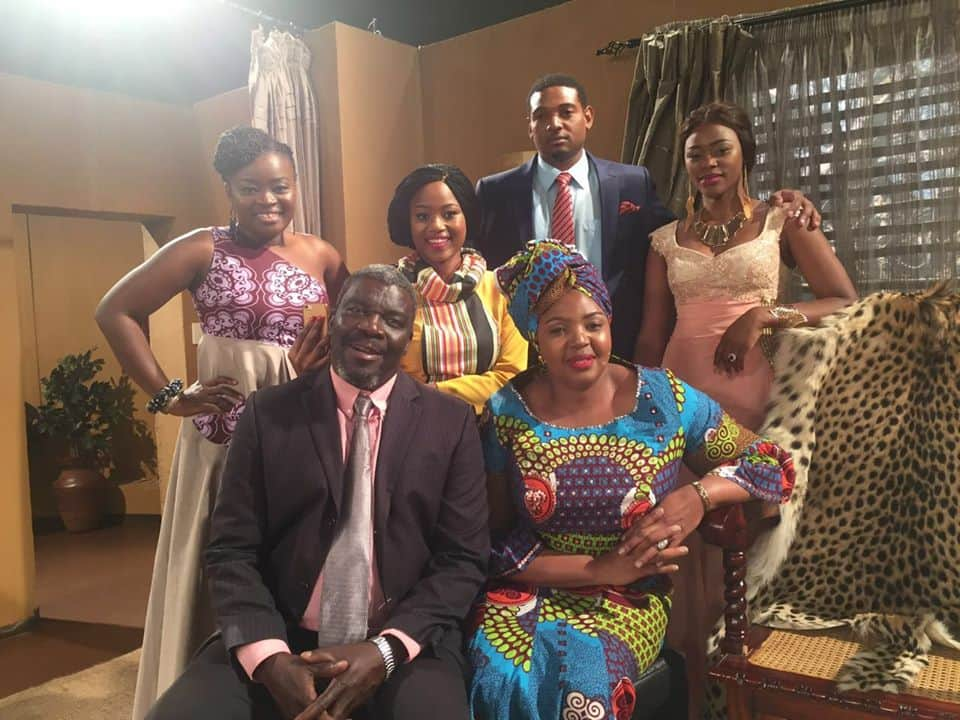 Muvhango is a telenovela that encompasses a royal family and its subjects. The members of Thate village are in disagreement with the royal family because of matters regarding land. Other Muvhango cast end up in feuds because of relationship matters due to the take that their families have on them. Will they be able to surpass these external forces? Muvhnago teasers for April shade some light on the subject.
Muvhango teasers for April 2020
These are some of the highlights of Muvhango episodes for April 2020.
Episode 3524 – Wednesday, 1st of April, 2020
James is incredulous about Meiki's better half, and his friendship with Lesedi. Vho-Masindi fails to act like a friend that Azwindini has presumed she is. Meanwhile, Mpfareni is not convinced whether Vho-Mukondeleli should be giving marital advice.
Episode 3525 – Thursday, 2nd of April, 2020
Vho-Mukondeleli lets the cat out the bag regarding marital counselling as James is caught aback when his son chooses his "other dad" instead of him, and Mpho slaps Tenda for insulting him.
Episode 3526 – Friday, 3rd of April, 2020
Mpfareni perceives that her age could be a threat to her relationship with Vhangani as James questions Tebello about his friendship with Lesedi, and Susan seems to be a threat to the plans that Vho-Masindi, Azwindini, and Mpho have regarding the ritual.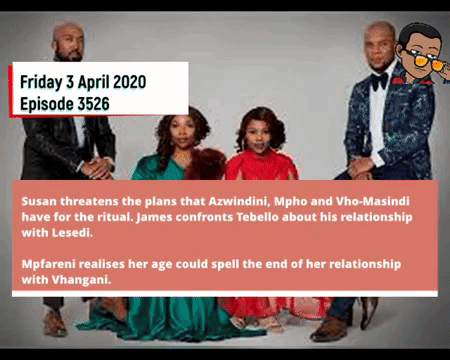 Episode 3527 - Monday, 6th of April, 2020
It looks like Seani is a threat to the relationship between Mpfareni and Vhangani as Tebello discerns the secret in Meiki's past, and Azwindini is compelled to reject Tenda.
Episode 3528 – Tuesday, 7th of April, 2020
The relationship between Vhangani and Mpfareni hits rock bottom as Mpho gets into trouble when she interferes with Susan's matters, and Tebello chooses to overlook Meiki's secrets for the sake of their relationship.
Episode 3529 – Wednesday, 8th of April, 2020
James tries to have Lesedi's attention as Susan is too desperate and is forced to make a difficult prayer, and Mpfareni and Vhangani discern that their financial prospects are not the same.
Episode 3530 – Thursday, 9th of April, 2020
Lesedi is impelled to select between the parents as Mpho's defiance leaves the whole family surprised, and Vhangani is in shock when he discovers that Mpfareni has been on a job hunt. He is more surprised when he finds out the reason behind the job hunt.
Episode 3531– Friday, 10th of April, 2020
Mpfareni and Vhangani finally discern the key to a comfortable marriage, and this step makes Vho-Mukondeleli reveal her prospects of being a relationship counsellor. On the flip side, James is shocked when he discovers that his mother has been made to choose his battle as Mpho requests to be independent, and Azwindini is left in a bad place.
Episode 3532 – Monday, 13th of April, 2020
Mpfareni and Vhangani settle their differences although they have a task regarding their counselling as Moipone declares war on Marang because she thinks Marang is the feeble link to the MotsamaiMeiki saga. Azwindini gets at Gizara when he questions his position as chief.
Episode 3533 – Tuesday, 14th of April, 2020
Hangwani is excited after hanging out with Margaret, who has rekindled her desire for travelling as Vho-Makhadzi sides with Azwindini and warns Gizara about getting involved with the farmers. Meanwhile, Marang and Tebello are sidelined during the party.
Episode 3534 – Wednesday, 15th of April, 2020
Hangwani is concerned about communicating with Margaret as Gizara gets into a mess when his family discovers that he did not follow Vho-Makhadzi's orders and Marang and James might not agree with the plans that Meiki is making.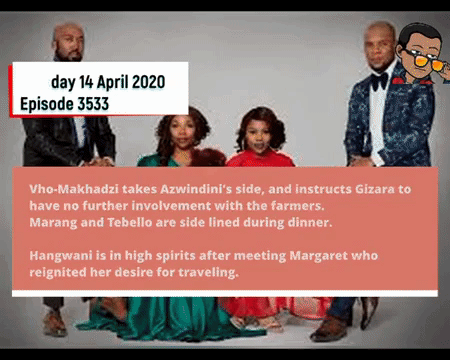 Episode 3535 – Thursday, 16th of April, 2020
Hangwani goes on vacation as Vho-Masindi decides to make a dire move to have Azwindini in his place. Meanwhile, Lesedi is in hospital, and Marang is the only person to notify Meiki about it.
READ ALSO: Isidingo Teasers: March 2020 (What you can expect in the final episodes!)
Episode 3536 – Friday, 17th of April, 2020
Hangwani goes through a difficult time trying to convince someone to accompany her as Vho-Masindi is excited when he discerns that Gizara will step down as chief, and Meiki expresses her frustrations on Marang.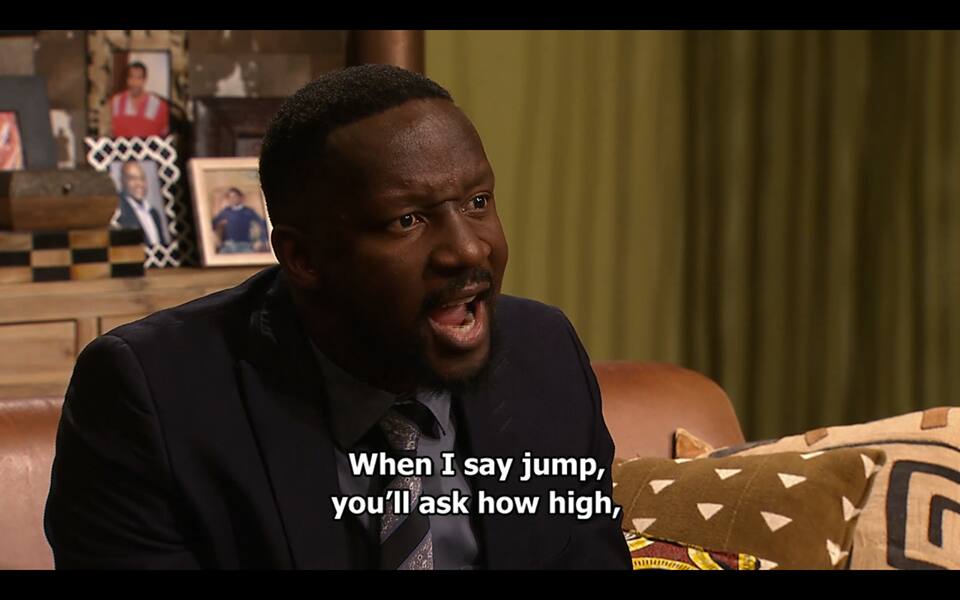 Episode 3537 – Monday, 20th of April, 2020
Hangwani's longing to find a travelling partner lands her to someone that she has not anticipated as the MMC bulldozers trespass to the area that is being tilled by the members of Thate village. Meanwhile, Lesedi's desire to fix his parent's differences forces him to use desperate measures as Marang realises that she has been side-lined.
Episode 3538 – Tuesday, 21st of April, 2020
Vho-Mukondeleli insists on getting into the travelling plans that Hangwani has in mind as Marang and Meiki are confused when they learn about what happened to Lesedi. The royal house is working against time to solve the issue regarding land.
Episode 3539 – Wednesday, 22nd of April, 2020
Hangwani's interests are about to become known as the trip comes to an end while Marang opens up about her fears, and James is compelled to agree to have children with her. Meanwhile, KK hosts a suspicious meeting in his room.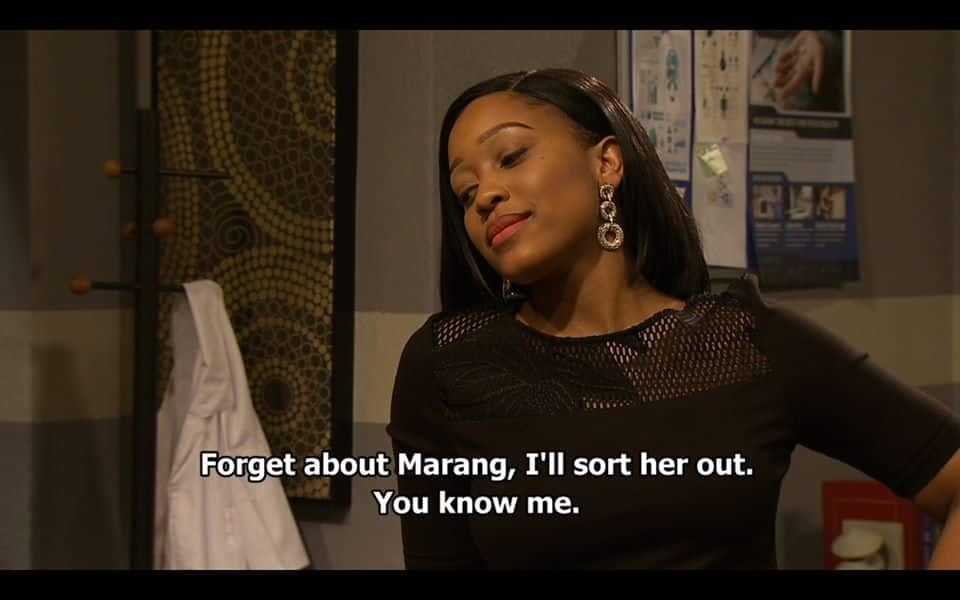 Episode 3540– Thursday, 23rd of April, 2020
Vho-Mukondeleli is prepared to have fun as James expresses his frustrations about Tebello interfering with the plans that he has made with Lesedi. Meanwhile, Vho-Masindi questions KK but the response that she gets is more than what she has anticipated.
Episode 3541 – Friday, 24th of April, 2020
Vho-Mukondeleli is excited about her first flight as the whole Thate village is in tension, and the Mukwevhos are incriminated about the land case. Meanwhile, James is overwhelmed by emotions that he has said some painful words to Meiki.
Episode 3542 – Monday, 27th of April, 2020
The two ladies are back from the vacation, although they do not seem to be happy as James resorts to using force after Meiki comes in his way from seeing Lesedi, and Gizara's efforts regarding the land issue bear fruits.
Episode 3543 – Tuesday, 28th of April, 2020
Magaret tries to talk Hangwani into planning another trip as Meiki confirms that she still has a crush on James, and Phusuphusu questions Mulalo about the changing times and the need to act fast.
Episode 3544 – Wednesday, 29th of April, 2020
Vho-Mukondeleli is worried about her financial situation regarding the next trip as James discovers that Meiki is planning on having Lesedi circumcised, and Mulalo informs Azwindini about facing the royal family.
Episode 3545 – Thursday, 30th of April, 2020
Vho-Mukondeleli asks for money to fund her trip. However, the amount leaves Mulalo's household in shock, and Meiki's household issues James with an ultimatum if he still wants to have Lesedi. On the flip side, the royal council is unable to reinstate Azwindini; hence there is a state of confusion.
James
James seems to be insecure about the people that Lesedi relates to that he even confronts them. He ends up in a difficult situation as Meiki issues an ultimatum regarding him having Lesedi.
Vho-Mukondeleli
Vho-Mukondeleli wishes to join Hangwani for her trip although she does not have the finances. Will the Mulalo's household accept to fund her second trip?
According to Muvhango teasers for April 2020, it is clear that the upcoming episodes are going to be intense. You cannot afford to miss out on any scene. Ensure that you tune in to SABC2 at 21h00 every weekday for more drama.
READ ALSO:
Uzalo Teasers: April 2020
Binnelanders Teasers: April 2020
True Love Teasers: March 2020
Young Love Teasers - March 2020