Kirk Douglas' son Michael Douglas has proven his prowess in the film industry. Having been brought up by an iconic father, the actor has managed to live up to people's expectations. Kirk's legacy moves on through his son.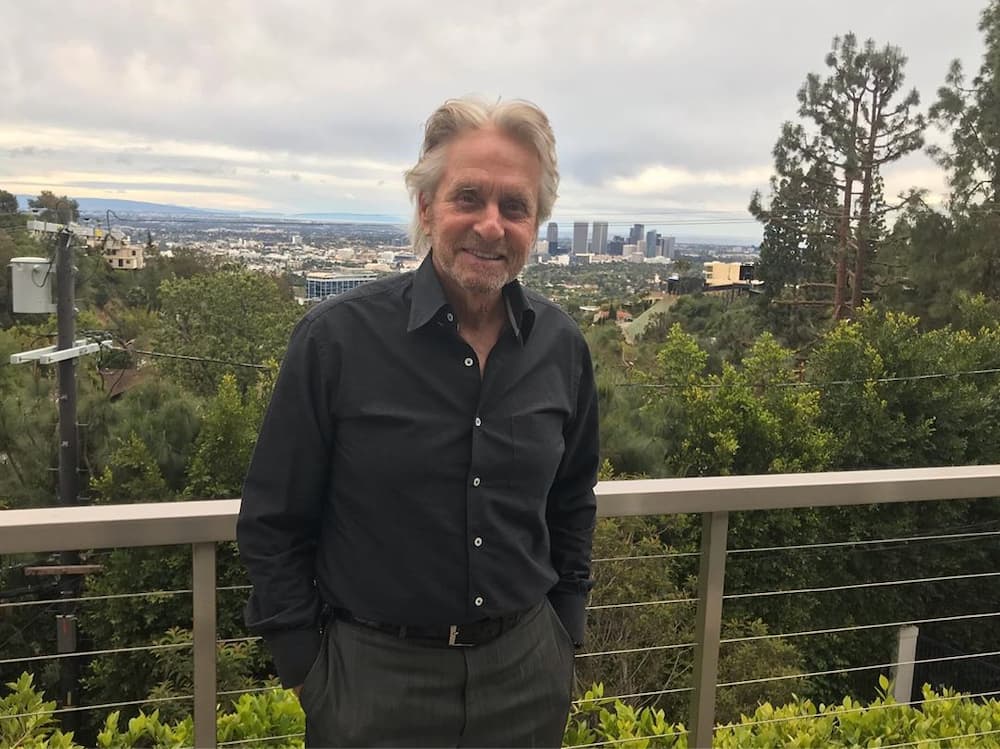 Michael Douglas is an American actor who doubles up a producer. He is a renowned actor who has risen to prominence following his numerous accomplishments in the film industry. He has also been on the limelight for his involvement in politics. This article gives an insight into the actor's life.
Michael Douglas profile summary
Birth name: Michael Kirk Douglas
Date of Birth: September 25, 1944
Place of Birth: New Brunswick, New Jersey, United States
Age: 75 years
Zodiac sign: Libra
Nationality: American
Citizenship: the United States and the United Kingdom
Parents: Kirk Douglas and Diana Dill
Occupation: Actor and film producer
Years active: 1966–present
Michael Douglas age
Michael Douglas birthday was on September 25, 1944. He was born in New Brunswick, New Jersey. He is 75 years old.
Michael Douglas family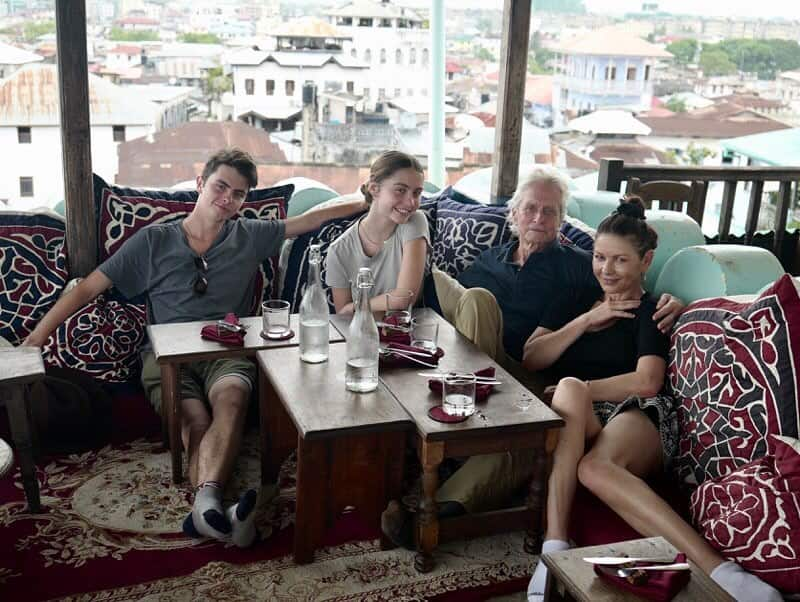 Michael Douglas parents are notable characters in Hollywood. His father is the famously known Kirk Douglas, whose numerous works have significantly impacted the American film industry. He was a great actor, producer, director, philanthropist, and writer. He died on February 5, 2020, at the age of 103.
Michael's mother, Diana Dill, is known for major acting roles in the film industry. She was a breast cancer survivor who died at the age of 92 from an undisclosed form of cancer.
Michael has famous siblings in the film industry. He has one biological brother, Joel Douglas, and two half-brothers Eric and Peter Douglas, from his step-mother, Anne Buydens.
Education
Michael attended Allen-Stevenson School in New York before joining the college-preparatory school, Choate Rosemary Hall. He received his Bachelor of Arts degree in Drama from the University of California, Santa Barbara in 1968.
Early career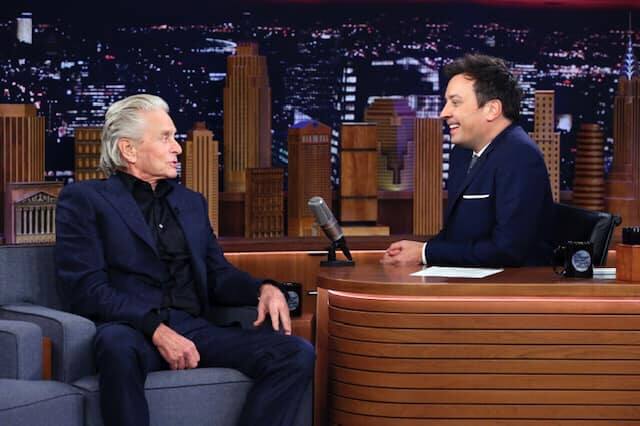 The iconic actor began his career in the film industry in the late 1960s. He made appearances in films with less popularity during his early times in the industry. He first appeared in Hail, Hero (1969), Adam at 6 A.M (1970), and Summertree (1971).
His outstanding role in Hail, Hero earned him a nomination, which landed him significant roles in the industry. Following the nomination, he made the following successes in his early years:
The Streets of San Francisco (1972-1976) - starring role alongside Karl Malden
One Flew Over the Cuckoo's Nest (1975) - he produced his father's novel under the same name
Coma (1978) - played a hospital doctor
Running (1979) - starring role
The China Syndrome (1979) - producer and starring role
Professional career
Michael had a significant career breakthrough following his producing and starring in the film in the 1984 romantic comedy, Romancing the Stone. He was after that named Producer of the Year. He then produced a sequel of the film The Jewel of the Nile in the following year. Over the years, he has continued to produce and act in several other films and won many awards.
Michael Douglas movies
The renowned actor has received a global recognition following his notable roles in Hollywood. Some of Michael Douglas best movies include:
Wall Street (1987)
Wall Street: Money Never Sleeps (2010)
The War of the Roses (1989)
Basic Instinct (1992)
Disclosure (1994)
Don't Say a Word (2001)
The Sentinel (2006)
Behind the Candelabra (2013)
Ant-Man (2015)
Ant-Man and the Wasp (2018)
Avengers: Endgame (2019)
Michael Douglas Avengers: Endgame role as Hank Pym is among the latest remarkable works he has been involved in. The film was produced by Marvel Studios and is a sequel to previous Avengers movies. Dr. Henry Pym, also known as Hank Pym, is a fictional character that has been developed by Marvel Comics over the years.
Michael Douglas awards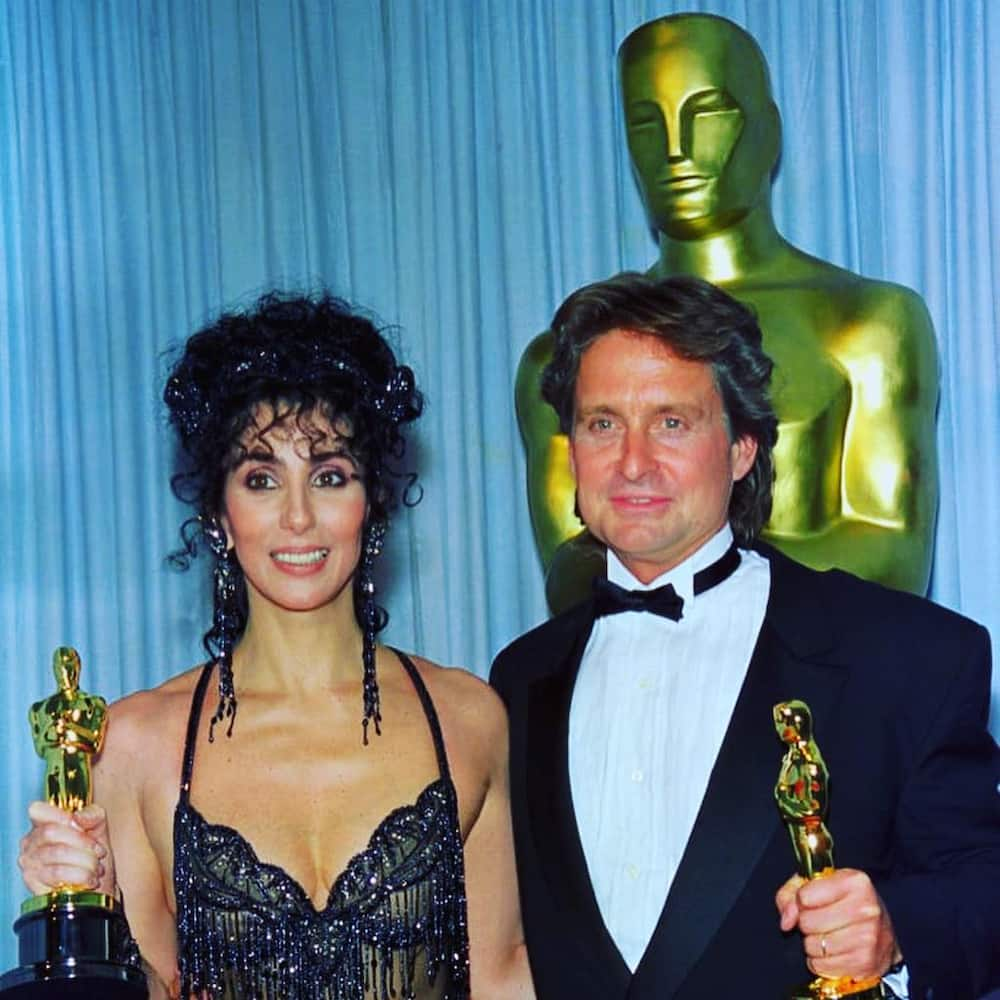 The renowned actor has garnered himself several nominations and awards owing to his many works in the film industry. Among the several nominations, he has won a number of them including:
Gold Derby Award for Best Actor - Miniseries or Television Film in 2013
National Board of Review Award for Best Actor in 1987
Golden Globe Award for Best Actor - Television Series Musical or Comedy in 2019
Guardian Film Award for Best Line of Dialogue in 2014
READ ALSO: K Naomi bio, spouse, Instagram, profile
Michael Douglas net worth 2020
His involvement in showbiz as an actor and producer has earned him a lot of money. His net worth as of 2020 is $300 million.
Michael Douglas about Mike Bloomberg
Michael's involvement in political activism has been dated from 2003 where he hosted the Nobel Peace prize concert with his wife, Zeta-Jones. He has also demonstrated strong political support for the Democratic Party.
In his recent political activities, Douglas has shown great support for Democratic presidential candidate Michael Bloomberg. Douglas, together with his son, Dylan, has been campaigning for the Democrat candidate in Boston.
Personal life
Apart from his well-reckoned professional life, Michael has his personal life.
Family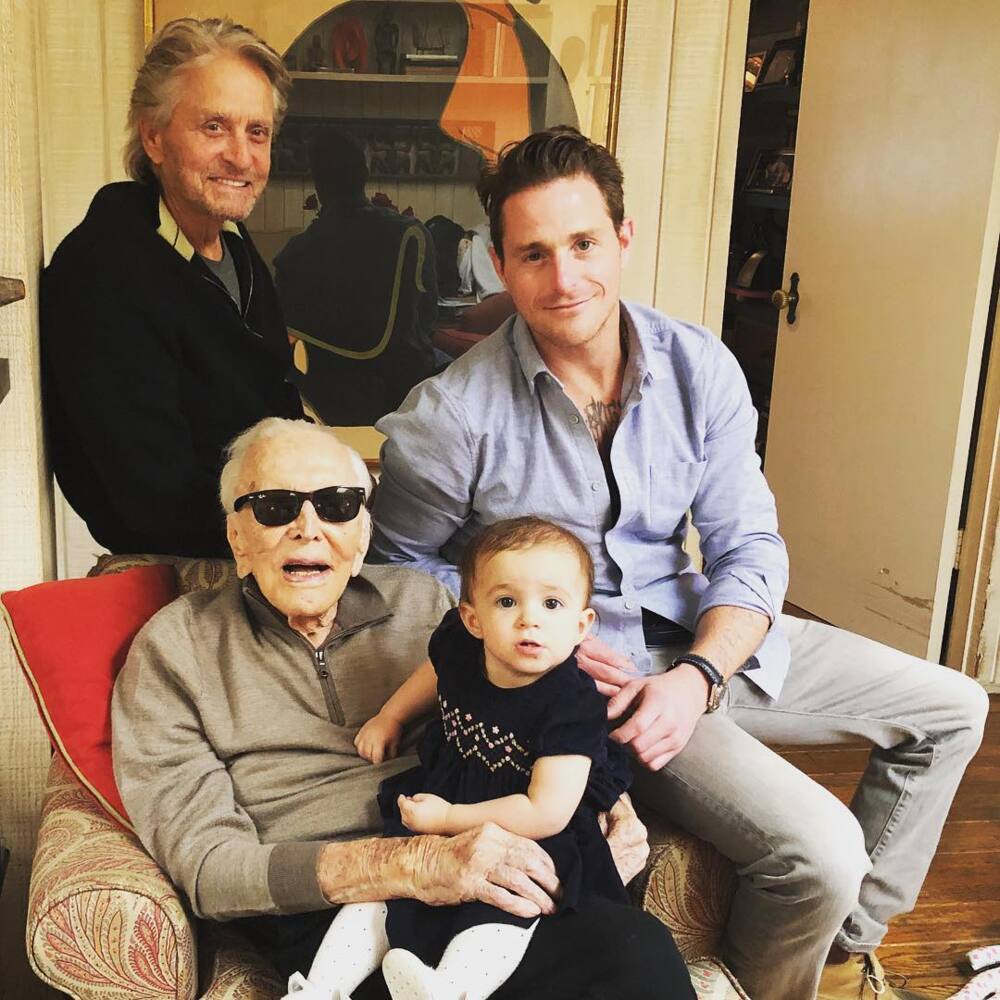 At the start of his career, Michael dated actress Brenda Vaccaro but later broke up after six years of dating. In March 1977, he married Diandra Luker and had a son, Cameron, with her. The couple divorced in 1995. Michael Douglas son, Cameron Morell Douglas followed into his father's footsteps and is an actor.
On November 18, 2000, the actor married actress Catherine Zeta-Jones. In March 2013, fans speculated that the two had separated. So, is Catherine Zeta-Jones still married to Michael Douglas? Sources close to the family revealed that the separation had been temporary as the couple needed some time apart. On November 1, 2013, the couple reconciled, and Michael Douglas wife, who had left their home, went back. They are blessed with a son, Dylan Michael, and a daughter, Carys Zeta.
Health
On August 16, 2010, the actor was diagnosed with throat cancer. Michael Douglas throat cancer was discovered at stage IV. He subsequently underwent chemotherapy and radiation treatment. The iconic actor believed that the disease was a result of stress and previous smoking and alcohol abuse.
In October 2013, Douglas confirmed that he had tongue cancer and not throat cancer as previously discovered. He has been under treatment, and his acting career remains unaffected by the illness.
Michael Douglas has made significant career moves in the film industry just like his father, Kirk Douglas. The audience has well-received his works. His projects outside filming, such as political activism, have also increased his popularity.
READ ALSO: