Pete Davidson is a renowned American comedian and actor whose fame has risen over the past few years. He is best known for his acting role on the Saturday Night Live show. Early in 2018, there were rumours of him and Ariana Grande dating, which caused him to make headlines.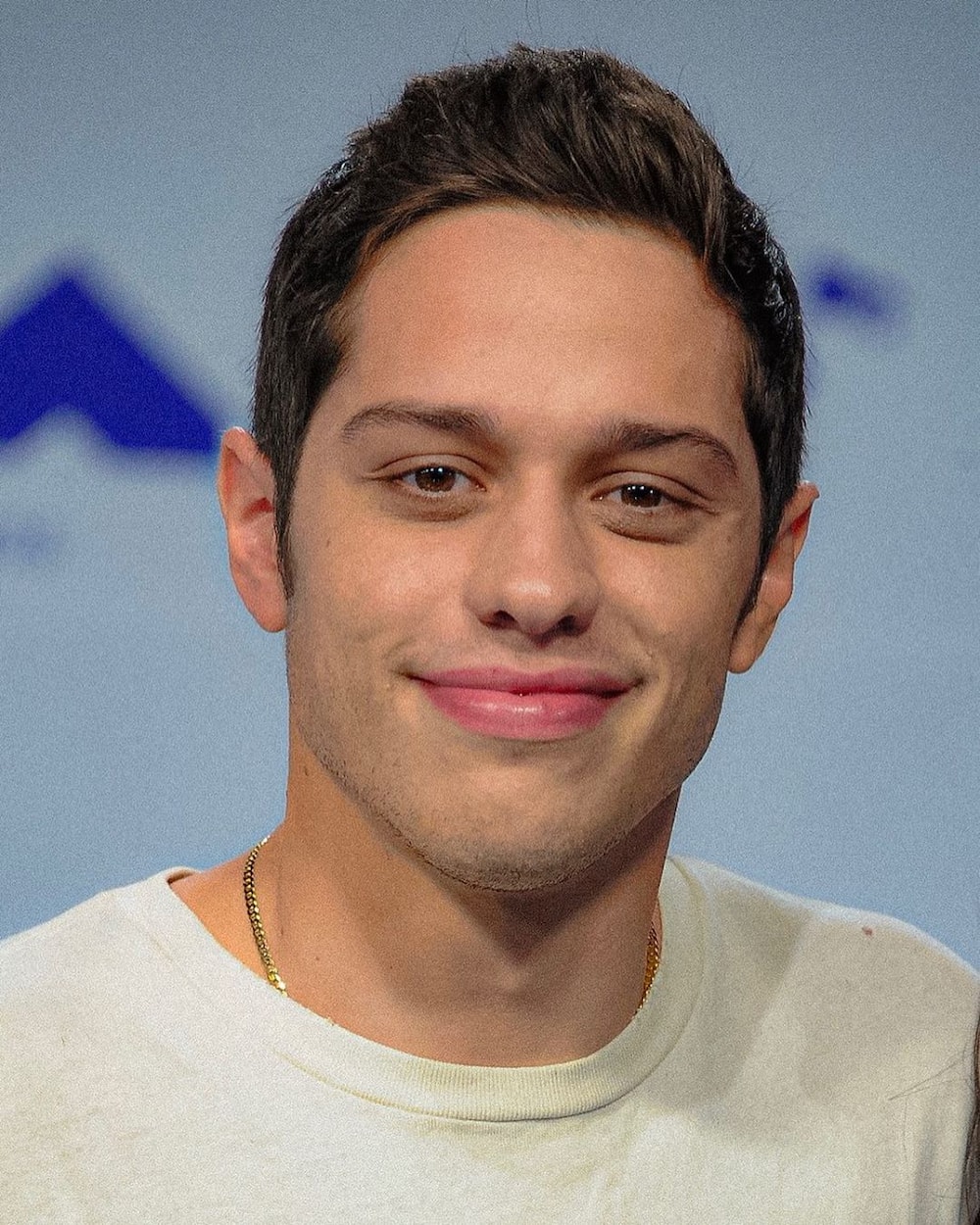 Well, his life has been no walk in the park. He has had his fair share of mishaps from a publicized relationship to a break-up and also rebounds. Here are some interesting facts about the comedian that you should know.
Profile summary
Full names: Pete Davidson
Year of birth: November 16, 1993
Pete Davidson age: 26 years
Nationality: American
Marital status: Single
Profession: Comedian, producer, actor
Early life
He was born on November 16, 1993, to his father, Scott Matthew, and mother, Amy Waters. His mother is a nurse. The comedian grew up in a Catholic household. Despite facing numerous challenges while growing up, the actor was able to complete high school.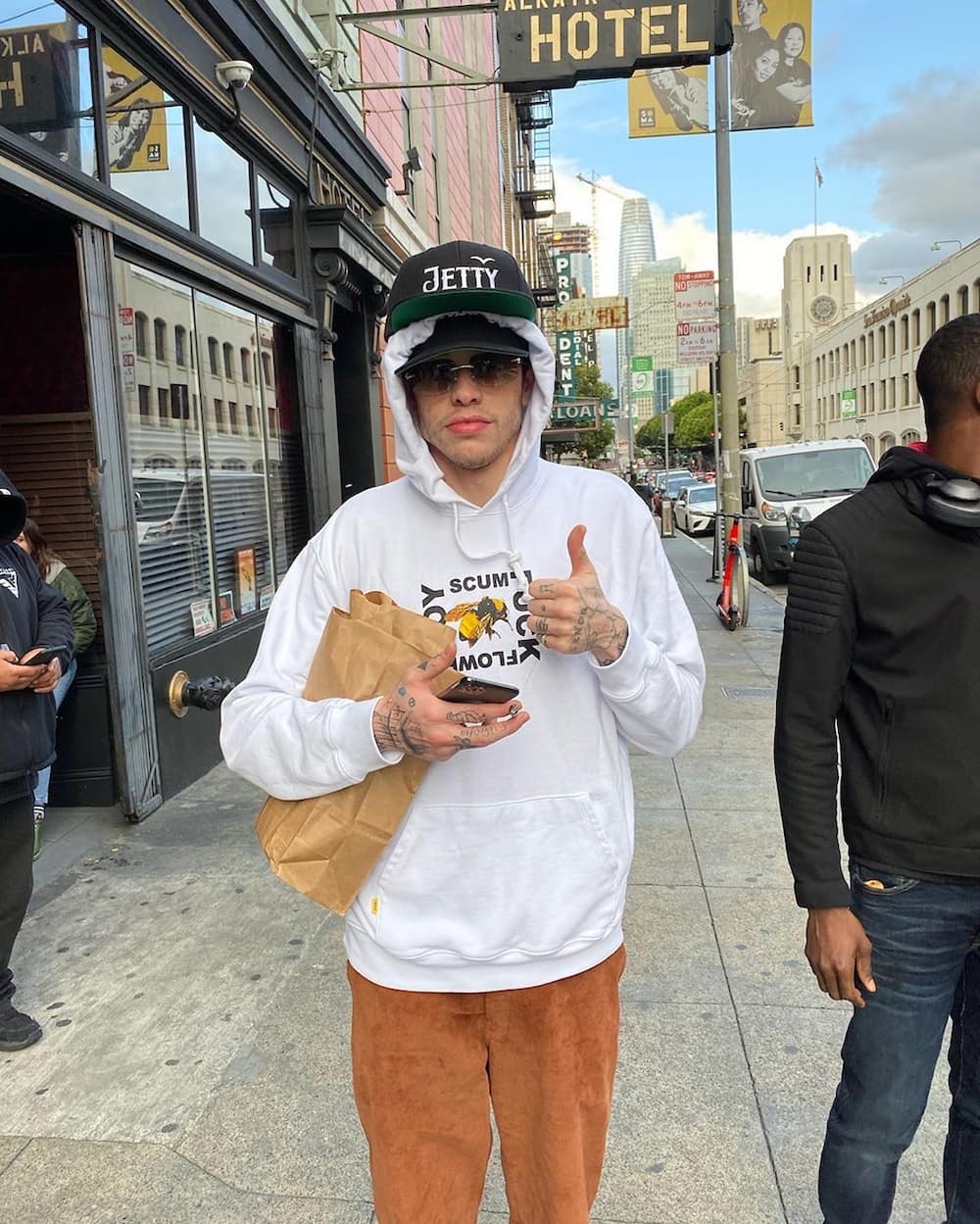 He schooled at St. Joseph by-the-sea High School, Tottenville High School, and finally joined Xaverian High School, where he graduated in 2011. He then joined the Brooklyn Height's St. Francis College but later dropped out.
He lost his father at the tender age of seven years. His dad was a firefighter in New York City and lost his life during the 9/11 attack when entering the twin tower. Since then, the comedian has suffered from suicidal thoughts, and at one point in his life, he ripped out his hair from his head. At 17 years, he was diagnosed with Crohn's disease.
Career
His career in comedy kick-started after the death of his father, and his mother started taking him around comedy gigs and shows as he was always sad. Surprisingly, comedy made him quite happy. He started developing interest in it, and in no time, he started rising in the comedy ranks. He began opening tours for Bob Levy and Nick Cannon.
He also received stints on the popular MTV shows Wild n Out and Guy Code. He also met with comedian Amy Schumer in a comedy club, and luckily, she casts him in her movie Trainwreck. He has also featured in various acting stints, such as The Angry Birds 2, Brooklyn Nine-Nine, The Dirt, among others.
Pete Davidson photos
Pete Davidson Instagram and Pete Davidson Twitter accounts are not in existence now. Here are some of the comedian's photos.
Outdoor Pete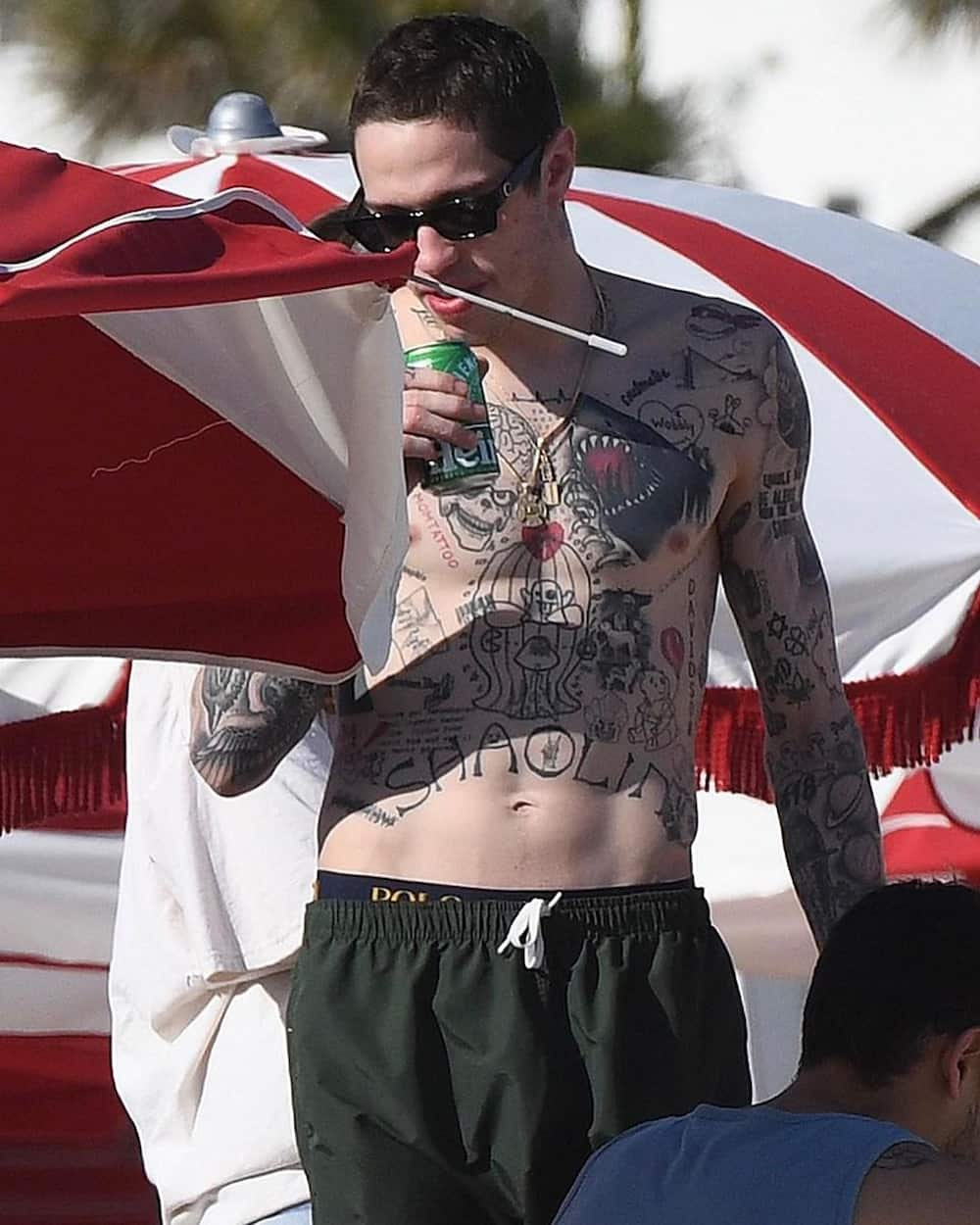 Enjoying some read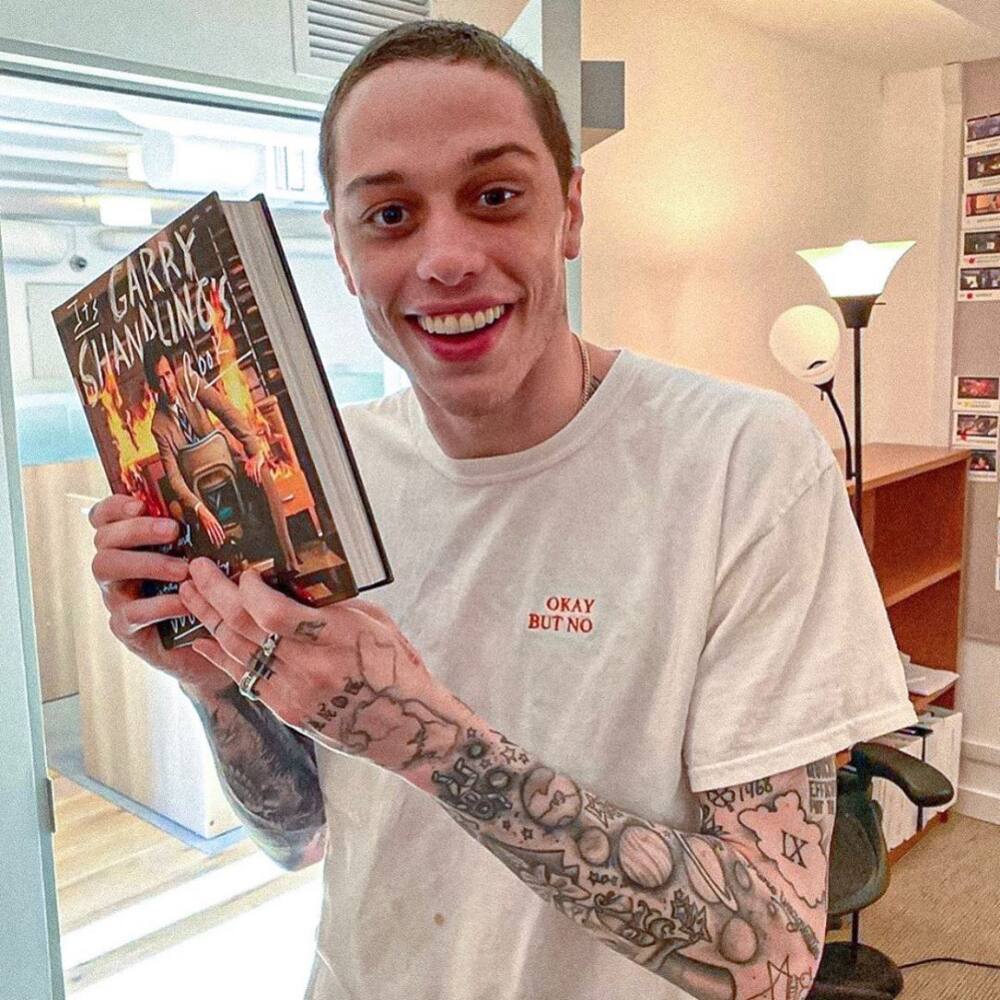 Pete Davidson movies and TV shows
He is the current youngest cast member of Saturday Night Live, which is an achievement. The actor has featured in various TV shows and movies which include:
Wild n Out
Guy Code
Trainwreck
The Angry Birds 2
Brooklyn Nine-Nine
The Dirt
Who is Pete Davidson girlfriend?
The comedian has been in several relationships. He has previously dated Casey David, Ariana Grande, and Kate Beckinsale. Despite his previous failed relationships, he is reported to be dating Hollywood actress Margaret Qualley.
Pete Davidson tattoos
The comedian seems to have a soft spot for tattoos. He has more than 40 tattoos all over his body as his back, chest, and arms are covered in tattoos. Some of the notable tattoos include a giant wolf on his right forearm, a giant unicorn on his forearm, a fireman's helmet, and the numbers 8418 in honour of his late father. He also has portraits of Supreme Court judge Ruth Bader and Hilary Clinton.
Interesting to note, he has tattoos representing Harry Potter books on his body. Also, he and Ariana got matching couple tattoos but had them covered up when their relationship ended.
Pete Davidson Netflix special
Last month, Netflix announced that the comedian would star in his first stand-up special on Netflix titled Pete Davidson: Alive from New York.
Pete Davidson net worth
The comedian is speculated to have a net worth of about $6 million from his career in comedy and acting.
READ ALSO: Diego Sanchez bio: record, nickname, nationality, net worth
Pete Davidson has proved to rise against all odds that life has thrown at him to become one of the best comedians. His life story is inspiring to many as he strives to bring a smile to others.
READ ALSO: