Sean and Melisa O' Neil's swimming prowess has made the couple the swimming power couple among those with Down syndrome.
PAY ATTENTION: Click "See First" under the "Following" tab to see Briefly.co.za News on your News Feed!
Over the years, the O' Neils have bagged many medals for their swimming victories while competing locally and internationally. They were to compete in the Down Syndrome Olympics in Turkey last month; however political turmoil in Turkey and the coronavirus hampered their chances of testing their mettle once again.
Both Sean and Melisa had no aspirations to swim competitively when they began swimming but they realised they were both talented in the sporting code and had what it took to be victorious.
"Melisa got involved in swimming at age 22 to lose weight and keep fit. She realised she had the ability to compete and entered competitions and has gone from strength to strength thereon. Sean began swimming from 13 years old." Ann van Bosch, Melisa's mother, told Briefly.co.za
The O'Neils' last swimming competition was the Triphomy Games in Canada in 2018 where all people with disabilities compete in various sporting codes. Both had won in their respective contests. They have also participated in the Triphomy Games in Italy in 2016.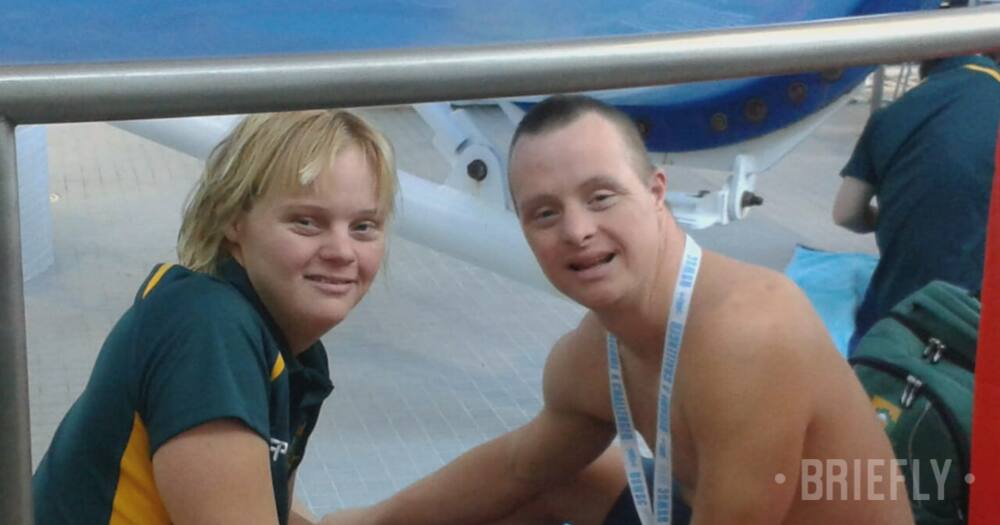 To sustain their swimming abilities, the O' Neils train daily with the assistance of a coach and are a part of the Tiger Sharks Swimming Academy.
READ ALSO: AKA asks fan who requested R1000 birthday gift money if he's high
"They both come alive in the water. They love swimming and have competitive spirits. When they are in the water they have the most fun," said Van Bosch.
Melisa's best sporting accomplishment was been bestowed with the KZN Sporting Woman of the Year Award by the Minister of Sport in 2018. This was one of the highlights for Melisa as it reiterated her success as a swimmer and was an indication that her swimming endeavours were recognised in KwaZulu-Natal, said Bosch.
Bosch said it was sad to note that people with Down syndrome were discriminated by society as a whole.
"When it comes to work and sporting opportunities they, unfortunately, get the short end of the stick. As a mother, I never raised Melisa to believe she was any different.
"Funding is always an issue for them when it comes to competitions. Unfortunately, businesses do not sponsor downs syndrome sportspeople as they would able-bodied people. Unfortunately, they don't get any endorsements," she said.
Sean, who works at a Spar supermarket, and Melisa met at an annual dance held for Down syndrome people at the Westville Baptist Church in February 2014. It had been love at first sight for the two who were engaged in December the same year. They married in December 2016.
The O'Neils draw inspiration from each other and strive to be the best in everything they do. They are waiting for the world to overcome the current challenges with the coronavirus so they can compete in their next sporting challenge.
Enjoyed reading our story? Download BRIEFLY's news app on Google Play now and stay up-to-date with major South African news!