- The coronavirus pandemic and the South African 21-day lockdown have left many facing retrenchments, salary reduction, short time and possible business closure
- A special National Disaster Benefit Fund was put in place to relieve income complications caused by the lockdown
- Briefly.co.za discusses how one can apply for this special benefit
PAY ATTENTION: Click "See First" under the "Following" tab to see Briefly.co.za News on your News Feed!
A special National Disaster Benefit Fund was put in place by the South African government to help relieve income complications caused by the 21-day lockdown – the Covid-19 Temporary Employer-Employee Relief Scheme (COVID-19 TERS).
A total of R30 billion has been allocated to the fund, which will pay Unemployment Insurance Fund (UIF) benefits for up to three months to qualifying workers whose incomes have been compromised as a result of the lockdown.
The National Economic Development and Labour Council (Nedlac) held a meeting where the restructuring and special implementation of relief was discussed and agreed upon before the lockdown commenced.
While UIF normally only covers those not receiving an income due to unemployment, retrenchment, disease or disability and maternity leave, the policy was amended to take into account the predicted loss of income as a result of the coronavirus pandemic and the 21-day lockdown.
There are two ways to apply for relief:
1. The employer does it on behalf of employees, in cases where all or majority of employees are affected - something the department has urged employers to do so as it makes processing more fluid;
2. Or the individual can apply on behalf of themselves.
If you have any questions or require any assistance with uFiling, you can call 086 439 729 or email Online.BCP@labour.gov.za.
There has been a dedicated UIF hotline created (012 337 1997) for Covid–19 TERS Benefit enquiries during the lockdown period.
The Easy Guide for Electronic Claims can be accessed here.
Please note that relief Ts&Cs are constantly changing. To stay up to date with any changes, follow @DeptofLabour and @UIFbenefits on Twitter or visit www.labour.gov.za for regular updates.
Who is eligible to apply for income relief through UIF?
Any person who is classified as an employee and who has been contributing to UIF is eligible to claim if their income has been compromised as a result of the coronavirus pandemic and 21-day lockdown.
In normal circumstances, the UIF would only pay out to employees who have been contributing to the fund for a certain period of time based on their income, however, this has been voided for the 21-day lockdown period. No matter how long you have been contributing, be it one month or 10 years, you will be compensated if you have faced a loss of income as a result of the virus and/or lockdown.
The relief fund covers all loss of income, be it total or partial. Employees are able to claim not only for the total loss of income but partial loss as well – be it a short time, salary reduction, etc.
How much will I be paid?
The UIF department has a special algorithm that works out percentage payment based on a number of factors, however, no person will receive less than R3 500 (minimum wage) per month, for the duration of the lockdown or the standard three-month relief period.
Relief amounts will be calculated in terms of the income replacement rate sliding scale of 38% (for high earners) up to 60% (for low earners) as provided in the Unemployment Insurance Act, subject to the maximum threshold which is currently R17 712, as explained by Labourwise.
Where can I, and how do I, apply for Covid-19 related income relief?
All UIF claims are being processed electronically using the uFiling website and services.
READ ALSO: Papa Penny Ahee returns for another entertainment-filled season
If you do not already have an existing uFiling account, you will need to register before applying.
Briefly.co.za has previously answered questions regarding uFiling and how to register for it, as well as how to claim for UIF electronically.
All relief claims will be made under Unemployment Benefits (Ordinary and Reduced Work Time), unless the claim is due to illness, that will then be made under Illness Benefits claim.
There are a number of different forms and documents that need to be filled out and produced when applying for relief – all forms can be downloaded from www.labour.gov.za.
These are the required forms/documents based on the nature of the claim:
Reduced working time and Loss of Employment - (income cut or loss of employment as a result of the virus/lockdown)
UI19 and UI2.7 (completed by employer)
UI 2.1 (application)
UI 2.8 (bank form completed by the bank)
A letter from the employer confirming reduced work time is due to the coronairus
Copy of ID document
Illness Benefit - (if you have had to stop working because you have contracted the virus and have not been compensated by your employer for this time off)
UI19 and UI2.7 (completed by employer)
UI2.2 (a portion of which is completed by doctor)
UI 2.8 (bank form completed by the bank)
Copy of ID document
All forms need to be sent to your nearest office by either email or fax to email.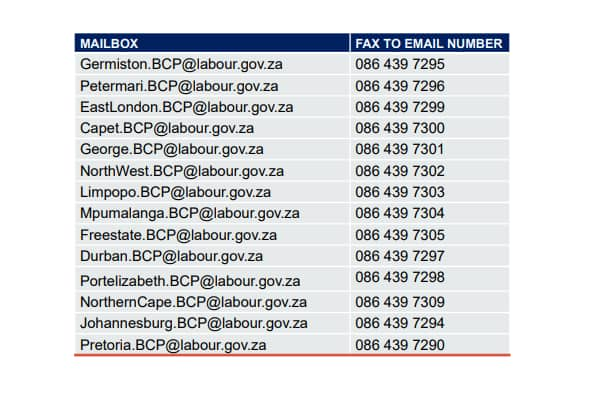 Enjoyed reading our story? Download BRIEFLY's news app on Google Play now and stay up-to-date with major South African news!