Nikki Haley bio: husband, children, net worth, career, could she be Trump's running mate?
If you are a keen follower of current American politics, you will agree to the fact that President Donald Trump is a real political chess master. Friends and foes dread him for his enigmatic style because even some within his inner circle hardly predict his next course of action. For a while, though, allegations have been doing rounds that he is planning to replace Mike Pence with the former South Carolina governor Nikki Haley. Read through to get the whole story.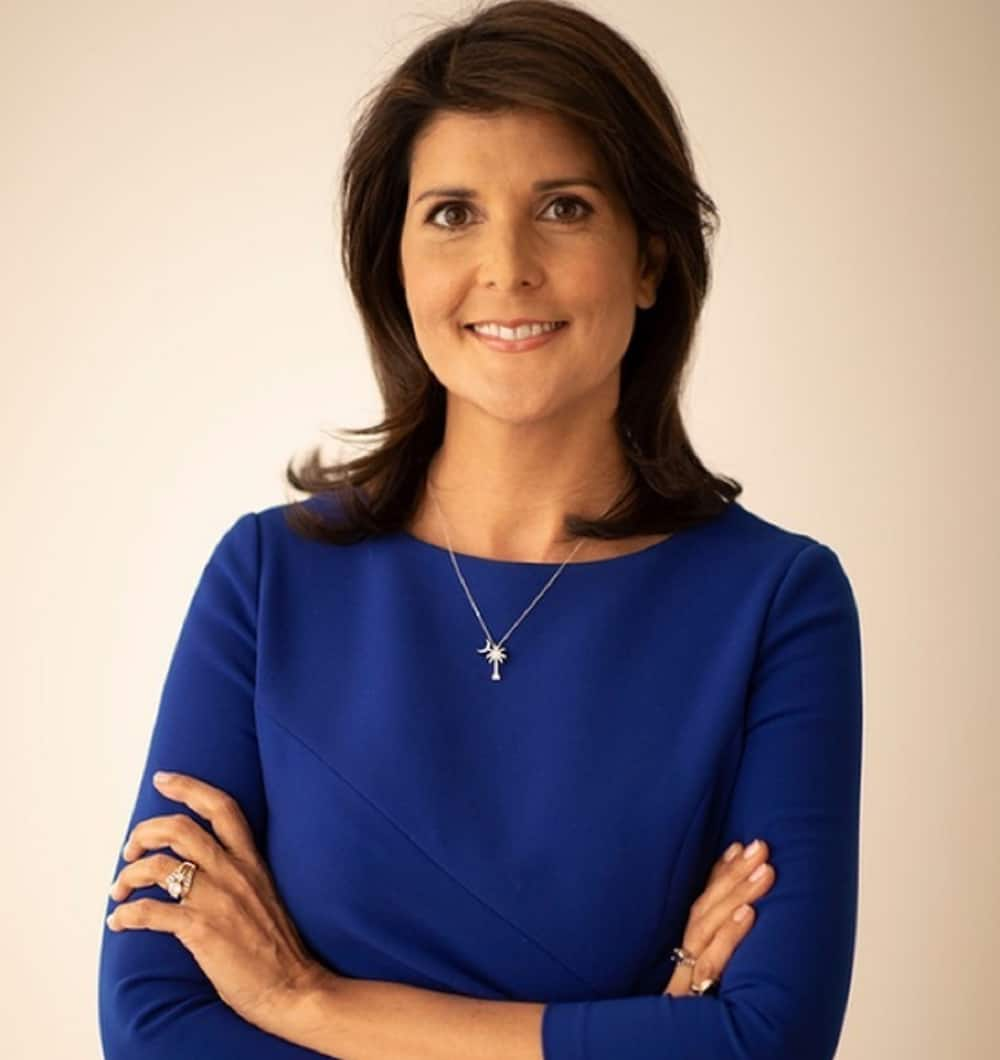 Nikki Haley, also known as Nimrata Randhawa, is a US diplomat, author, politician, and a fairly successful business lady. She is a Republican legislator who has gone in the record as the first US governor of the Sikh American identity. She is the first female to serve as South Carolina's governor. President Trump, in January 2017, appointed her as the US ambassador to the United Nations, a position she served in till December 2018 and then resigned.
Profile summary
Birth name: Nimrata Randhawa
Year of birth: January 20th, 1972
Place of birth: Bamberg, South Carolina, Marekani
Education: Clemson University, Orangeburg Preparatory Schools, Inc., Clemson University
Husband: Michael Haley
Children: Rena Haley, Nalin Haley
What is Nikki Haley age?
She was born on January 20, 1972, in Bamberg, South Carolina. This means her age 48 years old.
Education
From Orangeburg Preparatory school in 1989, Nikki moved on to Clemson University, where she acquired the highest degree in accounting. Furthermore, The University of South Carolina conferred upon her an honorary doctorate in public service while Clemson University honoured her with a doctorate in humanities.
Nikki Haley family
Nikki Haley parents are Raj Kaur Randhawa and Ajit Singh Randhawa. She has a sister and two brothers.
Who is Nikki Haley husband?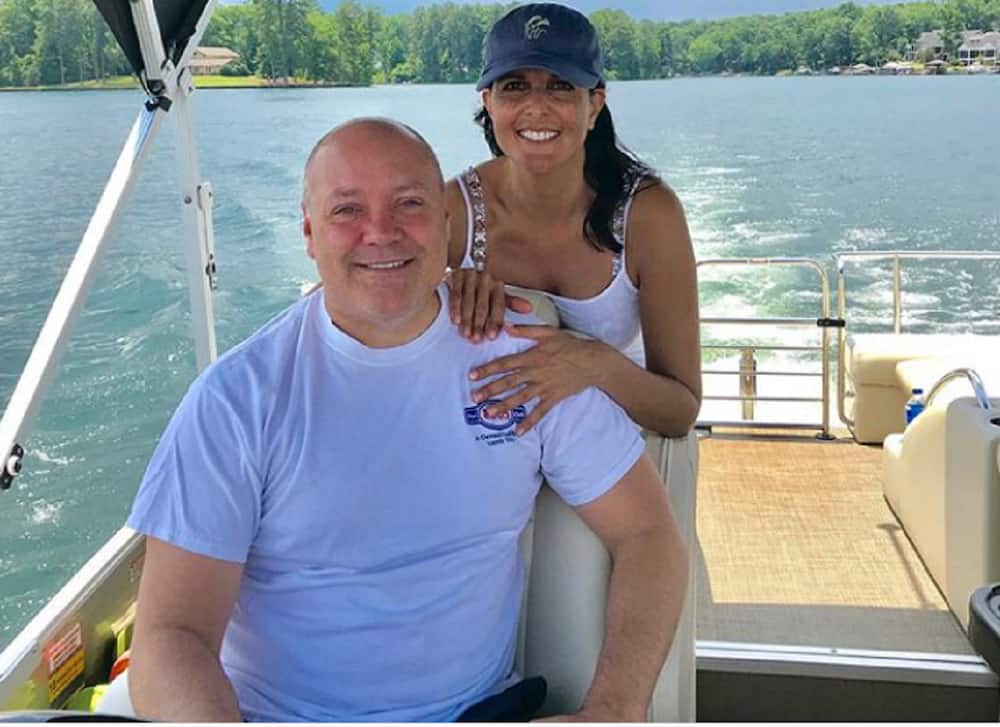 Birds of the same feather usually flock together, and just like his wife, Michael Haley (Nikki's husband) also holds several firsts. For example, from 2011 to 2017, while employed as a commissioned officer in the South Carolina Army National Guard, he also served as South Carolina's First Gentleman. Michael was the first man in that position.
READ ALSO: Tulsi Gabbard bio: husband, age, policies, net worth, latest news
Wedding and children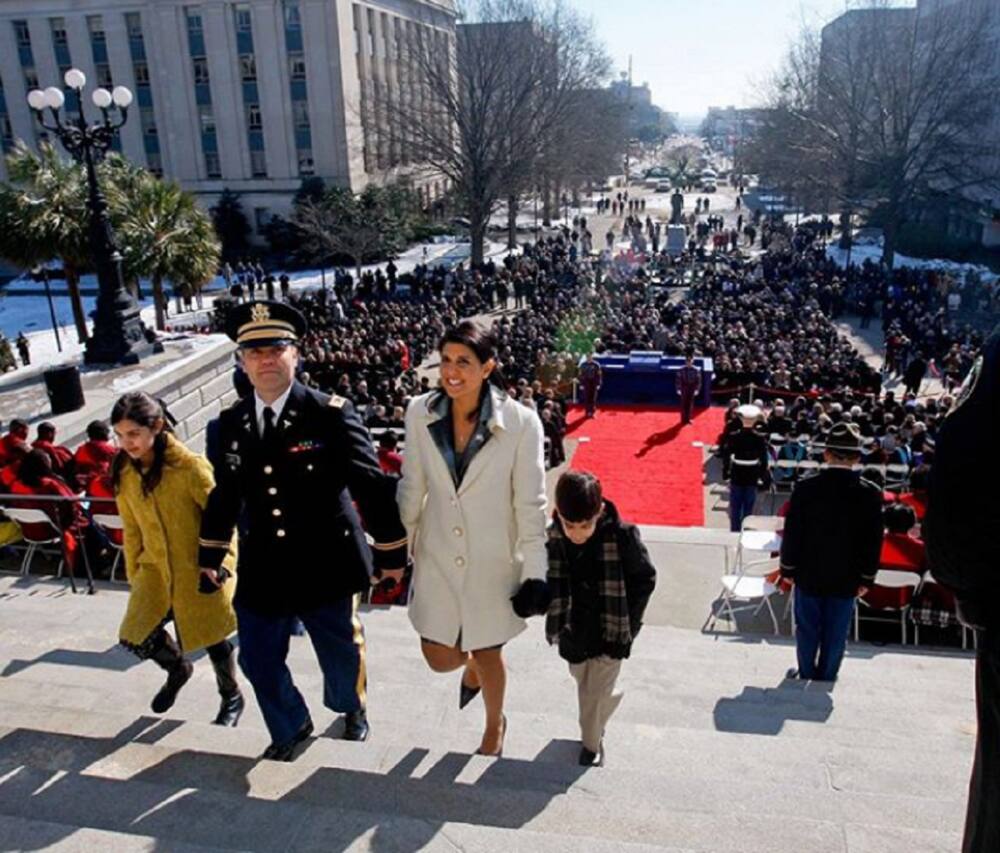 Nikki and Michael tied the knot in 1996 in a wedding function that tried to harmonize Sikh and Methodist ceremonies. The couple is blessed with two Nikki Haley children. Rena Haley (daughter) was born on June 8, 1998, and Nalin Haley (son) was born on September 6, 2001.
What religion is Nikki Haley?
Haley primarily identifies with the Christian faith as Methodist. However, she sometimes attends Sikh services. For example, during her 2014 visit to India, she visited the Harmandir Sahib. When asked whether or not she looked forward to seeing her parents convert to Christianity, she responded, "I hope my parents will do what is right for them."
Nikki Haley net worth
There are conflicting accounts regarding the lady's net worth. Some sources state her net worth is $4 million while others claim she has slightly under $2 million. Therefore, it is safe to say that she is roughly $3 million rich.
Books
Nikki Haley book Can't Is Not an Option: My American Story is an autobiography that was published in 2012.
She has written another book entitled With All Due Respect: Defending America with Grit and Grace, which was published in 2019.
When did Nikki Haley career kick-off?
As soon as she graduated from the university (1994), Nikki picked a job at a waste management and recycling company. She went on to work at the Exotica International as the controller and chief financial officer. Exotica is her mother's elite clothing business, and it is believed that her input boosted the firm to a whole new level of success.
In 1998, she served at the Orangeburg County Chamber of Commerce on the board of directors. She also served in a similar capacity at the Lexington Chamber of Commerce in 2003. Still, in 2003, she served as the treasure of the National Association of Women Business Owners, where she rose to lead the firm in 2004.
Politically, she, in 2005, was elected to the South Carolina House of Representatives from the 87th District. After serving for six years, she was then elected as South Carolina's 116th governor. After that, President Trump appointed her as the US ambassador to the UN, where she served from 2017 until her resignation in December 2018.
Will Trump pick her as his running mate?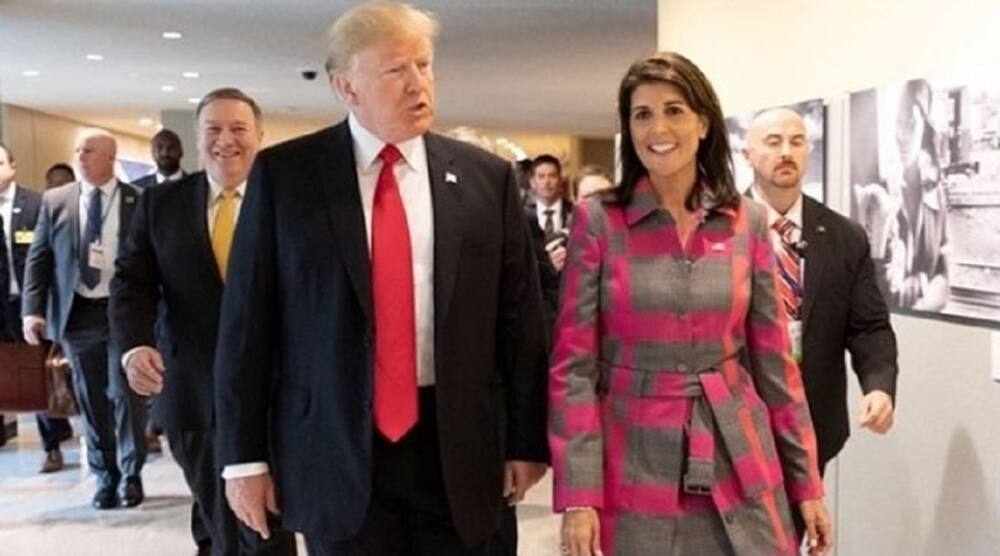 Back in the year 2012, rumours went around that Mitt Romney, President Obama's Republican opponent, was planning to choose Nikki Haley Vice President. However, Nikki made it clear that if chosen, she would turn down the offer since she was committed to serving the South Carolina people as their governor.
Similarly, during the 2016 presidential elections, it was rumoured that she was being considered as one of the possible vice-presidential running mates for Donald Trump, the then-presidential nominee for the GOP. However, Trump ended up choosing Pence.
READ ALSO: SA Citizens Survey - Cyril Ramaphosa is Mzansi's favourite politician
Nikki Haley latest news
A few months ago, the similar reports surfaced again, this time around a CNN political analyst Paul Begala predicting that Donald Trump might drop Mike Pence and replace him with Nikki. This is allegedly due to his poor handling of the coronavirus pandemic.
Nikki Haley 2020
Begala during a panel talk at the American Israel Public Affairs Committee (AIPAC) conference said,
I am not merely predicting, I am almost certain that Trump is destined to dump Pence in favor of Nikki to get the win over those suburban moms.
Confident enough, Begala foretold that the changes may happen on July 16 on the day the Democratic nominee will give his/her acceptance speech.
Commenting on the rumours, Haley categorically shot down all speculations about her replacing Mike Pence in November.
It is not true that I am looking to get that position. I believe that Mike Pence is fit for the office and what's more, he appeals to me as President Trump's best running mate.
Nikki Haley is one bold person, so much that when she sees the need to criticize President Trump, she prefers to do it directly. The majority of Americans see her as a rising political star with ambitions way beyond her gubernatorial and diplomatic assignments. Do you think Haley will replace Pence as Trump's running mate? We will appreciate reading your views in the comments section below.
READ ALSO:
Alexandria Ocasio-Cortez bio: boyfriend, net worth, age, accomplishments
Abraham Williams bio: Who is Tulsi Gabbard's husband?
Jordan Peele Bio: Movies, wife, net worth, and age
Source: Briefly.co.za