Taxi conductor spotted dancing in traffic nearly breaks the internet
- A taxi conductor was recorded by one of his passengers as he got out of the vehicle and started dancing to the song Utawezana during a traffic jam
- The driver was unaware that there was a police vehicle just behind him as he went on to show off crazy moves
- By the time he noticed the police car it was too late as they were next to him, leading to a hugely embarrassing moment
PAY ATTENTION: Click "See First" under the "Following" tab to see Briefly.co.za News on your News Feed!
Matatu taxi conductors in Kenya, commonly referred to as 'makangas, have been known to display crazy skills while hanging onto metal bars of buses.
From dancing weirdly to displaying acrobatic skills, conductors do all these knowing they are safe from the eyes of the law and ensuring they impress the passengers.
A video of a similar incident was shared on Twitter by Herine Lando and became an instant sensation for its hilarious ending.
READ ALSO: Lockdown: Herd of Elephants filmed calmly crossing the road in Thailand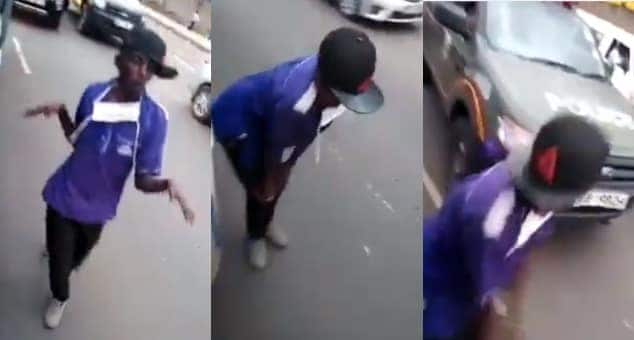 A conductor was recorded by one of his passengers as he got out of the matatu and started dancing to the famous Utawezana song on one of Nairobi's highways.
There was a slight traffic jam, allowing him enough time to show off his moves, which were incredibly hilarious.
READ ALSO: Rihanna chooses 20-year-old African beauty to model Fenty collection
What the makanga did not know is that a police van was approaching from behind and he was literally committing a crime right in front of the cops.
As he kept on dancing while mimicking a lady twerking; the police car advanced towards him and by the time he noticed it was too late.
The police were right by his side as he stood up straight, acting like nothing had happened before realising how much trouble he was in.
The video, unfortunately, ended at this point and Briefly.co.za could not find an extended version.
Netizens found the video hysterical, asking to know what happened after the police got to him.
Others related it to various embarrassing positions someone finds themselves in, like when one is found messing around in class by their teacher.
Here are some of the reactions from social media fans:
Enjoyed reading our story? Download BRIEFLY's news app on Google Play now and stay up-to-date with major South African news!
Source: Briefly.co.za