- An elderly lady, Mona Sias, has been forced to cook meals over fires made of plastic bottles
- Sias revealed cops have stopped her and other family members of collecting wood in the bushes near her house
- The gogo revealed the food tastes horrible and smoke makes her cough
PAY ATTENTION: Click "See First" under the "Following" tab to see Briefly.co.za News on your News Feed!
An elderly lady who resides in KwaNoxolo in Cookhouse, in the Eastern Cape, has opened up about the struggles for those living in rural areas during the lockdown.
Mona Sias revealed she has been forced to cook horrible tasting food on fires that make her cough because police have stopped them from collecting wood near her house.
Sias and about 60 other households in the township have been struggling to make fires to feed their families or stay warm because they are not allowed to collect wood during the lockdown.
According to GroundUp, who reported on Sias' story first, she uses plastic bottles to make fires. However, the bottles produce a smoke that makes her cough and the food end up tasting really bad.
She was quoted saying:
"Police chase us away from nearby bushes where we collect wood. I have been cooking rice, carrots, cabbage and mealie meal porridge with these plastic bottles. The food tastes horrible. It's colour turns black on top because of the smoke. The food is not properly cooked because the smoke makes us cough and sometimes it causes headaches and blocked nose. But we just cook to have something in our stomachs."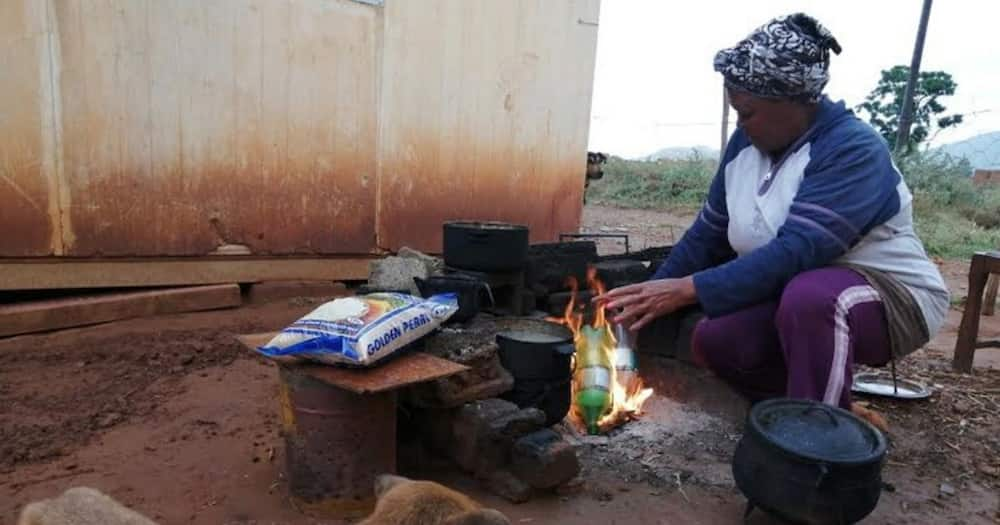 READ ALSO: 'Drunk' man insists he only drank water in hilarious viral video
She said that even getting their hands on the plastic bottles was a mission because the cops are keeping an eye on them.
Sias revealed they pick up bottles from illegal dump sites and in the streets, however, police would stop them and tell them to go home and obey the lockdown.
Briefly.co.za learned the 56-year-old and other residents moved to KwaNoxolo in 2010 from Tyoksville and they were temporarily placed in wendy houses until the municipality built new permanent homes.
However, the project has hit a dead-end since and the residents are left in the temporary homes that are leaking.
All homes share only three communal taps and people have access to 11 toilets - of which only five are in a working condition.
Aside from facing challenges to make fires, residents also struggle to maintain proper hygiene - which is of utmost importance to fight the coronavirus.
One resident, Simphiwe Blom, complained about the five working toilets in the township, adding that they stink and you are visible to other people when you use them.
Blom said:
"We share 11 broken bucket system toilets and only five are functional. They are stinking and everybody sees you when you are relieving yourself. For a month the buckets were not collected. People were forced to relieve themselves in nearby rubble behind our houses. All that smell comes into our homes."
People are also forced to share taps and Blom uses one of the taps with about 26 other households.
GroundUp contacted the mayor of Blue Crane Route Local Municipality Bonisile Manxoweni, who vowed to raise the issue in a council meeting.
Enjoyed reading our story? Download BRIEFLY's news app on Google Play now and stay up-to-date with major South African news!