Good Samaritan restores young man's faith in South Africa with R90
- A good Samaritan helped a stranger out and restored his faith in his fellow countryman
- Conrad Nel was short of R90 at the store while buying groceries and a stranger offered to help
- Conrad was so moved that he said his faith in his fellow South Africans had been restored
PAY ATTENTION: Click "See First" under the "Following" tab to see Briefly.co.za News on your News Feed!
A young South African, Conrad Nel, took to Facebook on the group #ImStaying to thank a random stranger who helped him pay for his groceries.
He had gone to the store to buy groceries but when he got to the till he realised he was R90 too short and began to frantically get hold of his wife so she could send him more money.
Out of the blue, a gentleman offered to pay the R90. He had offered to send the man the money but he refused.
Conrad was so taken aback by this amazing gesture that he forgot to ask the good Samaritan for his name.
Briefly.co.za learned that the R90 was a kind gesture and it did more than pay for groceries, it restored Conrad's faith in South Africans.
He urged people to go out and do a good deed, "Be a blessing to someone's life today."
READ ALSO: Papa Penny backed by Mzansi as he responds to paying R24 000 damages
Here is Conrad's full post:
"So this afternoon I went to the shops with a few hundred rand in my pocket thinking I'll have enough for the groceries we need, I went to the till and rang up all my stuff at the end I realised that I'm short of R90... out of the blue this gentleman offered to pay the amount that was short."
"By this time I'm also on the phone trying to organise the R90... my wife told me that she will transfer the money to him, he declined...."
"Shocked at what happened I totally forgot to ask his name.... Sir I just want to tell you, you have restored my faith in South Africans..."
"With this type of selflessness we will make it through... Be a blessing to someone's life today... For those who know me I always give when I can... But today I was given something priceless..."
It's not even about the money anymore but the character in this man... Bless you brother.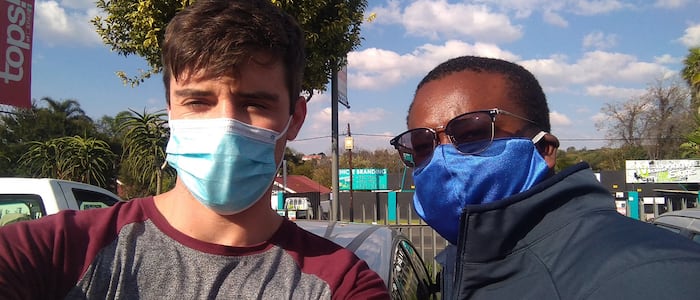 Facebook users were moved by Conrad's message and the stranger's kind deed:
William Kgatitswe: "I feel you my king... I know that you are the guy that always gives. God has a mysterious way of showing his existence. Stay blessed and humble."
Simon Scott: "It's proof that the world still has good people in it.. colour doesn't make the person, Ur heart and upbringing does.. Give that man a bells, then again. At a later stage when alcohol is allowed to be bought..."
Shaun Minnaar: "Shows you that we CAN be nice to each other in all circumstances."
Enjoyed reading our story? Download BRIEFLY's news app on Google Play now and stay up-to-date with major South African news!
Source: Briefly.co.za