Young biker who lost his leg shares inspiring journey success
- A young man has shared an inspiring story about how he overcame a leg amputation
- The BMX racer lost his leg after being injured in a training session
- Today, he is the first disabled racer to have achieved the incredible feats he has
PAY ATTENTION: Click "See First" under the "Following" tab to see Briefly.co.za News on your News Feed!
A Durban man took to social media to share a heartwarming story about overcoming challenges after losing his leg.
Chris Hearn is a BMX biker from Durban. In December 2013, he was severely injured and shattered his right ankle while riding his motorbike.
He was equipped with an external ring fixator from just below his knee all the way down to his foot. After the contraption was removed, the biker picked up an infection and spent weeks on antibiotics. During this painful time, his father was fighting his own battle with chemotherapy after being diagnosed with cancer. He passed away a year later.
"I dosed up on opioid pain killers the morning of his funeral because I wanted to be standing strong in honour of his life. I read his eulogy with a bleeding heart, but proudly without the aid of crutches."
Chris had to endure many surgeries over the next few years to try and correct his leg but they were all unsuccessful.
"Every step of every day was painful and mentally exhausting. I tried every possible solution to regain movement in my ankle, but with no luck."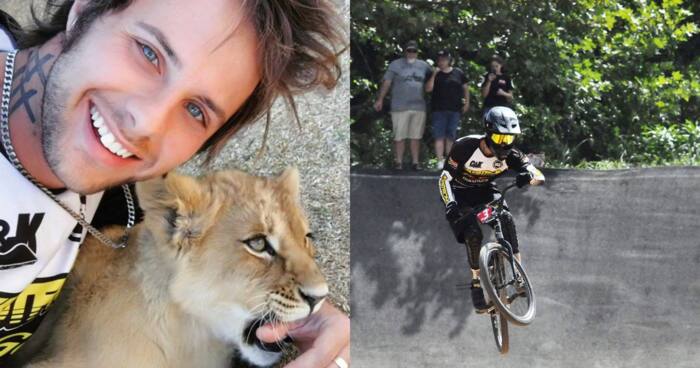 In 2018, the biker realised that he had to get rid of the one thing that was holding him back - his ankle. He decided to amputate his leg so he could be free.
"Whilst they stuck an epidural into my spine, I could see my dad in the room with me, portraying himself as the surgeon and I felt immediately calm."
He woke up from the amputation feeling calm and relieved.
"I knew that the worst part was behind me and that the best was yet to come. I was so eager to get my life back, to get back on my bike"
Recovery from the surgery was not easy. He started from crawling to using crutches as he learnt to be mobile again.
"When I look back and see my fight, it reminds me how far I have come and it humbles me. Being disabled does not mean that your life is over. For me, it was a brand-new beginning."
Chris got back on the bike in 2019 as the only rider in the sport with a disability. His first race meeting was a few months after the amputation.
"I was approached by team Staystrong who took me under their wing and believed in me and my ability to excel in the sport, despite my adversity. I am proud to be a part of this BMX family and to be the embodiment of STAY STRONG."
READ ALSO: Another wave of Covid-19 attacks China as govt imposes fresh lockdown
The incredible racer was able to finish the year second in KZN in the super cruiser class and third in South Africa in the 16-39 cruiser class.
"My disability has been a blessing from above."
Enjoyed reading our story? Download BRIEFLY's news app on Google Play now and stay up-to-date with major South African news!
Source: Briefly.co.za