- Michael Mxolisi Mtandana and his wife Nondumiso Wowo both live with disabilities
- However, this hasn't stopped them from making an immense difference in their community
- The pair feed those struggling during lockdown with their grant money and say they need support to continue their inspiring mission
PAY ATTENTION: Click "See First" under the "Following" tab to see Briefly.co.za News on your News Feed!
By Misheck Makora- Freelance Journalist
A physically challenged Nyanga couple is sharing their grant money with their community as many people are struggling for food due to lockdown.
Michael Mxolisi Mtandana(47) and his wife Nondumiso Wowo (41) cook and feed people with soup from their home from Mathanzima Road in Nyanga.
The couple told Briefly.co.za that the idea was driven by seeing the struggles which people are going through due to lockdown. Kids, people with disabilities and the elderly are groups that are hit hard by the pandemic.
They took some money from their disability grant and bought three big pots to make soup. They started the project this month and they use at least R400 every week to buy the ingredients.
They feed people on Tuesdays and Thursdays. Mtandana said the struggles of people in the townships, especially kids are evident.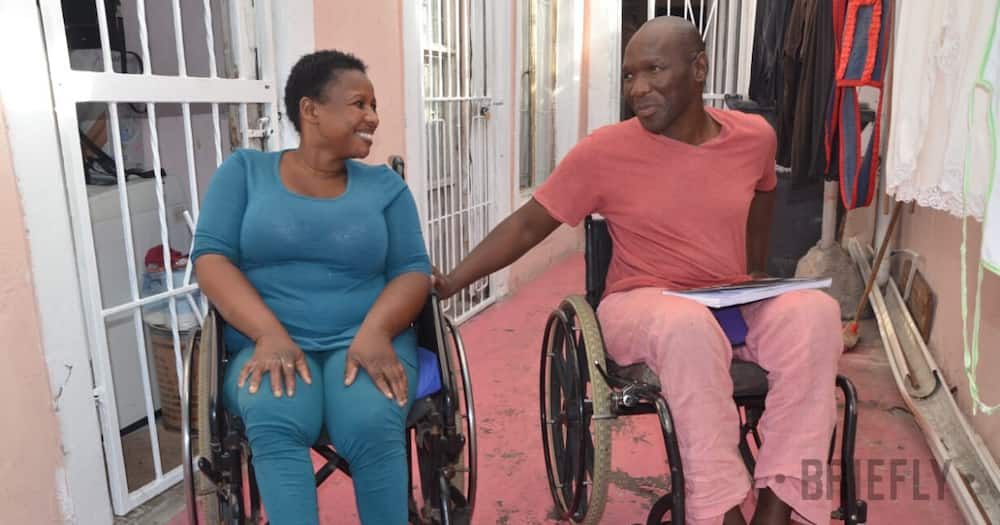 READ ALSO: A touching message reminds us that we all need help sometimes
Last week Tuesday when he was preparing food, a kid came and sit at his house waiting for food to be ready and ensuring that he was not going to miss out on the free meal.
"I told him to go and fetch a mask and come back when we are done but he had to come back right away and wait for us to finish cooking. That showed me that people are hungry, what may kill them is not Covid-19 but hunger. Therefore, we are doing this; we know the community needs this," said Mtandana.
Mtandana is also a chairperson of the Vukuzenzele Physically Challenged People of Nyanga an NPO that brings people with disability together. Wowo is the secretary of the organisation which they started in 2018.
Wowo said what they are doing is to debunk stereotypes that physically challenged people are always in need of help and they cannot give back to the community.
"There were some rumours of people saying we are overzealous; we are starting things that we will not be able to finish. This is because people think that people with a disability are only them to get and not to give. That's a wrong perception about us, being physically challenged doesn't mean inability," he said.
"What we are doing will change the perception of the world towards people with disability, sitting in a wheelchair doesn't mean that you cannot change the situation in your community," said Wowo.
The couple believes that people with disabilities are not given enough attention but are used by politicians to gain political mileage.
At this point, they feed over 150 people and if they get assistance to buy more ingredients, they would want to increase the number of citizens helped.
"Our soup kitchen priorities people with disabilities, the elderly and children because these groups are the mostly affected by the lockdown. If we get some support, we can feed people every day we see that more people need food. Some have lost their jobs and others don't get paid when their workplaces are closed hence, we are doing everything we can to ensure that people are because many of them have lost their jobs due to lockdown," said Mtandana.
The little support they get will go a long way to feed hungry stomachs in their township.
The couple said they were not born with a disability, but it was due to unfortunate circumstances. Mtandana developed spinal tuberculosis in 2010 which could not be cured and left him wheelchair-bound.
His wife Wowo fell outside her family house and her spinal code was damaged when she was only eight years old.
Enjoyed reading our story? Download BRIEFLY's news app on Google Play now and stay up-to-date with major South African news!