- Rossouw Cillié donated enough food to feed 800 families on the same day he buried his beloved mother
- He made the donation a priority and made sure that those who were desperately hungry got a food parcel
- He has been praised as a hero on social media by people across the country
PAY ATTENTION: Click "See first" under the "Following" tab to see Briefly news on your News Feed!
Rossouw Cillié made a massive donation of fresh farm produce as part of Food For Mzansi and Agri SA's Covid-19 feeding project.
He is the owner and managing director of Laastedrif Boerdery in Ceres. What makes his story so amazing is that he did this on the day of his mother's funeral.
His donation helped feed an astounding 800 families who were in desperate need of food.
Briefly.co.za learned that Christo van der Rheede posted the story in the Facebook group #ImStaying with this caption:
"All over the country, farmers, farmworkers, farmers' unions, agri-businesses and retailers in collaboration with community stakeholders continue to donate food to the poor and destitute. Thank you to you all. This brings hope to so many fellow South Africans who do not have any food on the table due to the lockdown!"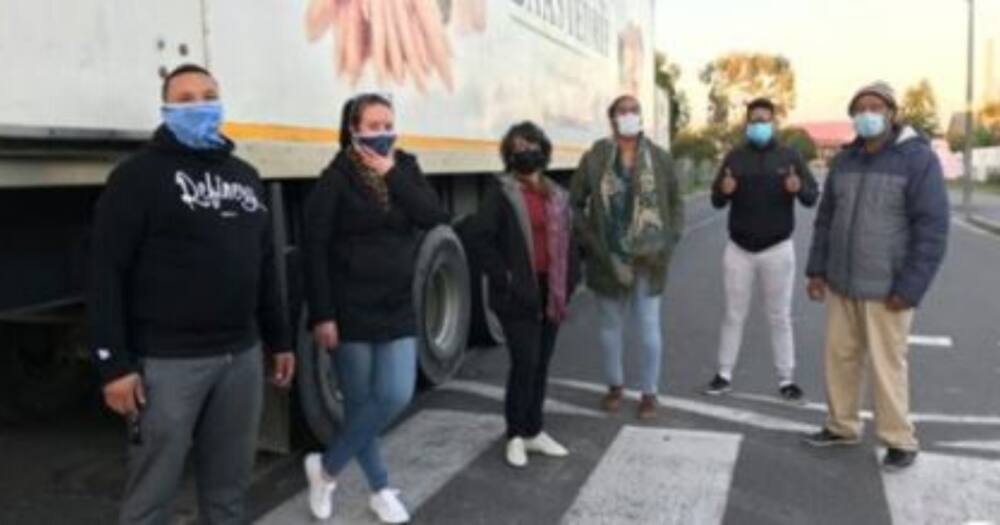 Rossouw loved his mother dearly, she passed away at the age of 93 and was buried in the family's garden, which was one of her fondest places.
"My mother was an exceptional person," says Cillié, who previously won an Agri Writers SA Farmer of the Year Award. "She was the queen of Laastedrif, the cornerstone of the farm. Our family value system comes from her. She cared and believed that it was more blessed to give than to receive."
Before he could attend the funeral, there were other people who needed help. Almost 50 volunteers from a local non-profit organisation to help with the donation according to Food For Mzansi.
Food For Mzansi editor Dawn Noemdoe says they have been overwhelmed by people who have asked for food donations from all parts of the country:
"We're a small team, and we honestly wished that we had the means to assist everyone. We are eternally grateful, though, that today we are able to support many organisations. Honestly, we could not have done this without Laastedrif and Agri SA. We couldn't have done this without our farmers."
Terence Crowster, a community leader, revealed that unemployment had exploded to 85% under the lockdown but it was still extreme before the coronavirus struck.
Crowster says, "It is extremely heartbreaking to see how people live. To see how they suffer. But it's even more sad to see their ignorance towards covid-19. Many are not wearing masks nor are they maintaining social distancing. We literally cry about it – to see their hunger and desperation. They really just want to be outside. They just want to try and live their normal lives. If they're outside, they believe that maybe they'll find a food line somewhere in which they can queue."
This has resulted in a large number of people in desperate need of help. However, some are too embarrassed to ask.
Also, a Kraaifontein community leader, who asked to remain anonymous, says when they surprised a desperate grandmother with the fresh produce she burst into tears:
"They didn't have anything to eat last night. They were too embarrassed to ask for help. Our farmers have no idea what they mean to us."
Facebook users were blown away by the farmer's generous offer:
READ ALSO: Couple goals: Durban man buys his girlfriend Mercedes G-Wagon
Maddi Putter: "What a tribute to your mum... And He is there to bless you, for your goodness to others, the have nots. What they say does not matter."
Bridget Jackson: "A big thank you to our farmers we love and appreciate you, without you we starve. Thank you for your generosity."
Maureen Hammergren: "Thank you all so very much. I am sure you are all very appreciated. May God bless all of you and our hungry nation."
Barbara Hart Bamber: "Our farmers are the lifeblood of this land, the government... Well that's a story for another day. Thank you farmers ."
In other news, Briefly.co.za reported that Christo van der Rheede took to Facebook and posted a series of videos and pictures of farmers handing out food to the poor and vulnerable. The national lockdown has placed a great deal of pressure on the poor who rely on handouts to survive.
A group of farmers have taken it upon themselves to help deliver food parcels to those who need help the most.
Briefly.co.za learned that he posted this message in the #ImStaying group:
"South African farmers and farm workers do not only ensure food security for all South Africans and our neighbouring countries, but go the extra mile and have been donating tonnes of food to hunger stricken communities.
"Hats off to Agri SA, Agri Western Cape and Laastedrift Boerdey in Ceres who have donated fresh fruit and vegetables food communities such as Ravensmead, Bonteheuwel, Bishop Lavis, Atlantis, Parow, etc.
"This initiative is currently being rolled out nationally by Agri SA and its ninety plus provincial, commodity and corporate affiliates."
Enjoyed reading our story? Download BRIEFLY's news app on Google Play now and stay up-to-date with major South African news!