Story of man who got a degree after he was sentenced to death
- When it seemed all hope was lost, Ryan Matthews got a reprieve from a murder conviction in April 1997 when he was a teenager
- Matthews served a five-year jail term for a crime someone else committed just because his vehicle looked like the criminal's car
- Despite the harsh reality he faced, he went ahead to get a degree and is presently studying for his doctorate
PAY ATTENTION: Click "See First" under the "Following" tab to see Briefly.co.za News on your News Feed!
Ryan Matthews beat the odds that were stacked against him in life and succeeded. He was 17 years old when he charged of a crime he did not commit. That led to him spending five years in prison on a death row.
His trouble started in April 1997 when a masked thief shot a store owner who refused to give him money and then fled, Face to Face Africa reported.
Several hours after that, Matthews was stopped because the vehicle he was driving bore a striking resemblance with the getaway car of the criminal.
READ ALSO: Uyajola 9/9 latest episode had viewers falling off their seats shook
Though he was innocent and there was no evidence against him, the then-teenager was found guilty by a team of 11 white jurors and sentenced to death at the age of 19.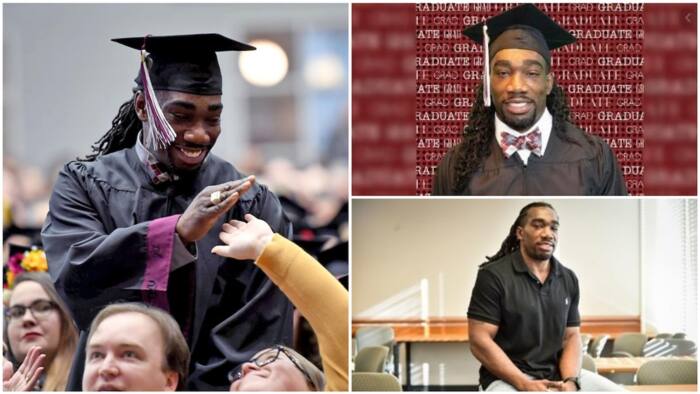 His liberation came when an investigation by William Sothern and Clive Stafford Smith of the Louisiana Crisis Assistance Centre uncovered the whole truth. He was released in 2004.
"I just kept hope that eventually one day the truth might come out. I tried to keep my mind outside those walls.
"I read. I exercised. I wrote. I couldn't let that place get me down. I couldn't go crazy. I mean, they'd win. I'm already in for something I didn't do, so if I lose my mind, I'm a lost cause and I'll never get out," he spoke about how he bore it all.
It was seven years after that misfortune that Mathews faced life squarely. He would later graduate with a degree in applied arts and science from the Texas Woman's University in Denton.
He is presently studying for his PhD at the same institution. He believed that if he had experienced that injustice, he would have just been a college graduate.
Enjoyed reading our story? Download BRIEFLY's news app on Google Play now and stay up-to-date with major South African news!
Source: Briefly.co.za