Phume22 Phume from Vreyheid bio, contact details, Cassper Nyovest, twerk for PS5, and profile
If you have been on social media, you must have noticed Phume22 trending. If the first thing that struck your mind was the charming actor from Blood and Water, then you might have missed the gist. Phume from Vreyhid is the new name in town. Would you like to know why everyone is talking about her? Find out as well about Phume and Cassper Nyovest.
Phume22, known to many as Phume from Vreyheid, is a fitness and travel enthusiast. Apart from the social media bunnie that most people have known her for, she is a chartered accountant. As though that is not enough, she is registered with The South Africa Institute of Chartered Accountants (SAICA). However, she is famous for doing something that South African men might never recover from. Would you like to know what this thing is?
Phume22 profile
Profession: Chartered accountant
Instagram: phume22
Twitter: @phume22
Phume22 biography
We are living in an era where being famous is a matter of seconds. It does not take rocket science to be the talk of the town. Doing something crazy could easily earn you the renowned title. That is the case for the gorgeous lady from Vreyheid.
Twerk for PS5
On 13th June 2020, her Instagram handle was on fire as South African men battled to be in her Instagram live. This was after she had promised to award the winner of the twerking competition the much-coveted PS5 console whose worth in South Africa is R12,000.
Best believe South African men heeded to the call and flooded the #TwerkForPhume hashtag on Twitter and Instagram. The men tried to dismiss the notion that women are the only ones who can twerk. Anyone was willing to do anything to get their hands on the newest version of the Play Station that made its way on Amazon a few days ago.
READ ALSO: Mzansi slams Cassper Nyovest claiming he can't afford to help SA
Vigro_kabza the winner of the pricey gift!
Amidst the stiff competition that was witnessed in the challenge, there was one man whose moves stood out, and he blew her mind. The king of twerk, whose Instagram handle is Vigro_kabza, outshone his helpless chaps after he dropped mad moves that they could not keep up.
Phume shoots her shot at Cassper Nyovest
Social media is an interesting platform as it can create the most awkward situations in a nutshell. Cassper Nyovest, who is known to many as a play station junkie, was caught up in the mess after he commented on the Instagram live. During the second round of the Instagram live, Cassper Nyovest made a comment saying:
I am here for the melody inda background!!!! I am compelled to stan!!!! Ba shape ka di PS5 wena darlings.
She thought that this was the best opportunity for her to shoot her shot by asking when they will be getting hitched.
In his defence, Cassper responded by saying:
Hahaha No ways!!!! If o twerkisa batho for di PS5 nagana ke setse ke kopa ntho tse mnate. Phume, I'll rather stan from a distance!!!! Shapa Phume shapa!!!!
Phume22 Twitter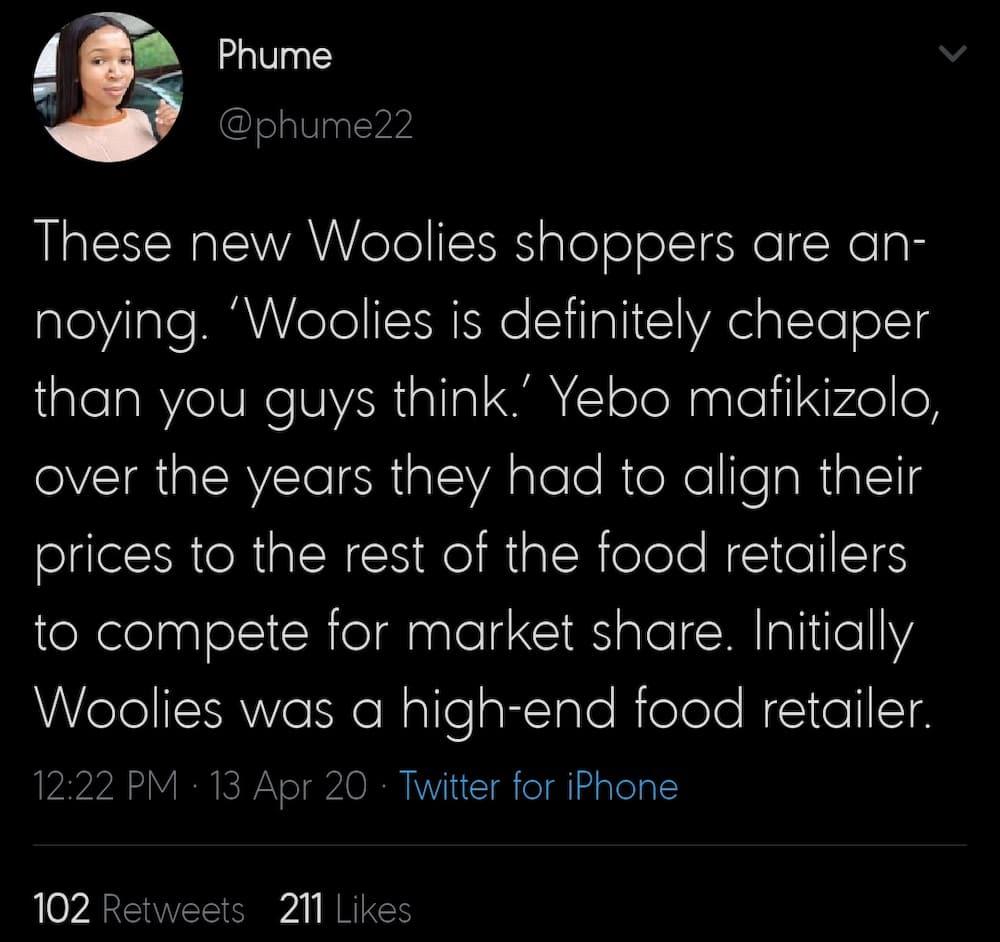 Instagram live is not the first time that the fitness bunny found herself in the limelight. On 13th April 2020, she was on the spotlight after she made a controversial post about Woolies. Phume Woolies tweet insinuated that Woolies was no longer a high-end store because of some of the new shoppers who referred to as Mafikizolo. The tweet was interpreted as she was mocking the low-income members of the society, and most people blasted her for being a classicist.
READ ALSO: Social media fans shade Cassper Nyovest about his Grammy congrats typo
SAICA
The controversial tweet that was deemed as classicist culminated in the South Africa Institute of Chartered Accountants responding to the matter. The body stated that it had noted the tweet and would conduct an investigation and take appropriate action. It went further to state that the posts that the members of the body make on their personal accounts are a reflection of SAICA.
Phume contact details
If you wish to reach out to the lady who is moving masses on social media, you could do so through any of these platforms:
Instagram: phume22
Twitter: @phume22
Social distancing has made people value social media. However, the platform is being used interestingly. The most recent act that Phume from Vreyheid, popularly known as Phume22, pulled the talk of the town. Do you think it was worth it for the men to twerk for the PS5?
READ ALSO:
Cassper Nyovest lets women of SA know he understands #AllMenAreTrash
DJ Maphorisa's Phoyisa sparks 1st challenge of 2020 #PhoyisaChallenge
Nomuzi Mabena Moozlie car accident, boyfriend, twerking, and best Instagram photos
Source: Briefly.co.za