Graduate ventures into farming, setting an example for other women
- A young woman is basking in the glory of agrarian farming, earning her a modest lifelihood
- Mutsa Rita Muzerengi has proved that education alone can mean nothing without practising it in real life
- Armed with two degrees, Mutsa Muzerengi is making waves in farming and social media is on fire praising her
PAY ATTENTION: Click "See First" under the "Following" tab to see Briefly.co.za News on your News Feed!
By Joseph Chirume - Freelance Journalist
Mutsa Muzerengi is one young woman who refused to let fate pull her down. She is 25 years old and has already bagged many more achievements than her pals. Mutsa ventured into farming as a way of escaping the poverty that is rocking Zimbabwe.
Officials say the once-proud African country has a ballooning unemployment rate of 95% among its youth.
Mutsa is a proud holder of an Honours degree in Psychology, obtained in 2018 from Women University, and is currently doing a Master's degree in Child Sensitive Social Policies.
She converted a section of her family's plot in Guruve - some 153 kilometres from the capital city, Harare - into her own. It is, however, her stronghold on farming that makes Mutsa a shooting star.
"I started farming tobacco and cabbages in 2018. At present I have one hectare of tobacco and more than 10 000 heads of cabbages. I harvest the same number of cabbages every three months, selling them at a price of US$1 per two cabbages," said Mutsa.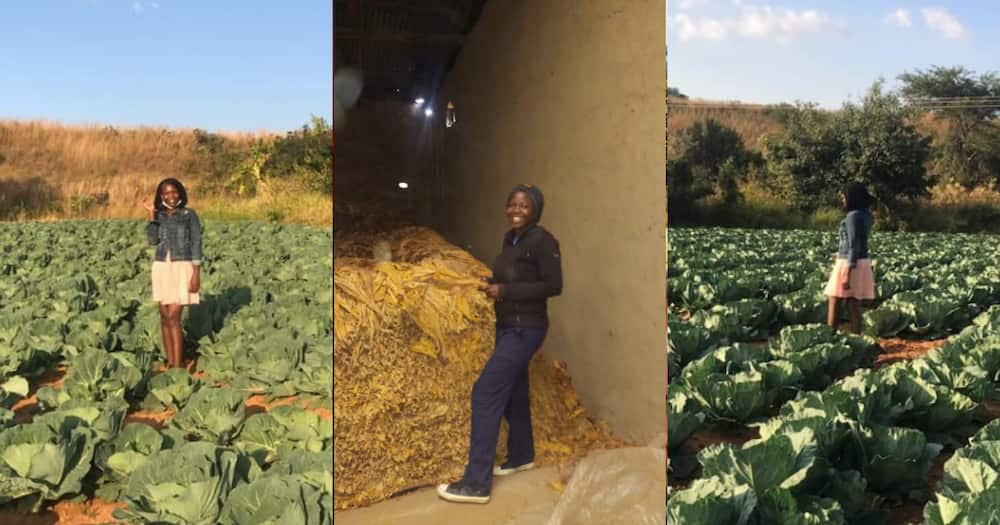 Farming runs in her family's blood as her father and brother are master farmers too.
She also highlighted the reasons that landed her into a profession that was traditionally set as a preserve for the elderly and the uneducated:
"The economic conditions in the country at present left me with no choice but to do something that has nothing to do with what I studied for.
"This does not bother me because even my brother, who is an engineer, is into farming. My father studied history but is also farming. Education is for enlightenment only, real life is something else."
READ ALSO: Tshepo Motsepe turns 67: 5 Facts about South Africa's first lady
Mutsa implored other youths to be creative and to start self-help projects. She urged them to look beyond searching for jobs:
"I advise other youths to be employers themselves. Don't wait for your parents to do everything for you. As the youth, we should think out of the box and be turbocharged by venturing into areas that are traditionally a preserve of the old people. Let's be prepared to challenge them by producing more."
Mutsa's ingenuity in farming set Facebook ablaze via a video shared by her former university. Many admired her courage:
Professor Munyaradzi said:
"Big ups to this young lady. She is passionate about agriculture. This is the future of Zimbabwe. It is the time for young people to venture into agriculture and excel in it."
Forget Shareka said:
"Great work sis and keep this standard up."
Mutsa wishes to grow her farming business into a bigger project if she gets financial support. She wants to improve her irrigation equipment and buy other equipment. Mutsa said she wants to have her own land and move away from the family plot she is currently using.
Although Mutsa faces tough competition locally, the young farmer said she uses her versatility to outmanoeuvre her competitors:
"I supply my vegetables to local hospitals, boarding schools and to open markets in Guruve, Mvurwi and Mt Darwin."
Meanwhile, in other news, Briefly.co.za recently reported on a set of vibrant identical twin sisters who are out to carve a niche for themselves in cattle-rearing and mass-scale beef production.
Even though their enterprise is still small, the intentions are bold – they want to take the industry by storm.
Meet Zipho and Zovuyo Makwabe, the identical Pedi-born 28-year-old twin sisters poised for business stardom.
Their venture was initiated in 2016 on the realisation that there was a gem in the market which needed to be explored. They did not have any financial resources but quick thinking paved the way for bigger things.
Enjoyed reading our story? Download BRIEFLY's news app on Google Play now and stay up-to-date with major South African news!
Source: Briefly.co.za