Muvhango Teasers: July 2020
July 2020 Muvhango Teasers will leave you speechless. Gugu has accepted to have a baby with a married man. Their agreement does include falling in love, but they cannot help it. Kgosi gives up on love, and Matshidiso teaches him how to become a real man.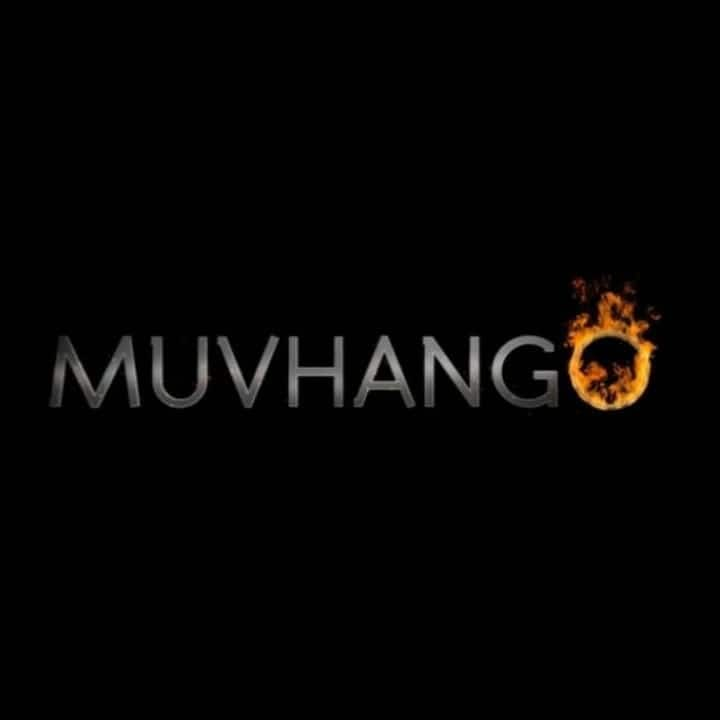 What would you do if what your favourite character is going through happens to you? Do not forget to tune in and watch Muhvango. You might learn a few things about life from some of these characters while reading these Muvhango teasers.
What is coming on Muvhango in July 2020?
July episodes are thrilling.
Didi has become a love doctor
Will her matchmaking tactics succeed?
1/07/2020: Wednesday (Episode 3589)
Gugu is afraid of someone from her past, and Dee is disappointed with her failed plan to get attention from Tenda. Hangwani is overwhelmed with sadness because Rendani has left the house.
2/07/2020: Thursday (Episode 3590)
Didi sets up Tenda and Bonolo on a date. Qhawe requests someone to spy on Gugu. Ausi Ntsoaki takes over the business from Hangwani forcefully.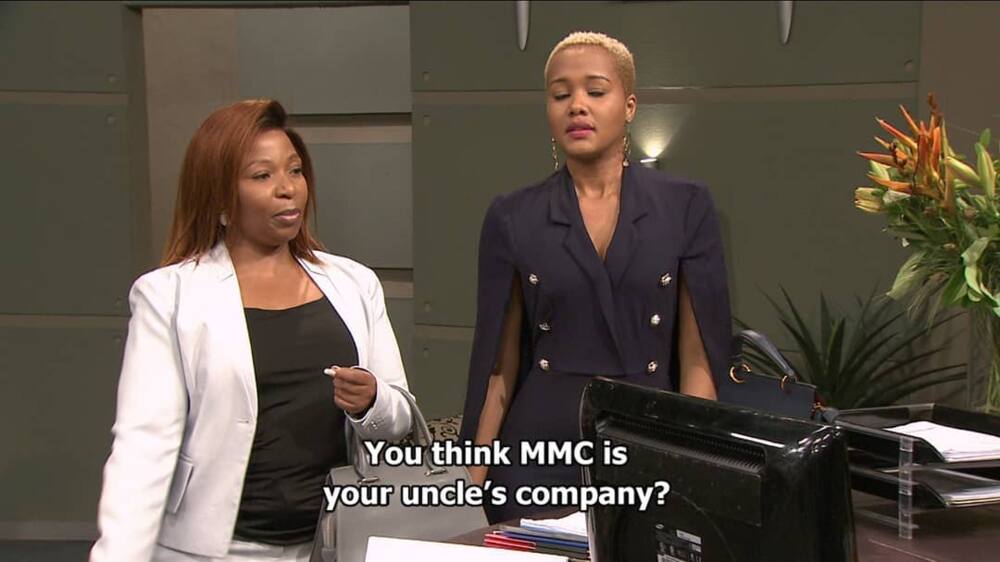 3/07/2020: Friday (Episode 3591)
The date that Didi planned for Tenda and Bonolo fails. What has Bonolo done that has impressed Tenda so much? Mpho is startled by Bonolo's unexpected visit to Tenda's office. Susan faces Mpho to stop her from demanding the impossible from Azwindini.
6/07/2020: Monday (Episode 3592)
Something has given Gugu a clear perception of the situation. One of Thathe's best contestants feels threatened by the new contender. Ausi Ntsoaki experiences a misfortune.
READ ALSO: Muvhango Teasers: April 2020
What will Gugu do to have a baby?
The desire to be a mother is eating her up.
7/07/2020: Tuesday (Episode 3593)
Mpho is devastated because her plan was unsuccessful. Gugu's worst fear is having a baby with a stranger. Marang demands Ausi Ntsoaki to move out of her house.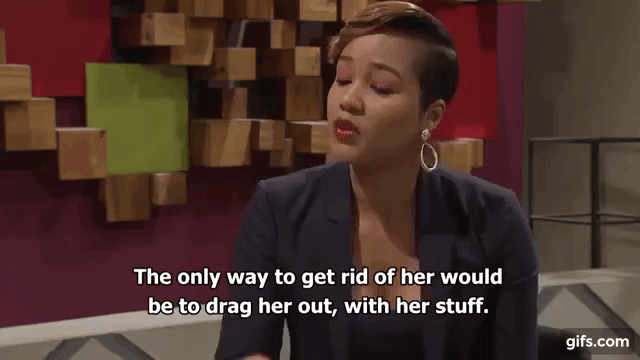 8/07/2020: Wednesday (Episode 3594)
Azwindini is ignorant about how Mpho is affected by refusing to drop some of his habits. Kgosi's girlfriend ends their romance. Gugu finds a better way to become a mother.
9/07/2020: Thursday (Episode 3595)
Gugu beseeches Muzi to be with her, but the price she pays for her request to be fulfilled catches her by surprise. Kgosi trends on social media, which attracts trolls. Mean people post judgmental comments about him on the internet.
Mpho meddles into other people's business because her phone call turns Tendamudzimu's romantic evening into a nightmare.
10/07/2020: Friday (Episode 3596)
Tenda's dinner date is disrupted. Desperation makes Kgosi allow Matshidiso to use him as a bait for attracting beautiful women. Muzi wants to help Gugu accomplish her motherhood dream as a sign of his love for her.
13/07/2020: Monday (Episode 3597)
Azwindini persuades Vhangani to seek revenge by demanding his offender to buy a wheelchair for Mpfareni's nephew. Muzi is conservative about how a man and a woman should procreate, but Gugu has a different idea.
Kgosi takes Matshidiso's advice seriously after his friends mock him. Mpho acknowledges that she destroyed Tenda's romantic dinner with his new catch, but his response baffles her.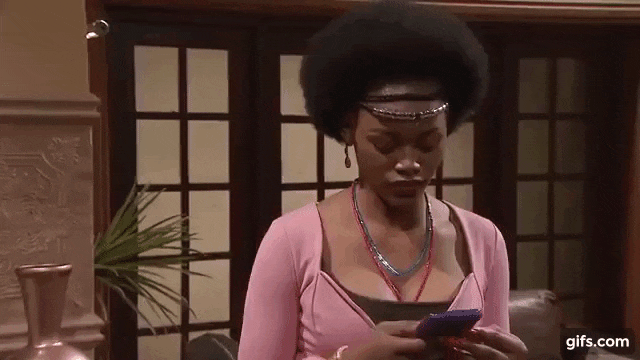 14/07/2020: Tuesday (Episode 3598)
Mpho and Tenda's secret romance is at risk of being exposed by Azwindini. Muzi almost loses his manhood while Kgosi recovers his groove.
READ ALSO: Bittersoet 2 teasers: July 2020
Tsholo's new lover is hard on Kgosi
He puts Kgosi in his place.
15/07/2020: Wednesday (Episode 3599)
Mpfareni opposes Tenda, and her decisions are meant to protect her nephew. Muzi and Qhawe's bump into each other after living separate lives for a long time. Tsholo's new boyfriend rebukes Kgosi and makes it clear that he loves her.
16/07/2020: Thursday (Episode 3600)
Mpfareni is in hot soup for challenging the MEC. Gugu is considering agreeing to Muzi's idea of having a baby the traditional way. The training that Kgosi takes from Matshidiso to transform into an alpha male will bear undesirable results.
17/07/2020: Friday (Episode 3601)
Gugu is surprised by what she finds in Muzi's hotel. Matshidiso asks Mbali to help her solve Kgosi's problem because he does not get along with women. Mpho congratulates Tenda for helping Vhangani.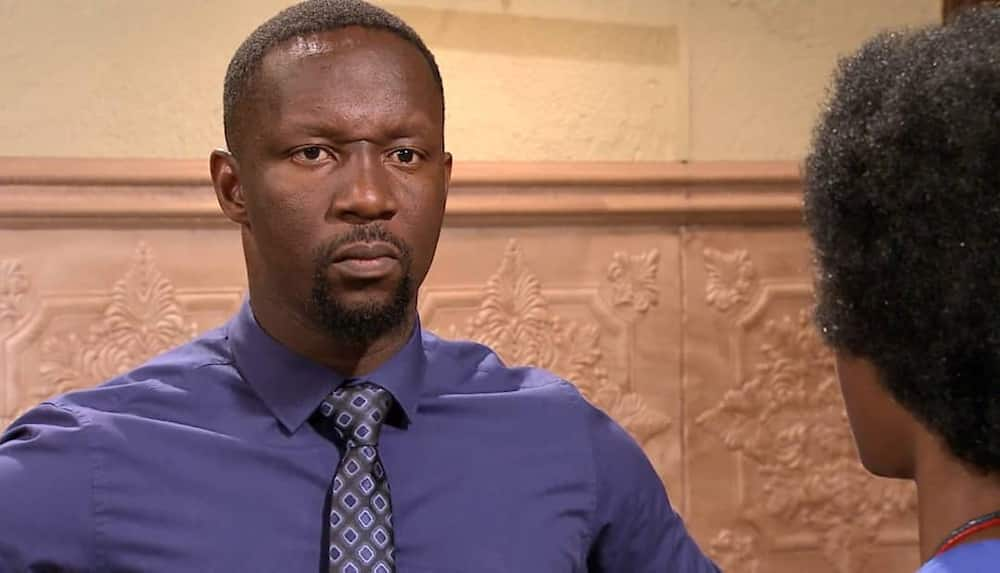 20/07/2020: Monday (Episode 3602)
Gugu takes care of Muzi and precious playhouse. The royals investigate who purchased the wheelchair. Shaz leaves Kgosi clues about someone attracted to him. The new love affair consumes Mpho.
READ ALSO: Muvhango Teasers - May 2020
Will Muzi leave his wife for Gugu?
Muzi wants to be with Gugu.
21/07/2020: Tuesday (Episode 3603)
Gugu requests Muzi to get a divorce if he wants to be with her. Mbali agrees with Matshidiso's proposal. Mpho sinks in thoughts after Gizara hints that her presence influences Tenda's actions and emotions.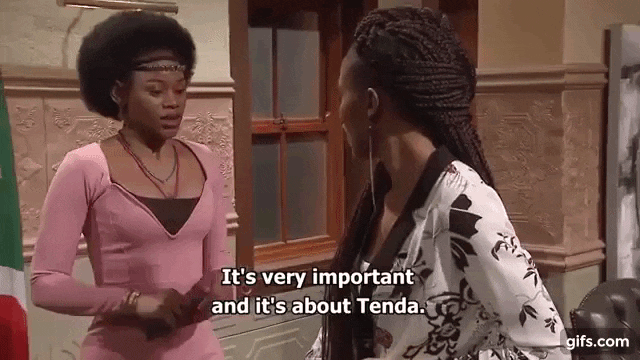 The answered prayers
Gugu finds what she has been seeking.
22/07/2020: Wednesday (Episode 3604)
Gizara suspects that Mpho knows about his secret dealings with Tenda. Gugu gets what she wanted while Kgosi swears never to love again.
23/07/2020: Thursday (Episode 3605)
Kgosi and Didi rekindle their friendship. The results of Gugu's pregnancy test are astonishing. Tenda tells Gizara a secret that may turn Mpho's life upside down.
24/07/2020: Friday (Episode 3606)
Gizara is in a tough situation, whereas Gugu strives to cope with the changes in her life. Shaz protects his loved one from an enemy.
27/07/2020: Monday (Episode 3607)
Mbali makes a fool out of Kgosi, and Gugu discovers that MaMbatha has cancer. Mpho's relationship with Gizara is despicable.
The building in Thathe might collapse
Gugu predetermines losses in the business.
28/07/2020: Tuesday (Episode 3608)
Gugu discovers that their unfinished building in Thathe has been erected on a sinkhole. Shaz and Didi are sceptical about the friendship between Matshidiso and Mbali. MaMbatha instructs Imani to take care of Gugu in case she does not live long enough to take care of her.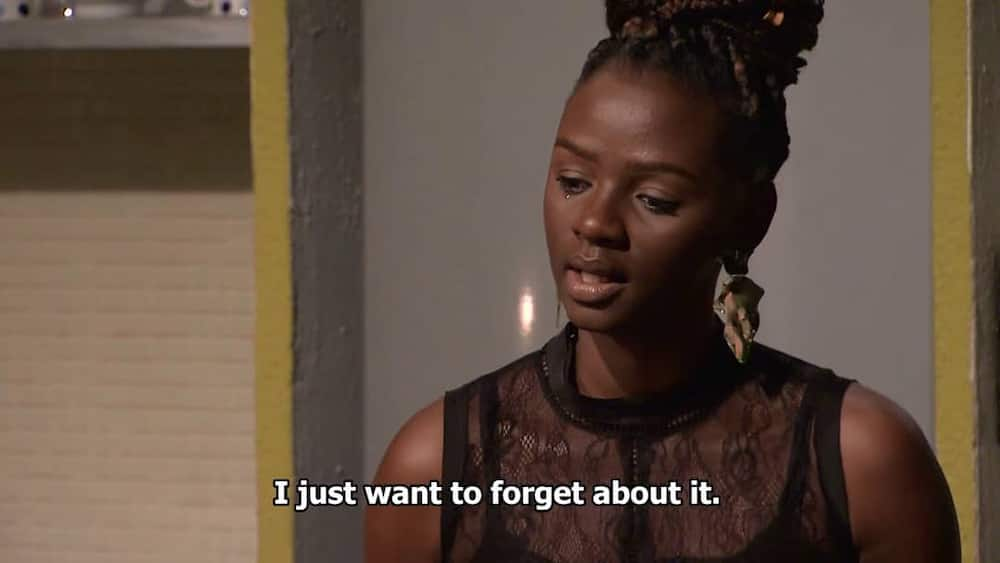 29/07/2020: Wednesday (Episode 3609)
Kgosi's friends are excited about his new lover, while Imani learns a lot about love and life when she takes MaMbatha for chemotherapy. A heartbreaking report concerning the piece of land in Thathe that MMC is working on is revealed. KK attests that they should prepare for the worst.
30/07/2020: Thursday (Episode 3610)
KK seeks to dig deeper into Mbali's life, but Matshidiso is standing in her way. Imani does not agree with the treatment that the doctor is giving MaMbatha. Gugu, on the other hand, sends KK threats.
31/07/2020: Friday (Episode 3611)
MMC's operations in Venda are brought to a standstill. Tension is high because they must win in their battle with Tendamudzimu. Kgosi ignores Matshidiso's advice; hence he walks into Mbali's trap. Imani interacts more with MaMbatha's oncologist and finds that she was wrong about him because he is dedicated to his work.
What is happening to MaMbatha and Mpho?
MaMbatha has cancer. She is worried about the well-being of Gugu if she dies; hence she commissions Imani to look after her in her absence.
Mpho's romance with Tenda is about to be revealed. She feels uneasy when Bonolo went to Tenda's office, and she also sabotages his dinner dates.
The episodes described in July 2020 Muvhango teasers will be broadcast on SABC2 from Mondays to Fridays at 21h00.
READ ALSO:
Gomora Teasers: July 2020
The River Season 3: Teasers - July 2020
Isibaya Teasers: July 2020
Source: Briefly News