Real-life Rapunzel: Woman stuns with really long hair, shares photos
- London-based woman, Malgorzata Kulczyk, has left people in awe of her long tresses
- The 34-year-old woman has hair that is even longer than her height
- Malgorzata revealed that she has not been to the hairdressers for five years and that her long hair gets her a lot of attention
PAY ATTENTION: Click "See First" under the "Following" tab to see Briefly.co.za News on your News Feed!
In many parts of the world, a woman's hair is described as her glory or as her crown. A lot of women have also been known to pay great attention to their looks, particularly their hair.
A London-based woman, Malgorzata Kulczyk, has left a lot of people in great awe of her very long mane.
The 34-year-old lad,y who is from Poland, revealed that she started to braid her hair when she was just seven and that she has not been to a hairdresser for over five years.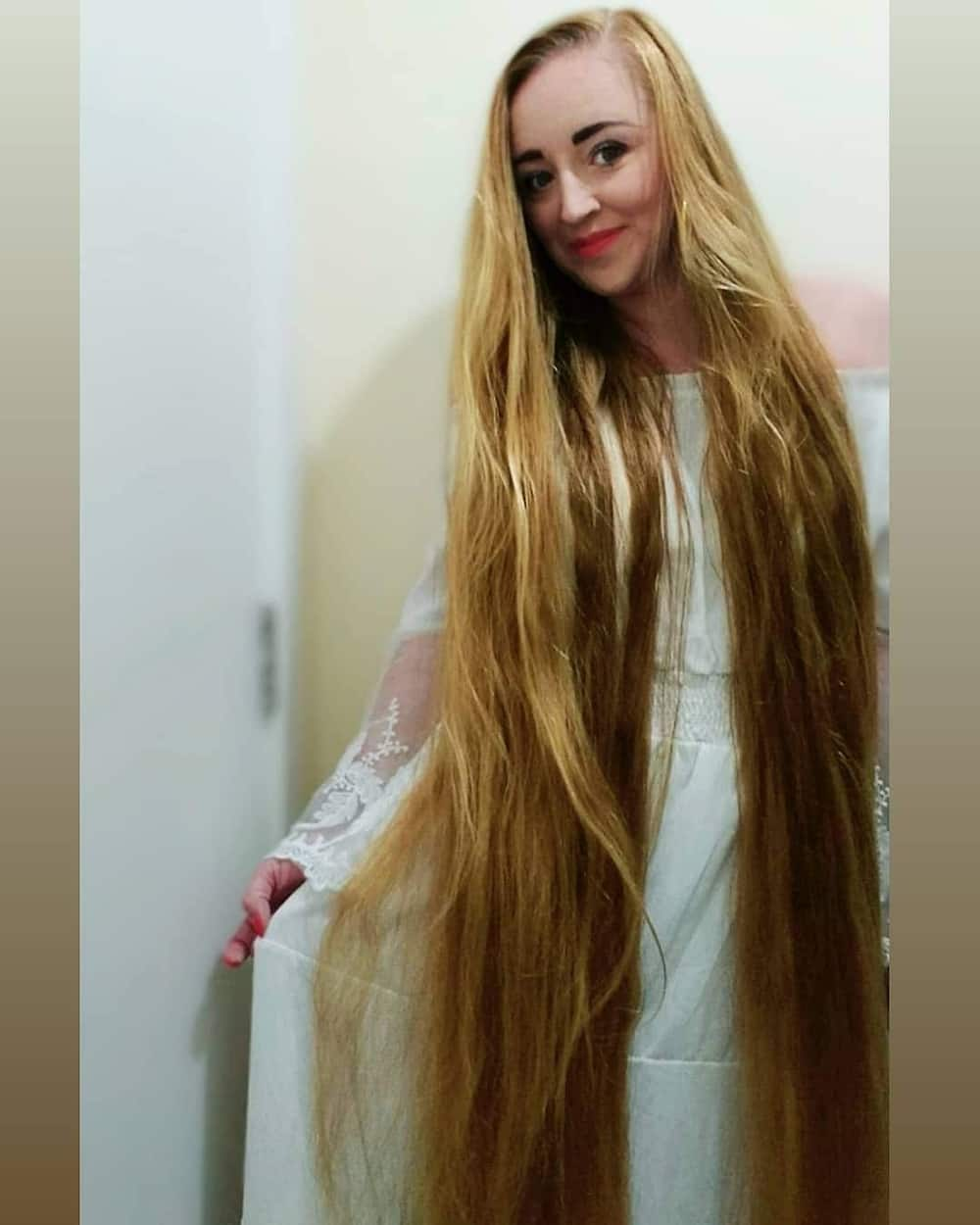 According to reports from Daily Mail, a lot of people find it hard to believe that Malgorzata's hair is real seeing as it is longer than her height.
The young lady revealed that she was gotten mixed reactions because of her long tresses. She said that while it gets her attention, particularly from men who fall in love with her because of it, it has also attracted jealousy to her.
READ ALSO: Beautiful woman living abroad graduates with degree in engineering
She said: "Men can't believe it is real. They say it is beautiful, impressive and feminine. Some even fall in love with me because of it!"
The Rapunzel-like lady also recounted how a jealous colleague once told her to cut her hair because she knew it would be a painful thing to do.
Malgorzata said:
"People can be jealous. There was one situation when a colleague kept telling me my hair was too long and that I should cut it.
She said she thought it must be painful for me and that I probably spent so much time on it.
But after a while she changed her mind completely and has even started to grow her own hair out."
Speaking on how she takes care of her hair which some might describe as a handful, Malgorzata said that she washes it three times a week and that she uses natural products, with coconut oil being her favourite.
See more photos of her hair below:
Lovely.
Enjoyed reading our story? Download BRIEFLY's news app on Google Play now and stay up-to-date with major South African news!
Source: Briefly.co.za