- Nick Duranty shared his friend's story of success, overcome adversity in his life
- Azola is a qualified DH5 K9 Handler after studying as a field ranger at the Amakhala game reserve
- Nick wanted to use Azola as an example to inspire people during these challenging times
PAY ATTENTION: Click "See First" under the "Following" tab to see Briefly.co.za News on your News Feed!
Nick Duranty took to Facebook to pay tribute to his friend Azola who overcame adversity to become a success and a symbol of inspiration for himself and others across the country.
He posted in the #ImStaying group about how much respect he has for the young man and how far he came in life.
Nick shared Azola's story with his permission. The young man had a rough start in life and when given an opportunity he gripped it with both hands and never gave up.
He had the chance to train as a field ranger at the Amakhala game reserve and now he is a fully qualified DH5 K9 Handler.
Briefly.co.za learned that Nick wanted to remind South Africans that if they are going through a challenging time they must give up and an opportunity will arise for them.
Here is Nick's full post:
"Meet Azola and Sammy!! These two have An amazing relationship. Azola is a south African Xhosa from Patterson community. I am honoured to work alongside this dedicated young man that has worked so hard to be where he is and risks his life looking after south Africa's wildlife and people every day... Let me tell you a short story about him obviously with his permission of course. He lost his mother and father at very young and didn't really have a chance in life because of his upbringing like most of South Africa's poor people but he never gave up once he was given the opportunity by wonderful organizations an Amakhala game reserve to become a field ranger he took it and boy did he make the most of it now he is a fully qualified DH5 K9 Handler as well as a field ranger and the respect I have for him is massive!! I'm so proud of him and I would just like to say to all South Africans that are in a bad place at the moment please don't give up keep pushing and being positive and do the right thing someone is watching you and one day your opportunity will come along and I pray you to make the most of it and become successful!! Much love to all stayers!!!!"
READ ALSO: ANC condemns Chief Justice Mogoeng's comments in support of Israel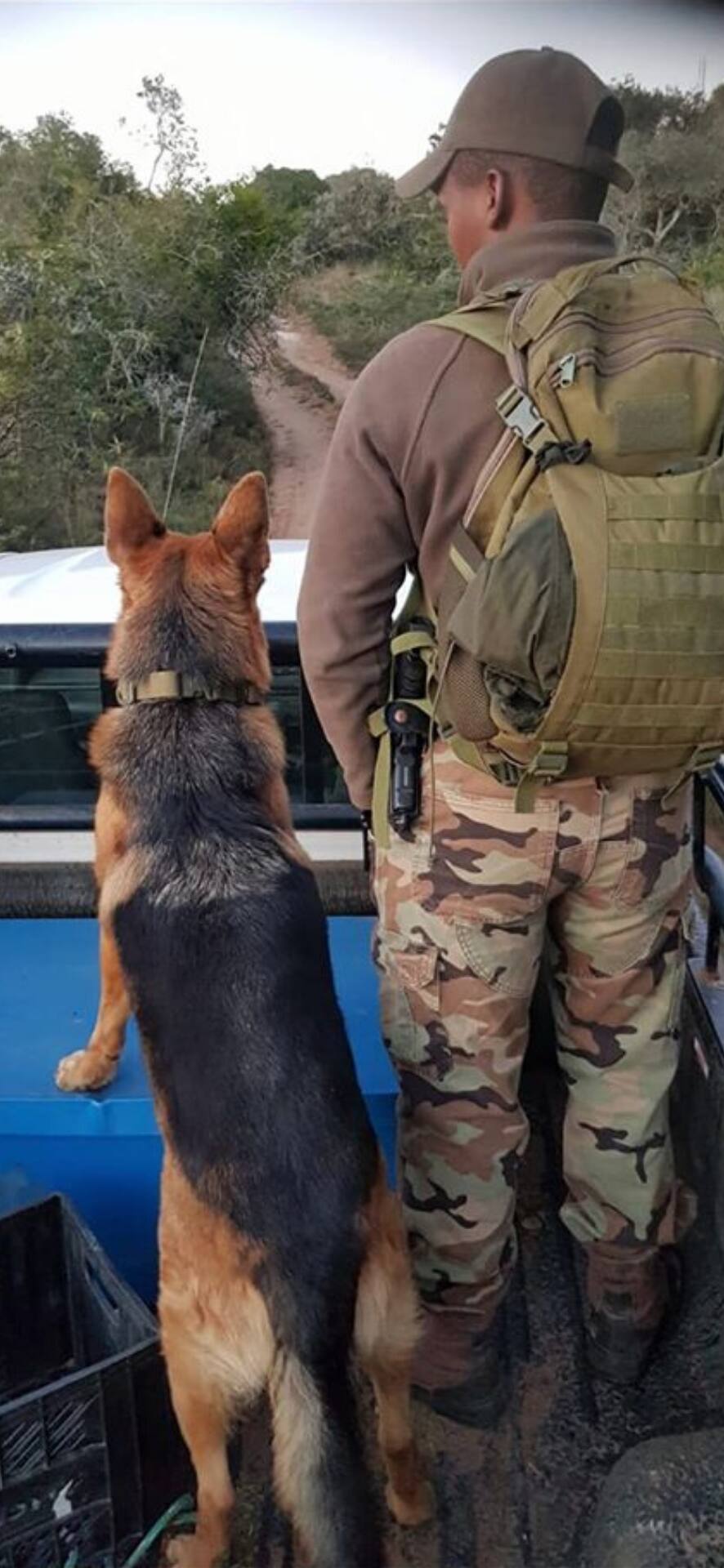 Facebook users were delighted and inspired by Azola's story:
Isabel Knoesen: "Ohhh wow amazing story. Thank u for protecting our wild life. God bless u and keep u safe."
Nancy Gasela: " that is what we would love to hear and see...God didn't give us the spirit of fear and give up but to prosper, sound mind and love...halala Azola uThixo ukwenzemhle all the time."
Charlotte Anderson: "His story comes to me just as I am in the depth of despair for our beloved country. Azola, you lift me up and give me hope! May you and Sammy be blessed."
Marietha Diedericks: "Proud of you, Azola. Thank you for caring for our wildlife. May God bless you abundantly for taking care of His creation."
Jana-mari Snyders Botha: "May his example be like a little stone thrown into a big pond."
Enjoyed reading our story? Download BRIEFLY's news app on Google Play now and stay up-to-date with major South African news!