- Dr Raeesa Bhorat secured first place in a specialist examination for internal medicine facilitated by the Fellowship of the College of Physicians
- The knowledge that she is at risk of contracting the coronavirus does not deter Dr Bhorat from undertaking her responsibilities as a senior registrar
- She is anxious however of the possibility of taking the virus back to her home
- Dr Bhorat advises people not to be complacent about the coronavirus and take precautionary measures to avoid infections
PAY ATTENTION: Click "See First" under the "Following" tab to see Briefly.co.za News on your News Feed!
Working in a hospital environment and coming in contact with Covid-19-infected patients is a risk Dr Raeesa Bhorat, 30, takes on a daily basis; however, this does not deter the young doctor, who is passionate about medicine and helping people.
The senior registrar in the Department of Internal Medicine at King Edward VIII hospital and a UKZN alumnus was bestowed with two gold medals recently for achieving the top results in a specialist examination by the Fellowship of the College of Physicians.
About 80 other candidates from medical schools around South Africa and Africa had sat for the examinations, which were the culmination of a four-year postgraduate degree in internal medicine.
Elated by her latest academic achievement, the young doctor said working in a hospital environment and coming in contact with patients infected by the coronavirus daily could be stressful at times, but maintaining a positive outlook and taking the relevant precautions helped her each day.
"There's much uncertainty among doctors as a result of the coronavirus. Doctors take the necessary precaution and try to have a positive outlook that we are a part of a bigger picture….
"We are dealing with a novel virus which has various presentations. This is an indicator that medicine is changing we have to be encouraged and take strength from this.
"As doctors we try to alleviate the suffering of people infected by the disease and avoid catching it ourselves. It's a stressful time but we have a huge role to play and we chose medicine knowing there will be challenges along the way," said Dr Bhorat.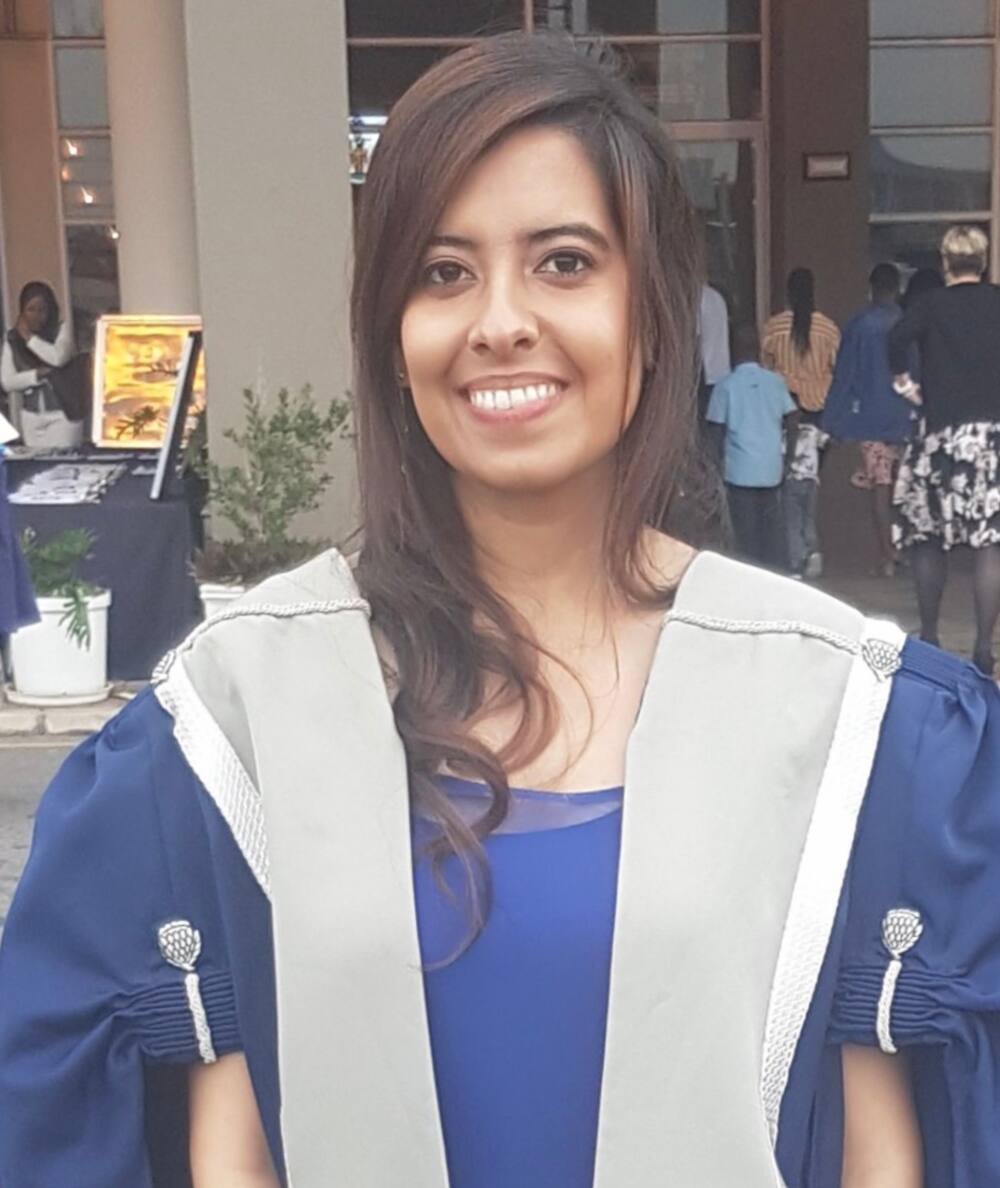 READ ALSO: A study in London has linked brain damage to mild Covid-19 infections
Her greatest fear, however, is the knowledge that she could possibly take the virus back home and risk the lives of her family.
"The idea of taking the virus back home is my main anxiety. However, coming from a background of medical professionals we understand the challenges, the responsibilities of our work and the need to do our work. The virus will not deter me from doing my job," she told Briefly.co.za.
A concern raised by Dr Bhorat was that not all people were taking the Covid-19 virus seriously. She said people might be cognisant of the virus but were complacent.
Her message to such people was to take the necessary precautions including maintaining social distancing in public places, wearing a mask in public, minimising contact with other people and practising good hand hygiene.
She urged people not to be complacent and to seek the relevant healthcare support should they present with any symptoms.
Coming in contact with Covid-19 infected patients daily, the need to wear personal protective equipment (PPE) is imperative. Dr Bhorat has expressed concern that the hospital will eventually run out of PPE – "a sad reality" they would have to face.
Aside from the Covid-19 pandemic, Dr Bhorat believed other areas of healthcare in South Africa needed to be addressed.
READ ALSO: Itu Khune shuts down rumours that he signed with Orlando Pirates
The discrepancies between the private and public healthcare systems, staff shortages and the lack of accessibility to high care health facilities are challenges Dr Bhorat believes are facing the health system.
She said re-balancing of the private and public health systems needed to occur to overcome healthcare challenges, which would require changes in primary healthcare.
Dr Bhorat, who has aspirations of sub-specialising in cardiology, draws her inspiration from her parents, internationally-renowned sub-specialist in foetal-maternal medicine, Professor Ismail Bhorat, and her mum, Mrs Nazreen Bhorat, a pharmacist. She said her parents were the reason she chose to pursue a career in medicine.
"In our home we have understood the value of learning, and were fortunate through their teaching to have developed a respect for knowledge and the progressive, far reaching impact of medicine.
"Medicine is wonderful and exciting, and something I have always wanted to be a part of, thanks to my parents and what they represent," she added.
Briefly.co.za previously reported a beautiful young doctor working at George Mukhari Hospital started fearing the worst when more and more staff members were testing positive for the coronavirus.
She's been treating many patients for the dreaded virus and started experiencing some of the symptoms.
Initially, she brushed it off and put it down to fatigue and the usual winter sniffles. However, her worst fears were soon confirmed - she tested positive for Covid-19.
Dr Masego V Meyer (@masego_meyer) has taken to Twitter and bravely shared her journey since testing positive.
Enjoyed reading our story? Download BRIEFLY's news app on Google Play now and stay up-to-date with major South African news!