- July is an annual celebration of the life of the late former president Nelson Mandela
- Mandla Mandela, Sonwabile Ndamase and Zolani Mkhiva have revealed their lessons from their time with the father of the nation
- Speaking exclusively to Briefly.co.za, those close to the ex-president shared some intimate moments
PAY ATTENTION: Click "See First" under the "Following" tab to see Briefly.co.za News on your News Feed!
By Lwazi Nongauza: Freelance journalist
The month of July is dedicated to the life of Global Icon Nelson Mandela. During Mandela Month, individual citizens and organisations across the globe perform goodwill gestures to the less fortunate in honour of Mandela's life of servitude.
Each and every difficult life-challenging moment that passes, South Africans and global citizens keep on asking, 'What would Nelson Mandela do or say about this situation?'
In an exclusive interview with Briefly.co.za, the late icon's 'blue-eyed boys', Mandla Mandela, Sonwabile Ndamase and Zolani Mkhiva, revealed lessons from their favourite moments with Nelson Mandela, their views on how Mandela's life is commemorated and how they are using their powers to keep the Mandela legacy alive.
While reflecting on his good times with the departed president, Mandla Mandela revealed his best childhood gift he received from Nelson Mandela.
''My first pair of soccer boots at the Grand Prix is the best gift my grandfather gave me. The fact it was explained to me over and over again that despite being incarcerated, my grandfather was thinking of me and he knew exactly what I wanted the most at that time meant a lot to me, meant a lot to me.
"Therefore, because of that background story, those soccer boots were the best gift I've ever heard from him as a child, a grandchild.''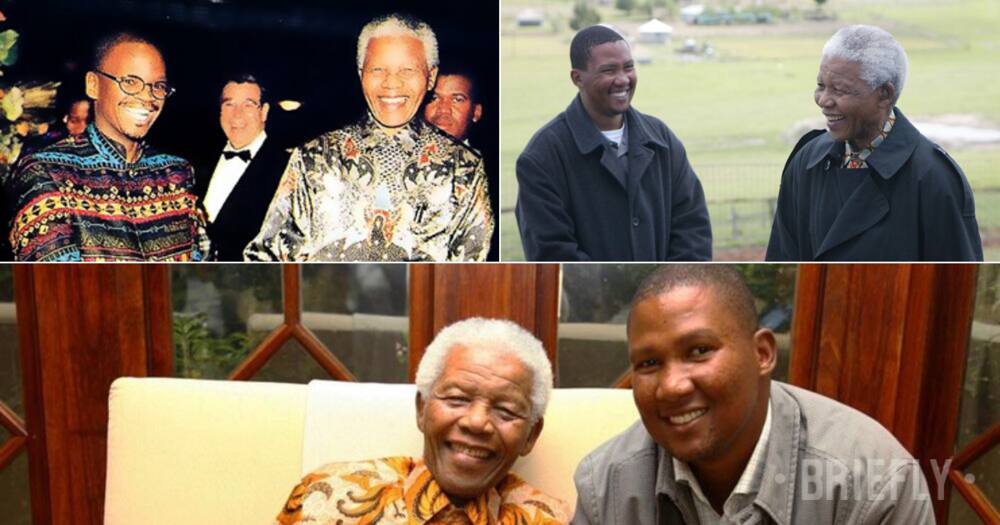 READ ALSO: Umkhonto we Sizwe: 'Not wise' to keep schools open as Covid-19 peaks
Meanwhile, Madiba's shirt designer Sonwabile Ndamase in his recollection of his fondest memory said it was not long after Tata Madiba's release.
"In '94 he sent one of his people through the Department of Arts and Culture to me to say that I must be one of his entourage when he must go to London to reciprocate to Queen Elizabeth II.
"I had to dine with him at the Westminster Hotel and the Dorchester Hotel in London and also the time when he was giving a speech as well in Westminster hall. It was one of the moments that stood out for me.''
Popular traditional leader and praise singer Zolani Mkhiva is one of the few people who worked and travelled the world with Nelson Mandela. Their two decades of close working relationship open Mkhiva to a lot of great life lessons.
While reflecting on those lessons Mkhiva highlighted strategic planning as one of the key lessons he learned from the global icon.
''To me, Mandela was one rare statesman that demonstrated everything that I aspired to as a leader. Madiba told me that if you want prosperity for a short time you grow maize, if you want prosperity for the midterm you grow trees, but if you want prosperity for a lifelong time you grow people.''
Mandla Mandela officially inherited Nelson Mandela's traditional royal chieftaincy in 2007. It is within that traditional leadership and national parliament that Mandla is preserving and elevating Mandela's legacy.
On the other hand, in a bid to keep Mandela's legacy alive, both Ndamase and Mkhiva are running a number of female youth business empowerment projects.
Through their philanthropy work, the duo often assists a few government departments who are trying to empower lesser-known South Africans to fulfil their dreams.
Meanwhile, Briefly.co.za reported that Umkhonto we Sizwe Military Veterans Association has expressed deep concern over the reopening of schools amid the Covid-19 pandemic.
The MKMVA has called on the government to reconsider this move as infections continue to spike in South Africa.
The veterans association insists that continuing to open classrooms ahead of peak infections 'is not wise at all'.
Enjoyed reading our story? Download BRIEFLY's news app on Google Play now and stay up-to-date with major South African news!