- Jason Arnold has saved the day yet again, he helped a hapless sea snake which washed up on a Durban beach
- The stunning reptile has a beautiful pattern of contrasting black and yellow shades but is also highly venomous
- Jason handed the deadly reptile over to the staff at uShaka Marine World so they could look after it and eventually release it back into the wild
PAY ATTENTION: Click "See First" under the "Following" tab to see Briefly.co.za News on your News Feed!
Jason Arnold posted a hair-raising story on his Facebook page, The Snake Man, in which he describes how he saved a highly venomous yellow-bellied sea snake.
The snakes are extremely dangerous but incidents involving people being bitten by these snakes is almost unheard of as they rarely come into contact with people.
This was the first time that Jason had been called out to deal with one of these sea snakes. Usually, they wash up on shore sick or weak.
This snake was healthy and strong and Jason handed it over to the uShaka Marine World staff who will quarantine the reptile and when it is strong and healthy enough will release it back into the wild.
Briefly.co.za learned that they are so rare that this is the only the third specimen Jason has seen and the first one he has caught.
The stunningly beautiful snake has bright yellow and black contrasting colours. Photos of the snake circulated on Facebook and Jason remarked how alarmed he was when he saw people handling the snake and posing for selfies.
He warned, "This is how bites occur!"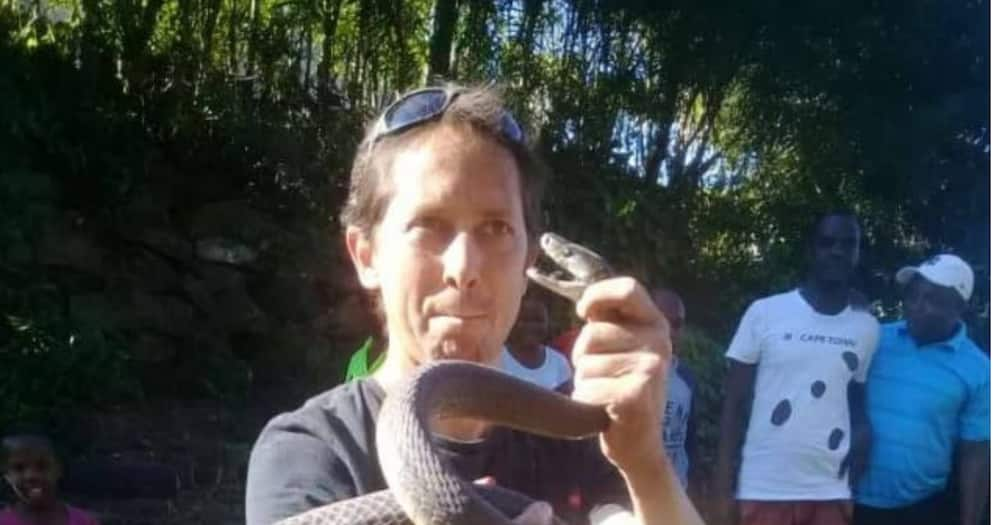 Here is his full post:
READ ALSO: Gauteng Premier David Makhura tests positive for Covid-19 virus
READ ALSO: Zinhle and AKA's baby turns 5: Inside Kairo's Barbie breakfast
Earlier this year, Jason wrestled a spitting cobra out of his friend's house. The dangerous animal was found in a friend's entertainment area.
He knew immediately which type of cobra it was, a notorious Mozambique spitting cobra. His friend had a number of them on his property before. He lives in Northdene, KwaZulu-Natal.
Briefly.co.za learned that while the snake was inside his home, which was not ideal, he waited patiently for Jason to arrive and safely remove the deadly reptile.
In February this year, Jason did more than remove a dangerous snake, he helped change a man's life for the better.
Snake catcher Jason Arnold was called out to a house in the rural area of Osindisweni. He revealed the family spotted a massive two-metre black mamba that hid in their only couch.
The couch had no springs or support and the family had stuffed it with cushions and blankets. Arnold was touched by the poverty the family found themselves in and he did not charge them for his trip.
The snake catcher then shared their story on the Universal Reptiles Facebook page and South Africans showed what Ubuntu meant. In an update, Arnold revealed Mzansi pulled together to help the struggling family.
In other news, Briefly.co.za reported that Nick Evans is a well-known snake wrangler and he shared a story about how he recently helped an elderly friend who had a black mamba in her house.
This was the sixth black mamba Nick had caught in a week. He revealed that he received a phonecall and from the tone of her friend's voice he knew there was something wrong.
"Nick, there's a black mamba in my laundry room."
Luckily the story had a safe and happy ending for all involved, including the snake.
Enjoyed reading our story? Download BRIEFLY's news app on Google Play now and stay up-to-date with major South African news!