Dlamini-Zuma defends alcohol ban, says it is supported by evidence
- The COGTA minister addressed the media and public on Monday on some issues relating to the immediate ban of alcohol sales yet again
- Nkosazana Dlamini-Zuma defended the ban on alcohol announced on Sunday by President Cyril Ramaphosa
- Dlamini-Zuma said the ban on alcohol was supported by evidence and she is standing by her strong stance on the matter
PAY ATTENTION: Click "See First" under the "Following" tab to see Briefly.co.za News on your News Feed!
On Monday, Cooperative Governance and Traditional Affairs Minister Nkosazana Dlamini-Zuma addressed the media and South African public.
Dlamini-Zuma expanded on the lockdown regulations announced by President Cyril Ramaphosa on Sunday evening. The minister explained that South Africa is currently losing the battle to flatten the Covid-19 curve.
She said:
"I want to stress that this is really a fight against Covid-19. We are number 25 in terms of population size [but] we are number 10 at the number of infections. We have to do everything to protect this beautiful nation of ours."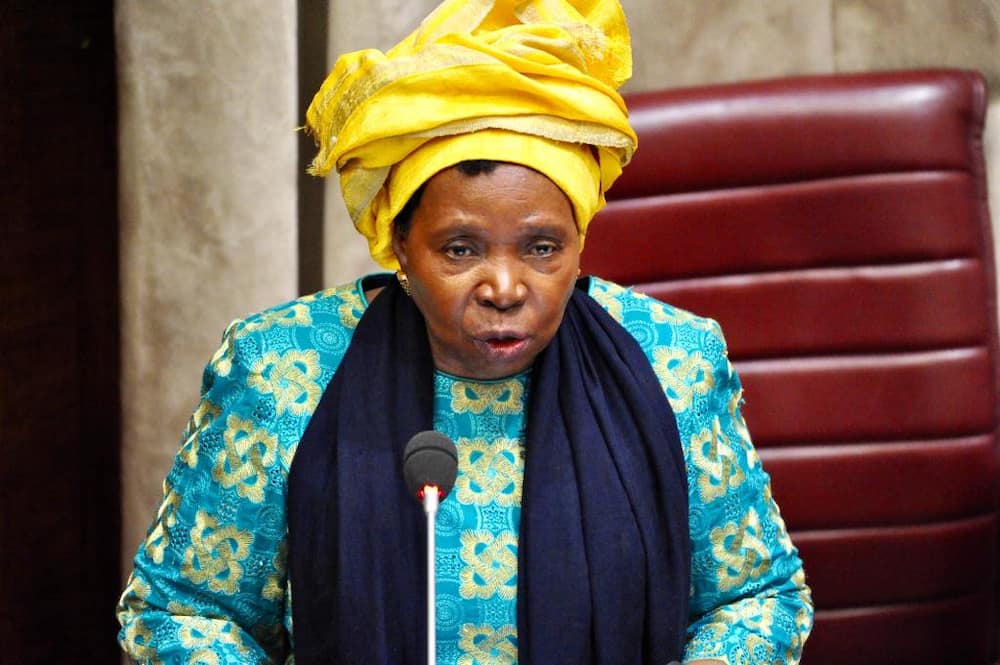 READ ALSO: Dlamini-Zuma addresses SA on changes to lockdown regulations
During his address on Sunday, Ramaphosa reinstated the ban on sales and distribution of alcohol. Dlamini-Zuma has defended the ban. She said:
"We have seen it in many instances. The way alcohol brings people together, it discourages people from wearing masks, social distancing and sanitising.
"When people have taken liquor, they get drunk – some become violent, start fighting, killing each other, or even at home they become violent."
BusinessTech reported that Dlamini-Zuma said the ban on booze wasn't to limit individual rights but rather to contain the spread of the Covid-19 virus.
When challenged about the science behind the second alcohol ban of lockdown, Dlamini-Zuma claimed that there was evidence to support their decision, but she simply wasn't in possession of it, said The South African.
Dlamini-Zuma said:
"On the sale of alcohol, it would be up to [Zweli Mkhize] to provide health figures, and the minister of police [Bheki Cele] to provide the figures on crime.
"Let me just add that we have been sent letters from doctors who are dealing with alcohol abuse. They have written to is about the trouble they face.
"It's not that the alcohol ban is not supported by evidence, I just did not bring the letters with me: That's the situation right now."
Meanwhile, Briefly.co.za reported that South African politicians and opposition parties presented different views on the alcohol ban and curfew.
The DA slammed Ramaphosa, saying banning of alcohol was just a distraction from serious issues. In a statement, DA leader John Steenhuisen called the ban and curfew "ineffective gimmicks".
EFF MP Mbuyiseni Ndlozi criticised the decision that taxis can load 100% capacity for local trips.
The Inkatha Freedom Party welcomed the banning of the sale, distribution and dispensation of alcohol but called for additional restrictions on schools.
EFF leader Julius Malema also reiterated the need to close schools
Enjoyed reading our story? Download BRIEFLY's news app on Google Play now and stay up-to-date with major South African news!
Source: Briefly.co.za