- An unidentified man has won the Powerball jackpot, taking home over R153 million in winnings
- The lucky man has spent R300 on the same numbers which he played over 10 draws and had to date only won R28
- He and his wife are set for life but do not intend to quit their day jobs and have described themselves as financially cautious
PAY ATTENTION: Click "See First" under the "Following" tab to see Briefly.co.za News on your News Feed!
The identity of the winner of the massive R153 million Powerball jackpot has been kept secret but what we do know is that he had spent R300 playing the same numbers over 10 draws.
Briefly.co.za reported that Ithuba announced that the jackpot had been one on Tuesday. He had been playing the same numbers for 3 weeks and had only won R28 until now.
"My partner and I are not regular lottery players, but my in-laws keep track of all lottery jackpots and always encourage us to play," the winner told Ithuba officials as he reported to collect his winnings.
"My in-laws basically sold us the idea of being millionaires, telling us about the attractive jackpot. We decided to play on my Standard Bank banking app, using a quick pick selection method and playing for 10 draws with R300. In the first draw, I won less than R10, and R28 on the second draw, which the Standard Bank app notifies me of each time I win something.
"On the third draw I did not receive a notification, so I concluded I had not won anything. Little did I know that third time was a charm for us. I then received a call from Standard Bank notifying me that I was the winner of the PowerBall Plus jackpot — I could not believe it!" he said.
READ ALSO: Delighted mother welcomes her 2nd baby 21 days after delivering 1st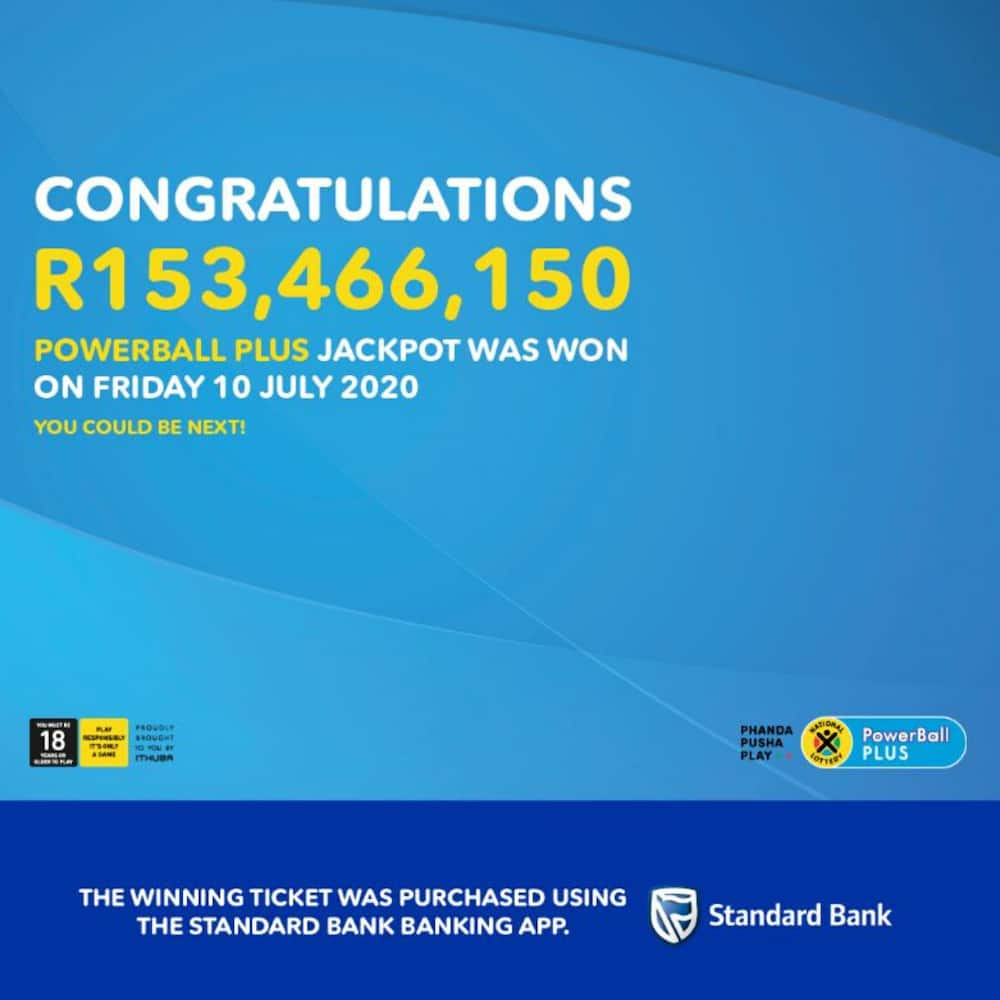 READ ALSO: Scooter scandal: MEC blames R10 million failed project on apartheid
The lucky man took his time coming to terms with the fact that he was now a multi-millionaire which has made him quite anxious, so much so that he has taken up Ithuba's offer of trauma counselling and financial advice.
He recalls how he broke the news of the win to his in-laws, according tothe SowetanLIVE.
"My partner and I called them and asked them if they had the winning numbers from the Friday, July 10 PowerBall draw. We were not surprised that they did. Before they could call out the numbers for us, I offered to call out the numbers that we played and asked them to tell us if we had the winning ticket or not," he said.
"As I was calling out the numbers, which I knew were winning numbers, I could hear the nervousness in my father-in-law's voice, with each number he confirms. After calling out the PowerBall, he became silent.
"I had to take him out of his misery and confirm to him that his daughter and I are now multi-millionaires!"
Normally, the couple have been financially cautious and this win has changed their lives forever.
"We have calculated how long this money will last us, taking into consideration inflation rates at worst-case scenarios. We realise that we really are set for life. This windfall is a massive gift to us. It has fast-forwarded our investment plans, to a point that was beyond our imagination," he said.
He and his wife would not quit their jobs despite the massive win but revealed that they did not have to worry about their financial future.
So far, he is the biggest winner who has played an online ticket and Standard Bank has congratulated the winner and are prepared to offer him financial support and advice.
Another couple of lucky lotto players struck it big back in April. While the Covid-19 crisis and the nationwide lockdown have been a frustrating period for most South Africans, two Gauteng residents will be smiling all the way to the bank.
Ithuba has confirmed that the two have won a combined total in excess of R16-million. However, they were told that they had to wait until after lockdown to receive their winnings.
Briefly.co.za reported earlier that Sunbet is a growing sports gambling site in South Africa. There are many sports betting options, including TV and novelty betting, which give the punter a wide variety of choices.
Just like other gambling games like Lotto and Powerball, you stand a chance to win prizes if you place your odds right.
Enjoyed reading our story? Download BRIEFLY's news app on Google Play now and stay up-to-date with major South African news!