President Cyril Ramaphosa has reminded Mzansi that R100 billion has been set aside to tackle SA's unemployment crisis. Briefly.co.za explores the latest updates on the Covid-19 pandemic.
PAY ATTENTION: Click "See First" under the "Following" tab to see Briefly.co.za News on your News Feed!
President Cyril Ramaphosa told SA that R100 billion has been set aside for job creation as the nation reels from the economic impact of the virus.
Meanwhile, Police Minister Bheki Cele says that authorities have cut off the flow of banned substances from Mozambique during the lockdown ban on alcohol and tobacco.
This comes as South Africa surpassed 300 000 infections on Wednesday evening.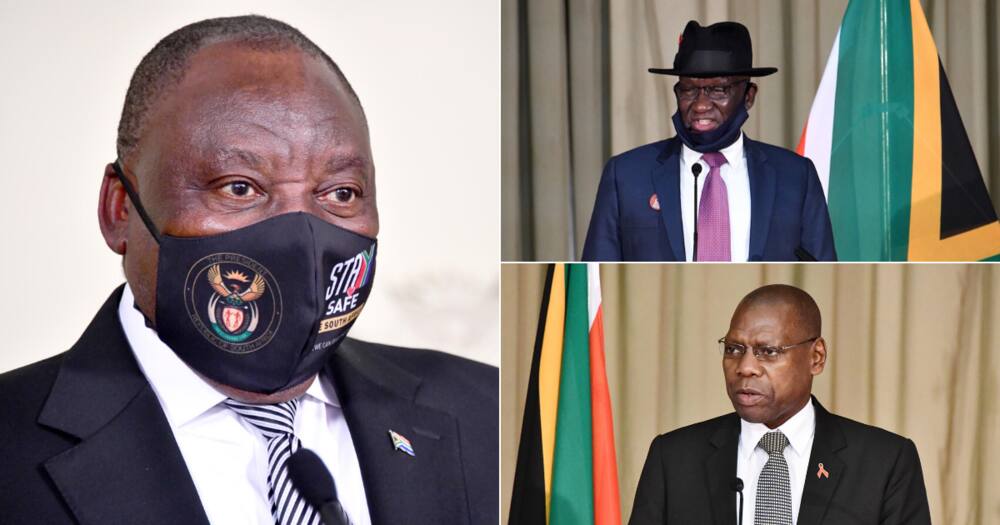 1. South Africa breaches 300 000 Covid-19 cases
Health Minister Dr Zweli Mkhize has announced that South Africa has now surpassed 300 000 Covid-19 infections.
In a statement issued by the ministry on Wednesday evening, Mkhize noted that:
"Today, we have exceeded the 300 000 mark to reach a cumulative total of 311 049 confirmed COVID-19 cases in South Africa."
The minister also noted an increase in fatalities, bringing the death toll up to 4 453:
"Regrettably, we report a further 107 COVID-19 related deaths- 4 from KwaZulu- Natal, 12 from North West, 12 from Eastern Cape, 38 from Western Cape and 41 from Gauteng Province. This brings the total number of COVID-19 related deaths to 4 453."
Despite these grim figures, SA has managed to keep its recovery rate at over 50%:
"The number of recoveries is 160 693 which translates to a recovery rate of 51,7%."
READ ALSO: Ramaphosa's imbizo: SA talks liquor, schools and unemployment
2. Ramaphosa: R100 billion set aside for employment drive
President Cyril Ramaphosa says that he is committed to focusing on economic recovery amid the Covid-19 crisis.
Briefly.co.za reported that a study on the impact of the pandemic had found that over 2.5 million citizens had lost employment between February and April.
Speaking during the Presidential Imbizo on Wednesday evening, Ramaphosa said that R100 billion had been set aside to tackle the issue:
"We are committed to focusing our efforts on economic recovery. We have set aside R100 billion for job protection and job creation, and are working on a massive employment drive through infrastructure and public employment."
READ ALSO: Study: Over 2.5 million citizens lose employment due to Covid-19
READ ALSO: NUMSA: Government can't use alcohol ban to mask its failures
3. Cele says there's been a 'breakthrough' in booze smuggling
Police Minister Bheki Cele says that there was a 'breakthrough' this week regarding alcohol smuggling from Mozambique into SA.
During a media briefing, Cele said that police had also "made a big breakthrough on the crossing of illegal cigarettes from the neighbouring countries coming down here".
Cele was pleased with the progress made at preventing banned items from entering the country, promising that it will continue.
In addition to cutting off illegal suppliers from across the border, the minister had promised that authorities will be clamping down on locals.
Earlier, Briefly.co.za had reported that Cele had warned of an increased police presence during the Covid-19 lockdown:
"There will also be random stop and search operations to ensure that the prohibition on the trade of alcohol and tobacco is not being subverted."
Enjoyed reading our story? Download BRIEFLY's news app on Google Play now and stay up-to-date with major South African news!