- Transport Minister Fikile Mbalula briefed the country on the department's latest measures in the fight against Covid-19
- Mbalula announced several steps taken by the department, including giving the taxi industry the power to refuse entry to any person without a mask
- Various transport services will now also be allowed to load 100% capacity
PAY ATTENTION: Click "See First" under the "Following" tab to see Briefly.co.za News on your News Feed!
Transport Minister Fikile Mbalula briefed the media and the South African public on Thursday on the latest measures the industry is taking to combat the spread of the Covid-19 virus.
Representing the Economic Cluster, Mbalula reiterates the words of President Cyril Ramaphosa that the Covid-19 storm has arrived.
Mbalula said the transport sector is in a precarious position of being a key player in enabling economic activity but also trying to slow the spread of Covid-19 infections. He said he is aware that public transport does pose a threat in terms of spreading the virus.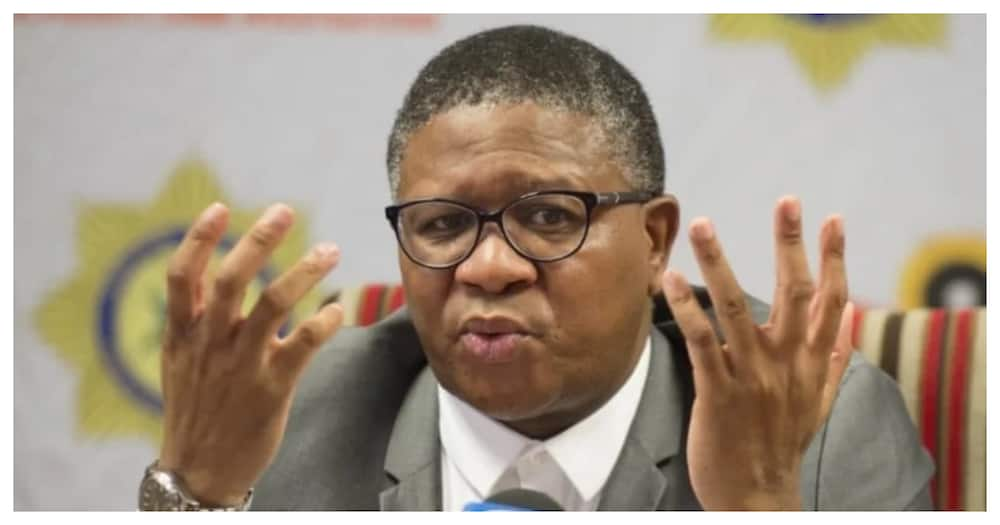 READ ALSO: Ramaphosa wants SA to face Covid-19 peak but schools are open: Maimane
Mbalula said it is crucial that they strengthen compliance with health protocols and tighten law enforcement regulations.
"It is for that very reason, that having duly and widely consulted, we have put in place additional and more stringent measures, as we incrementally resume public transport operations across various modes," he said
Mbalula highlighted that various financial institutions have offered repayment holidays and re-determination of the terms of agreement with the taxi owners.
Taxi owners will not be allowed to let any member of the public in their vehicles without wearing some kind of a face mask, cloth or any homemade item that covers the mouth and nose.
He said it is up to the taxi industry to enforce any regulations around sanitising and wearing of masks that the government passes.
Mbalula says drivers and other employees must wear such faces masks or appropriate item that covers the nose and mouth, together with a face shield. He added that various transport services will now be allowed to load 100% capacity.
This includes buses, taxis, e-hailing, metered taxis and shuttle services.
Chauffeur-driven vehicles and scholar transport vehicles will also be allowed to be full. However, this is only for trips that are not limited by regulations as long-distance travel.
He said long-distance travel refers to any trip that is further than 200km. Commuter rail is permitted to carry 70% of licensed carry capacity. The minister said taxi operators must ensure that public transport vehicles are sanitised before picking up and after dropping off passengers.
READ ALSO: Former Tshwane ANC deputy chairperson Matsena killed in home invasion
All public transport vehicles must keep their windows open at all times. The windows must have 5cm opening on both sides and must be fitted with jammers or blockers in order to keep the windows opened.
Mbalula said any taxi marshal or any other officer on the premises who interacts with members of the public in a public transport facility must wear a mask.
Meanwhile, Briefly.co.za reported that the Democratic Alliance is the latest political party to call for Eastern Cape Health MEC Sindiswa Gomba to be fired.
The opposition party wants Gomba to be immediately booted and her department placed under administration. This comes after the controversial 'Scooter Scandal' was blamed on the apartheid regime. The DA continued to say that ANC politicians should start taking the quality of life in SA 'seriously'.
Enjoyed reading our story? Download BRIEFLY's news app on Google Play now and stay up-to-date with major South African news!