- Julius Malema and Dali Mpofu have been dragged over the coals for failing to wear face masks at Zindzi Mandela's funeral
- The EFF officials were spotted thwarting Covid-19 regulations despite numerous warnings from the government over the high risk of funerals
- Some feel that, if they had been ordinary citizens, the pair would be facing arrests over the incident
PAY ATTENTION: Click "See First" under the "Following" tab to see Briefly.co.za News on your News Feed!
Julius Malema and Dali Mpofu have drawn the ire of some South Africans after the EFF released photos of the pair failing to practice the most basic Covid-19 preventative measures.
The EFF big wigs had attended the funeral of Zindzi Mandela on Friday, bidding the late ambassador a final farewell.
With no face masks to be seen and attendants standing shoulder to shoulder for the snaps, the politicians posed with Zenani Mandela after the burial.
Briefly.co.za reported previously that funerals had been highlighted as a major source of concern amid rising infections with citizens legally mandated to wear face masks at all times while out in public.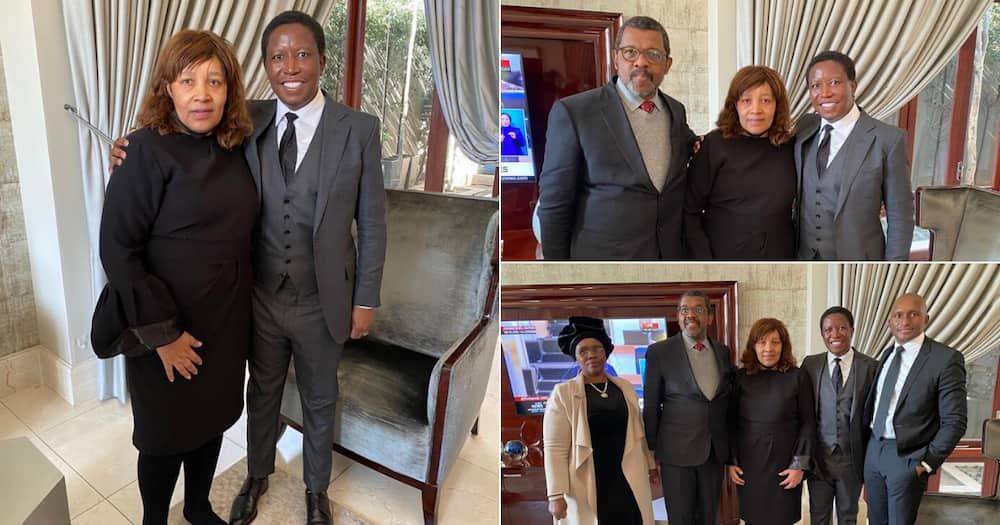 READ ALSO: Malema, Mpofu slammed after Zindzi Mandela's funeral: No masks
Numerous readers were outraged over this incident, take a look at just a few comments below:
Phëñýô Tshölòfëló Måwëlã- "And they obviously won't get arrested for violating the regulations. But if it were random people not wearing masks at a funeral of a person who died from COVID-19, they'd be in a holding cell as we speak."
Ayondat Silwane- "I guess it can't be a criminal offence if it's done by the so-called elites. But to an ordinary Joe that'll amount to a criminal offence...That's according to the Book of Lamola. I wonder which Verse & Chapter?"
Thando Taraas Noludwe- "President Cyril Ramaphosa once said "it is in your hands". So Please good people, let's not do Entanglement."
Sango Hlelolam- "Majikijela Emihle They are taking risks or they are breaking lockdown regulations? But ke we know those two you cant take them to court because its gonna be the waste of time."
Phumlani Piliso- "They don't lead by example."
Sinclair Mclskie Hlagala- "Now you can see that they are above the law and they don't care who says what."
Meanwhile, Briefly.co.za reported that Zindzi had been buried alongside her mother in Johannesburg.
President Cyril Ramaphosa had praised the family for going public after Mandela tested positive for Covid-19 shortly before her death:
"Just yesterday we received the news that Zindzi too had tested positive for the virus. I would like to thank the Mandela family for the very important gesture of sharing this information with the nation."
Speaking during a virtual memorial service for Mandela, Ramaphosa touched on the stigma around the virus:
"This is a virus that affects us all and there should never be any stigma around people who become infected. In doing so, you're helping to encourage social acceptance for sufferers."
Enjoyed reading our story? Download BRIEFLY's news app on Google Play now and stay up-to-date with major South African news!