Brooklyn Beckham bio: Who is David Beckham's eldest son?
Who is David Beckham's eldest son? Brooklyn Beckham, a British photographer and model, is David's firstborn. Maybe you have not heard of Brooklyn, but you surely know about his parents, the famous football star David Beckham and Victoria Beckham, who was once a Spice Girl singer and is a renowned fashion designer. Brooklyn has benefited from growing under such immense limelight and has a massive Instagram following (12.2 million), making him one of the world's most popular people.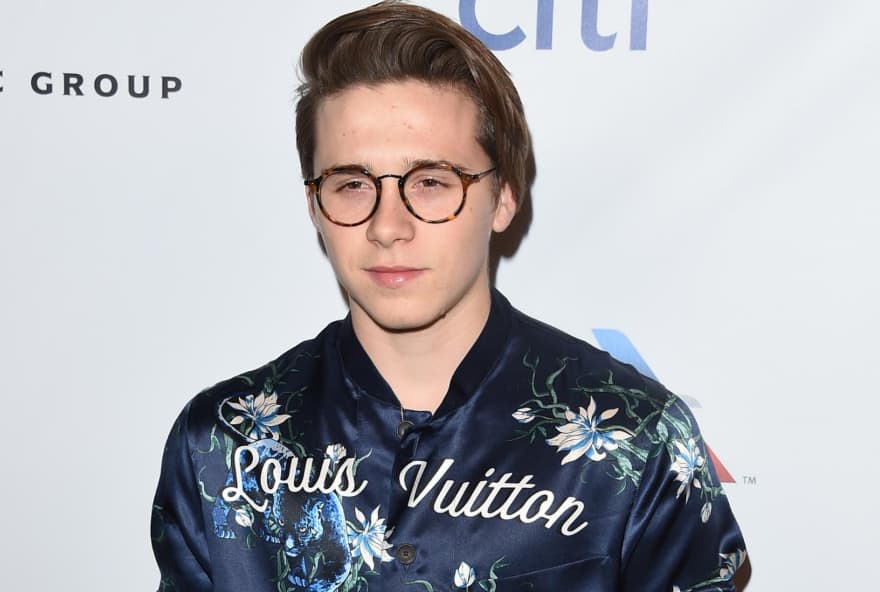 Why is Brooklyn Beckham named Brooklyn? Some people have theorized that he was named so because he was conceived in Brooklyn, which is not true. Victoria loved the name Brook, and it was in Brooklyn that she discovered that she was pregnant with her first child. It was also the city that David visited after the 1998 FIFA World Cup. Here are more facts about the talented photographer.
Brooklyn Beckham profile summary
Full name: Brooklyn Joseph Beckham
Date of birth: 4th March 1999
Place of birth: West End (The Portland Hospital), Marylebone, London, England
Brooklyn Beckham age: 21 years old as of 2020
Nationality: British
Instagram: @brooklynbeckham
Twitter: @brooklynbeckham
Brooklyn Beckham height: 5 feet 10 inches (177.8 cm)
Relationship status: Engaged
Occupation: Photographer and model
Famous for: Being the eldest son of David and Victoria Beckham
READ ALSO: Will smith net worth, age, wife, children, parents, movies, songs, houses, profile
Brooklyn Beckham biography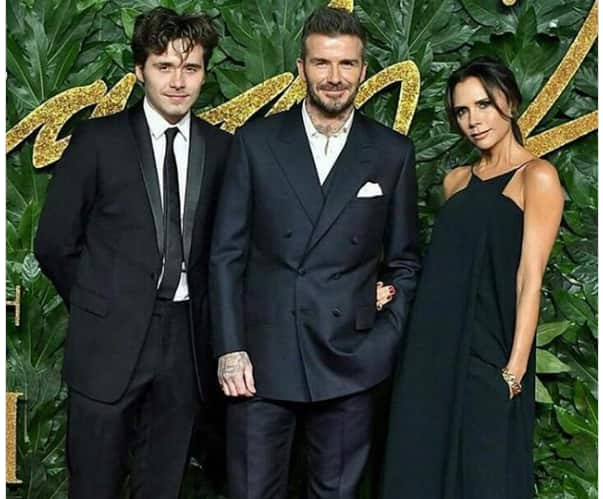 Brooklyn's pictures with his parents appeared on the media just five weeks after he was born. The picture was taken in Manchester, England at their penthouse flat. His parents got married two months later in a lavish wedding involving gold thrones. His godparents are the famous Elizabeth Hurley, David Furnish, and Elton John.
When Brooklyn turned three, his family moved to the village of Nether Alderley where they acquired a barn worth $2 million. The village is close to Old Trafford where David played for Manchester United. The family moved again after a few months to Hertfordshire (south of England) where they acquired a $3.85 million mansion named the "Beckingham Palace" by the media.
One of the most memorable events at the Beckingham Palace was Brooklyn Beckham birthday in March 2004, where he had a massive $18,000 party. It was clear that he was destined for celebrity life from the very start with his cheeky grin that he clearly got from his mother. Most of his early life was under the stewardship of caretaker while a governess primarily handled his education at home.
Growing up, Joseph moved around a bit as his dad moved during his football career. He grew up for a time in Spain when David played for Real Madrid and then later moved to Los Angeles after his dad made a move to LA Galaxy of the MLS. It is not a surprise that Brooklyn can speak fluent Spanish and has an American accent as well. This is also true for his younger siblings Romeo James, Cruz David, and Harper Seven.
Brooklyn Beckham career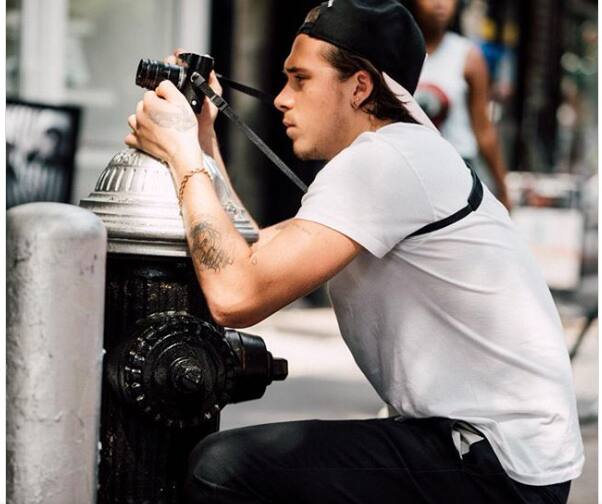 What does Brooklyn Beckham do? Everyone probably thought that he would follow in his father's footsteps and become a professional footballer. Indeed, he showed signs of doing that, and he joined the Arsenal Football Club youth academy, but he eventually quit football in favour of photography. Interestingly, he also worked at a coffee shop during the weekends in West London when he was 15 years old. David and his wife are very strict, and they ensure that all their children are disciplined, responsible, and do not feel entitled.
In 2013, Beckham and his family moved back to London and settled in a $32 million house in Holland Park. Brooklyn enrolled in a private art school where his love for photography developed and blossomed. David bought him a camera to aid with his GCSE exam in photography, and that further developed Brooklyn's passion for photography. The pressure from football due to his father's excellent reputation further pushed him to photography.
In 2014, Brooklyn made his first solo magazine cover for the Man About Town magazine and racked up a million followers on Instagram a year later. In 2016, he joined Burberry as the main photographer for a fragrance campaign that featured the likes of Eliza Thomas, Maddie Demaine, and Liv Mason Pearson. A year later in June 2017, he published his book of photographs titled What I See. Despite his book dividing critics, he landed himself a scholarship to the Parsons School of Design in NY where he started his four-year journey the same year.
Other editorials and covers that he has appeared for since he began his career include Vogue China, Interview, The New York Times Style Magazine, Dazed Korea, L'Uomo Vogue, and Miss Vogue. He has had his picture taken by experts such as Bruce Weber, Daniel Jackson, Terry Richardson, and Alasdair McLellan.
READ ALSO: Trevor Stuurman age, family, photography career, Vogue, Afropunk, website, house, profile
What is Brooklyn Beckham worth?
It is not a surprise that the young man has a substantial worth of about £8 million (about $10 million). Most of his money is from the fashion world, endorsement deals, sponsorships, and photography work. For example, he made $140,000 after appearing in a Huawei advertisement for the Honor 8 Android phone series. Unfortunately, he lost his commercial potential in China after he posted some content that may have been discriminatory to the Chinese. However, the potential that he has could make him even more successful than his parents in terms of wealth and acclaim.
Brooklyn Beckham dating history
Brooklyn has been known to date a number of famous women including American actress Chloë Grace Moretz. The two were together on and off between 2015 and split in April 2018. He was also romantically involved with Canadian model Lexi Wood, musician and dancer Lexy Panterra, French model and singer, Sonia Ben Ammar, and dated model Hana Cross for 9 months before splitting in early 2019.
Brooklyn Beckham latest news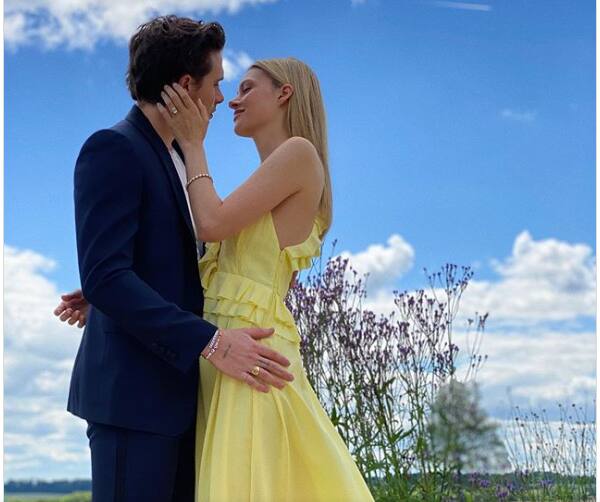 The biggest news swirling around David Beckham's eldest son is his engagement to the gorgeous Brooklyn Beckham girlfriend, Nicola Peltz. He proposed in June but was made public two weeks later (July 12th). The couple is now engaged and set for marriage after eight months of dating (They started dating in October 2019 but made it official in January 2020).
The 25-year-old Nicola, famous for her roles in The Last Airbender and Transformers: Age of Extinction films, is the daughter of billionaire businessman Nelson Peltz and model Claudia Heffner, his third wife. Brooklyn Beckham's fiancee has a five-carat emerald cut diamond engagement ring. From the look of things, the two have blessings from their families, with David and Victoria taking to social media to congratulate their son and future daughter-in-law on their upcoming nuptials.
READ ALSO: 15 hot men ranked. Who is hottest men in the world?
Briefly.co.za ranked 15 hottest men worldwide early in the year and Brooklyn's dad, football star David Beckham, was featured in the list. David, who is a loving husband and dad to four, models for H&M.
According to the publication, Beckham becomes younger and more handsome as he grows old. We hope that his son will be on the list one day.
It is safe to say that Brooklyn Beckham has had an extremely different childhood compared to most kids around the world. Not many people can call themselves millionaires at 21 years or be engaged. However, despite a privileged life, he has worked hard for what he has, and his star is about to get even brighter. We congratulate him on his engagement and wish the couple a happy life together.
READ ALSO:
20 of the hottest women in the world
15 Brad Pitt hottest photos of all time
Here are the 10 highest-paid celebrities in South Africa
Source: Briefly.co.za