- Ridge Hospital in Ghana has surfaced in the news again as a woman has told how a towel was left inside her for nine months after delivery
- According to her, it took the services of another hospital to detect and remove the towel
- She indicated that there was an unusual pain around a part of her belly which made her sure that an object lay inside her
PAY ATTENTION: Click "See First" under the "Following" tab to see Briefly.co.za News on your News Feed!
A woman whose identity has been withheld for security reasons has revealed that doctors at the Ridge Hospital left a huge towel inside her tummy after she had a C-Section at the regional hospital.
According to the Ghanaian mother who recounted the incident to Captain Smart on Accra-based Angel FM, the towel was left inside her for nine months until it was discovered and removed at a different hospital.
She indicated that her stitches took so long to heal and she constantly visited the other hospital, from where she was usually referred back to Ridge Hospital.
READ ALSO: Mom shares heartwarming photos of her daughters with brothers
READ ALSO: Andrew Mlangeni: Last Rivonia Trialist passes away at age 95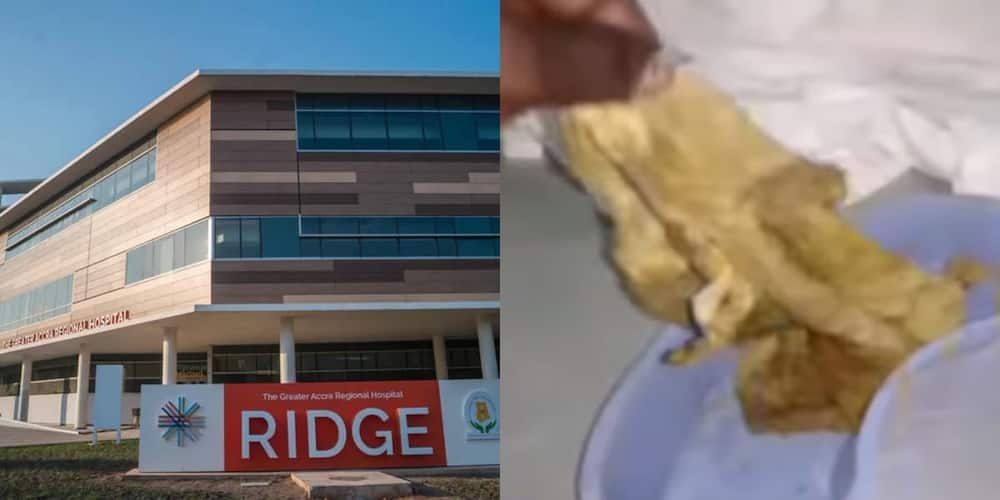 READ ALSO: Motshekga to provide update on schools as soon as Cabinet decides
However, she mentions that after all forms of subsequent remedies were given to her, she kept experiencing unusual pains at a particular area of her belly which made her convinced that there was a foreign object there.
She constantly complained to the new hospital and it was agreed to carry out a surgical procedure on her, during which it was discovered that a dark-looking object lay inside her.
The object was carefully pulled out and it turned out to be a huge towel that is thought to have been used to soak her blood during her C-section nine months back.
Briefly.co.za previously reported that one of the 158 people deported from Libya on Thursday, 11 May, Beauty John, has recounted her heart-wrenching experience in Libya.
The 22-year-old Edo state indigene got to know she was pregnant when she was on her way to Italy through the desert in search of a better life.
Describing the horror she faced, the nursing mother said:
"One of my aunts who stays in Italy visited Benin and told some of us to come over, promising to help us secure jobs. Five of us made up our minds to go, but at the end, I was the only one who could raise money for the trip.
"On July 11, 2016, some other male friends and I left Benin for Sokoto state, through the desert. We got to Libya a week after and stayed somewhere in preparation for the trip to Italy by sea. Unfortunately, we were caught by some security agents. After profiling us, we were taken to a cell in the desert, where I spent five months."
"While in the cell, I discovered I was pregnant by my boyfriend, who lives in Benin. My experience in the desert cell could best be described as hell. Sometimes, we were given a slice of bread as breakfast and watery spaghetti for dinner. No lunch.
READ ALSO: Government claims tobacco, alcohol ban will stay until end of lockdown
"Some inmates I met in the cell died as a result of malnutrition and lack of proper medical care while others lost their sight. I also fell sick. That I gave birth and we are both alive today is a miracle.
"After giving birth, my baby cried for days without food as my br*asts were not bringing out milk. I was advised to put it in his mouth like that. I cried and regretted embarking on the journey. I thought my baby and I would die of starvation.
"Finally, help came my way when the Nigerian Ambassador to Libya visited the cell and asked if we would like to go back home. I am grateful to God that I am alive to share my story."
Another deportee, Michael, claimed he lost his sight inside the underground cell he was kept with other illegal migrants for 11 months.
Enjoyed reading our story? Download BRIEFLY's news app on Google Play now and stay up-to-date with major South African news!