Mpeni Kofi: Legend 300-year-old tree said to become human at night
- Mpeni Kofi is a tree situated in the heart of Akropong in the Eastern Region
- The tree is reportedly 300 years old and turns into a human at night to guard the people of Akuapem
- Briefly.co.za takes a look at the historical and spiritual narratives of the Mpeni Kofi tree
PAY ATTENTION: Click "See First" under the "Following" tab to see Briefly.co.za News on your News Feed!
With its roots still intact and leaves still fresh despite being 300 years old, Mpeni Kofi is a tree that is considered a demi-god by the people of Akuapem.
Beyond the never say die traits of the aged tree, which is situated in the heart of Akropong, the people of Akuapem allege that Mpeni Kofi protects them.
According to Ghanaweb, the acting Krontihene of Akuapem, Nana Addo Kwataa, and Sub-Chief, Ahenenanhene Osae Adade, explained that the tree has a human side.
According to them, the 300-year-old tree turns into a human at night to guard the people.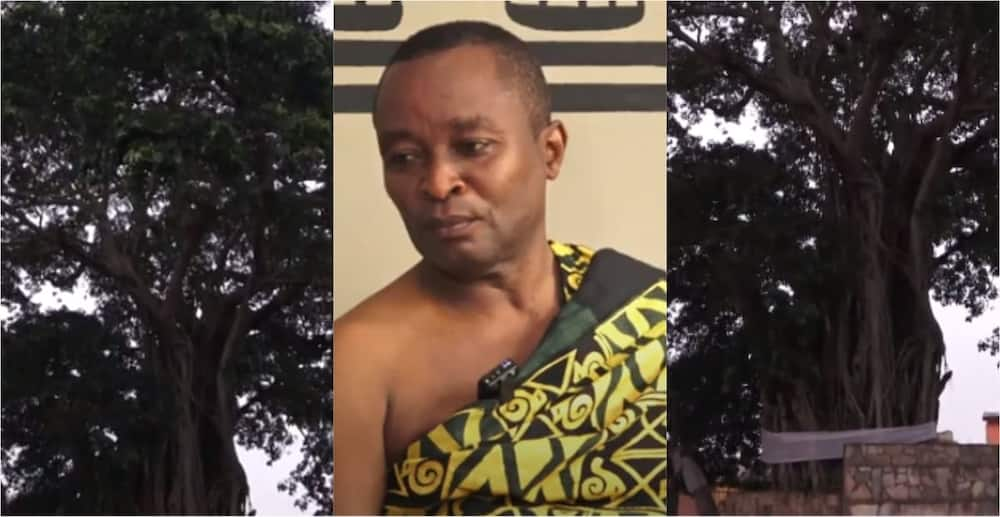 Currently covered in white at its lower side, Mpeni Kofi was found by their ancestors after it guided them home from war.
Recounting the history of the Akuapem people, Nana Addo Kwataa said they see Mpeni Kofi as a special entity that holds the people up and leads them.
According to him:
It is a signal to us. When we went to war, we could trace it and know that we are heading home. 300 years ago when our forefathers came, they saw it and it was of importance to them and it is a generational worshipping. We keep on worshipping it up till today.
Chipping in on the historical narrative of Mpeni Kofi, Ahenenanhene Osae Adade also alleged that whenever they go to sleep, Mpeni Kofi goes around the town as a tall man to protect the people.
The chiefs believe the tree has a special connection to the palace of the Okuapehene and serves as a unifier for the houses surrounding it.
In another story, Ghanaian World War II veteran, Akasease Kofi Boakye Yiadom, enrolled at the Presbyterian University College at the age of 96.
The former teacher made history when he became one of the oldest people to graduate from university at nearly a century old.
Akasease Kofi Boakye Yiadom graduated from the Presbyterian University College's business school in 2010 at the age of 99.
Enjoyed reading our story? Download BRIEFLY's news app on Google Play now and stay up-to-date with major South African news!
Source: Briefly.co.za