Covid-19: Wife gets dish-washing job to see hubby in care facility
- A Florida woman took a dish-washing job at her husband's nursing home after the facility barred visitors due to the Covid-19 pandemic
- She said she reached out to the staff at the assisted living facility in to see if she could volunteer so she could see her spouse
- The woman said she was required to take several Covid-19 tests and undergo intense training before starting her part-time job
- After 114 days apart, she was able to finally reunite with her 66-year-old husband, who has Alzheimer's
PAY ATTENTION: Click "See First" under the "Following" tab to see Briefly.co.za News on your News Feed!
A woman has made headlines after she took a part-time dish-washing job at her husband's nursing home facility so she could see him amid the Covid-19 pandemic restrictions.
The 57-year-old woman, identified as Mary Daniel, works during the day as the chief executive of a small company that helps patients with healthcare bills.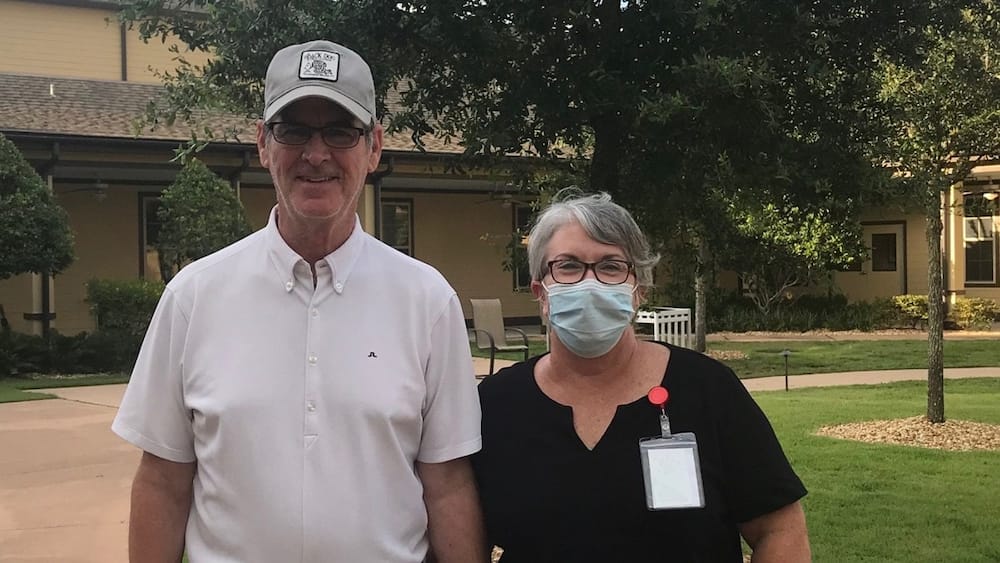 However, as reported by the New York Post, she is now working two days a week at Rosecastle Assisted Living and Memory Care facility where her sweetheart of 24 years, Steve, is a resident.
Daniel's 66-year-old husband has early-onset Alzheimer's disease - a progressive disorder that causes brain cells to degenerate and die - and being kept apart for 114 days was hard for him.
As the coronavirus spreads, a state order barred visitors to care centres, thus banning visitations to nursing homes to protect patients and prevent the spread among a vulnerable population.
READ ALSO: South Africans show uBaba love, #ItWasNeverJacobZuma trends online
Daniel explained that she tried visiting her husband through a window, but said he just cried and could not understand what was going on.
Later on, she came up with a creative idea and reached out to Rosecastle staff and asked if she could volunteer or get a job at the care centre so she could see her husband in person again.
"They said, 'Let us wait to see what happens'," Daniel recalled.
Then, out of the blue, the corporate office reached out to her and offered her a job.
"They told me that they did have a part-time job available if I was interested," she said.
"I said, 'I am definitely interested. What is it?' And, they said it is a dishwasher. So I said, 'Well, I will be a dishwasher then,' " she added.
She described her reunion as priceless, adding her husband was a dementia patient and dementia patients needed love and care.
READ ALSO: Singer-songwriter Sam Smith announces new collab with Burna Boy
"They need touch. They need companionship. Their brain, without it, will just wither away," she said.
She said thankfully Steve's home, which was small and had only 50 residents, had zero cases of Covid-19. She undertook several tests for the virus, all of which came back negative, and underwent strict training before starting work at Rosecastle.
"I had to have a background check, a drug test, a Covid test, 20 hours of video training on everything, including infectious diseases. It was 100% legit," she said.
Daniel reports for duty two days a week to work an hour-and-a-half shift. She then spends her evenings with Steve just the way she did before the pandemic — helping him get out of his clothes and prepare for nighttime.
READ ALSO: Ghana's finance minister calls for financial reform in Africa
The staff were happy to have her back since they were currently overwhelmed now that families were not present to spend time with and assist residents.
Daniel believes there's a way to be mindful about Covid-19 without tearing residents of assisted living facilities apart from their loved ones.
She even started a Facebook group named Caregivers for Compromise that is calling for Florida's governor to recognise the harsh impact isolation has on nursing home residents.
Enjoyed reading our story? Download BRIEFLY's news app on Google Play now and stay up-to-date with major South African news!
Source: Briefly.co.za