Woman sends powerful message to young Saffas after getting Covid-19
- A healthy 25-year-old woman has opened up about the harsh reality of fighting the coronavirus, even if you're young
- Bethany Thomas-Wessels tested positive for Covid-19 despite not showing the common signs of infection
- However, little did she know suffered from silent hypoxia, a condition where oxygen levels in the blood are extremely low despite patients showing no symptoms
PAY ATTENTION: Click "See First" under the "Following" tab to see Briefly.co.za News on your News Feed!
The coronavirus has changed the world as we know it. However, despite more than 667 000 deaths worldwide, many people are still not taking it seriously. Since people who are old or have underlining condition are at an higher risk, most young people believe they are invincible.
One woman, Bethany Thomas-Wessels, wants to let young South Africans know that is not the case. The 25-year-old beauty contracted the coronavirus and found out first-hand how serious the deadly disease really is.
Taking to social media, Bethany shared the reality of Covid-19. She revealed she's always been healthy and when she showed her first symptoms earlier this month, she did "everything right".
She wrote:
"I did everything right from taking my daily vitamins, zinc and medication, spending enough time in the sun, eating fresh fruit and veg and all the lemon/turmeric/ginger teas they claim will help."
Although Bethany did not display the symptoms labelled as common - including a fever, sore throat or cough - she could have died had she not gotten medical attention in time.
Bethany had what is known as silent hypoxia, a condition more and more doctors are seeing in Covid-19 patients. Silent hypoxia is when the level of oxygen in the blood is far too low yet the patient does not show any signs until it is sometimes too late.
Bethany said:
"This is the virus' complex way of silently depleting the oxygen levels in the blood and tissue in the body in the background without showing outward signs, so the entire time you feel you are getting better except for chest pain and mild breathlessness that doesn't seem bad enough to warrant a hospital visit until it gets extremely bad or too late."
Luckily, the 25-year-old got to the hospital in time after she experienced severe chest pain, breathlessness and hand tremors.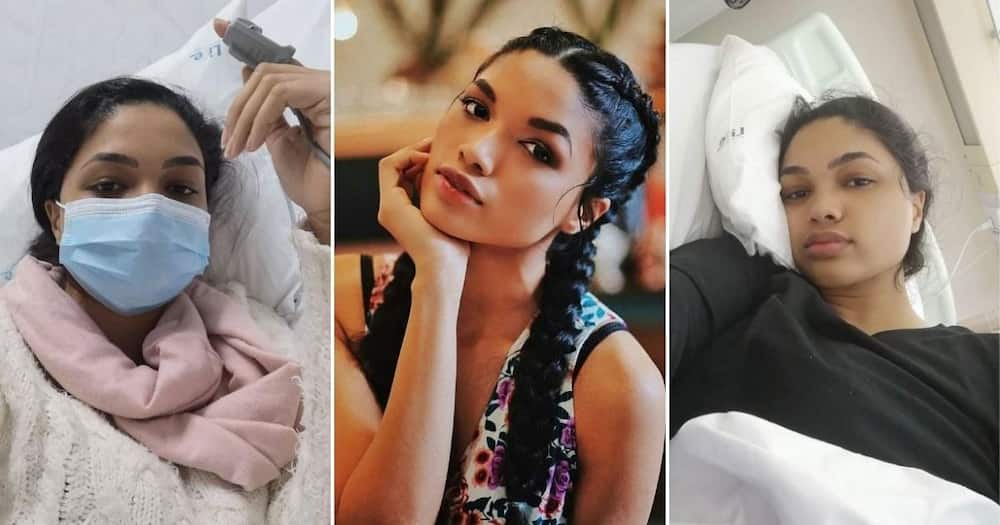 Bethany was admitted to the hospital with severe lung complications due to Covid-pneumonia, blood clots in the lungs and inflammation of her chest walls and ribs.
She added:
"It has also affected my nervous system and ability to process thoughts and recall details in my life. I am lucky that although its unusual to be feeling this way at three weeks, I still came to hospital early enough to be treated. Most people with silent hypoxia seek help after reaching a critical stage where it might be too late."
READ ALSO: Mokonyane's daughter scores R3m PPE tender: Company just months old
Take a look at her full post below:
Speaking to Briefly.co.za, Bethany said if she had known about silent hypoxia before and the signs to look out for, she would never have gotten so ill.
She is currently recovering at home with the damage done by the virus and has a couple of weeks of physio and medication ahead until she hopefully starts to feel better.
Bethany sent young South Africans a message, urging them to take the coronavirus seriously:
"My message to young South Africans is to stay home and stop thinking you won't contract the virus or won't be badly affected. Avoid social gatherings, not only for the sake of yourself but those around you. I did everything 'right' and still ended up with severe lung complications that could be long-term."
In other news, an emergency mass-morgue, capable of holding hundreds of bodies, has been established in the Western Cape province. The site was build to hold around 770 corpses at a time in the Tygerberg Hospital precinct with a large field hospital also erected nearby.
Speaking to News24, Department of Health spokesperson Mark van der Heever commented:
"The mass fatality centre consists of 12 containers on site and is connected to three-phase power. It currently has 576 racking space and, once the remaining racks are delivered, will have a total storage capacity of 624 spaces.
"The facility is fully operational and has received nine cases to date and assists in scientific identifications where required, issuing the cause of death certificates and offers bereavement counselling to those families that visit the centre."
Western Cape Premier Alan Winde has defended the move, saying that the DA-run province wanted to be prepared for the worst.
Enjoyed reading our story? Download BRIEFLY's news app on Google Play now and stay up-to-date with major South African news!
Source: Briefly.co.za