Ellen DeGeneres' show under investigation & celeb friends scatter
- An investigation has been opened into The Ellen DeGeneres Show after accusations from former and current employees about bullying and a lot of toxicity at the workplace emerged
- This comes as many labelled what takes place in front of the camera "excellent choreography", different to behind the scenes
- The TV host is known to have close friends who are A-listers but none of them have dared to defend her after the recent claims
PAY ATTENTION: Click "See First" under the "Following" tab to see Briefly.co.za News on your News Feed!
Talk show host Ellen DeGeneres' recent controversies about The Ellen DeGeneres Show are believed to have led to some of her top celebrity pals deserting her.
Briefly.co.za learnt that Ellen is one of the most admired women in show business and her multi-billion-dollar brand has always been said to be driven on the "wheels of kindness".
However, all this has been put into question after an investigation was opened due to many accusations from former and current employees about bullying and a lot of toxicity at the working place.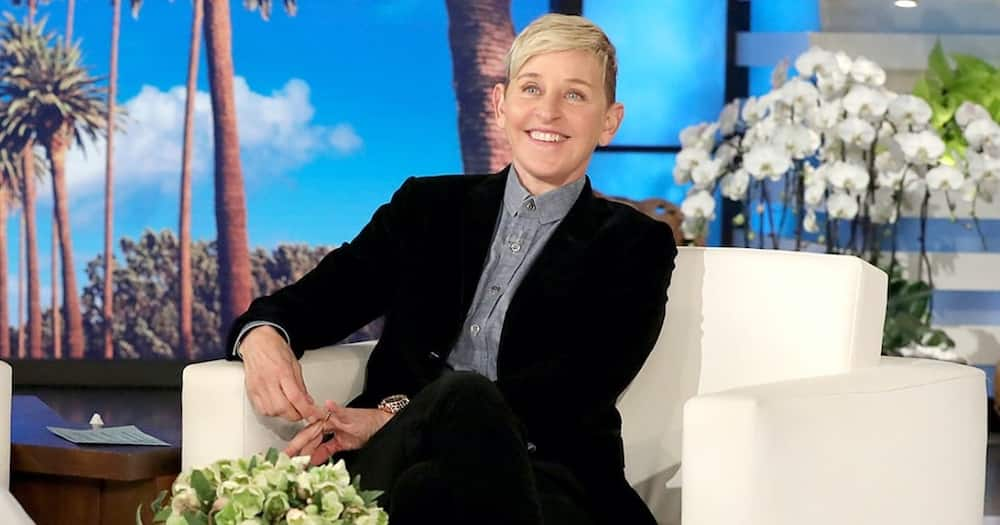 According to The New York Post, The show's distributors, Warner Media, launched a probe into behind the situation at the studio after an overwhelming number of complaints.
Despite the fact that Ellen is a friend to several A-listers, none of them have come forward to defend her - which is very surprising.
The 62-year-old has received praise for her generosity and amazing interviews but all this is reportedly all for the camera, according to former and current staff who complained about what goes on behind the scenes.
Ellen's reputation started taking a hit way back in March after several netizens, claiming to be her former employees as well as some fans, disclosed allegations of her mean behaviour.
This was after US comedian Kevin T Porter shared a tweet asking people to send him the most insane stories they had come across about Ellen. In exchange, he would donate $2 (R33) for every true story to charity.
Many replied, giving several accounts of what they had experienced or what someone close to them had told them about.
One Twitter user said Ellen had a "sensitive nose" and so everyone had to chew gum from a bowl that was placed outside her office before talking to her in case their breath smelled.
Another user claimed the TV host fired her head writer of five years, Karen Kilgariff, after she would not cross the picket line and never spoke to her again.
10 employees recently added to the complaints after claiming Ellen's mantra was only for show and her giving out money and helping people on the show was all choreographed.
The sources who spoke on anonymity disclosed a wide range of allegations against the show management. Some claimed they were axed for taking medical leave or bereavement days to attend family funerals.
Only time will tell if the probe will clear her name or bring the show to its downfall.
Enjoyed reading our story? Download BRIEFLY's news app on Google Play now and stay up-to-date with major South African news!
Source: Briefly.co.za