Covid-19 update: R6m hospital torched, experts say deaths are higher
Angry KZN residents have torched a R6 million hospital in protest over plans to use it to treat Covid-19 patients. Briefly.co.za explores the latest updates on the pandemic in South Africa.
PAY ATTENTION: Click "See First" under the "Following" tab to see Briefly.co.za News on your News Feed!
Medical experts believe that the true Covid-19 death toll is far higher than the government statistics.
Meanwhile, a R6 million hospital in KwaZulu-Natal was burnt down after the community learned of plans to use it in the fight against the pandemic.
Explore the latest stories on the pandemic in SA with Briefly.co.za: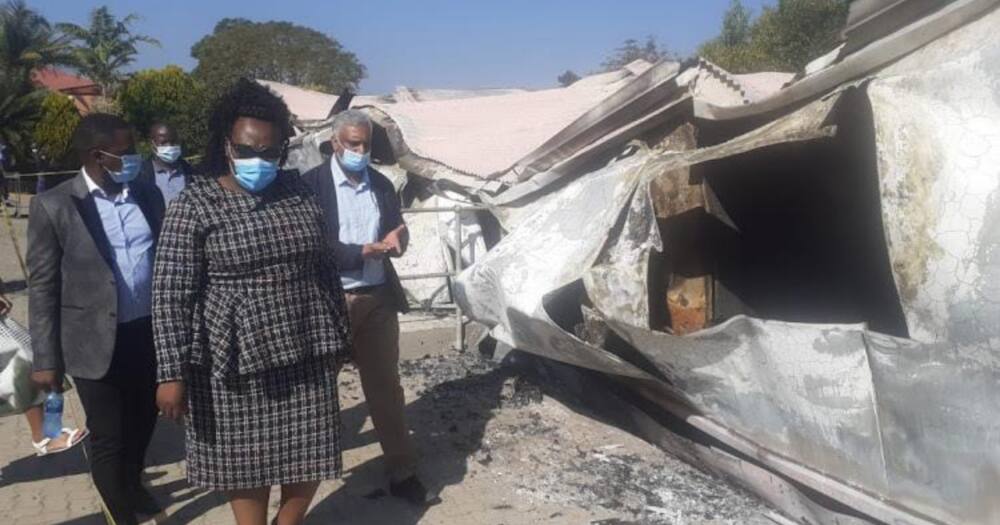 1. Covid-19 deaths higher than reported stats - Experts
Researchers have found a major 'discrepancy' between confirmed Covid-19 deaths and the number of excess natural fatalities.
This has led medical experts to believe that the number of South Africans who have died from the virus is higher than government statistics.
The South African Medical Research Council explained that the usual trend with reported deaths has seen an increase in comparison to past data.
Last week excess deaths were 63% higher than normal, up from 59% for the week before that, fuelling concerns that Covid-19 deaths are far more common than what is currently being reported.
Excess deaths were calculated by analysing the number of natural causes deaths and removing the impact of changes (like the current lockdown) on unnatural deaths.
READ ALSO: Explainer: Lockdown curfew changes, travel rule relaxations announced
2. R6m KZN hospital torched: Protests over helping Covid-19 patients
A R6 million KwaZulu-Natal hospital has been burnt down and a security guard has been injured after protests over the facility being used to treat Covid-19.
The provincial Department of Health expressed its shock over the Catherine Booth Hospital being torched in a statement:
"It is believed that the torching of this brand-new centre — which was also burnt down three years ago — is linked to disquiet among sections of the community over the conversion of a section of the hospital into a Covid-19 treatment facility."
MEC Nomagugu Simelane-Zulu, at her wits' end over the second incident at the facility, is contemplating shutting it down:
"We are in a crisis. This is a pandemic that all of us are faced with. And the department has a responsibility to ensure that it provides all the beds that are needed. We're going to continue using this hospital for Covid-19 as and when it is necessary for us to do so. So if the community does not allow us to do that, it means they do not need this hospital."
READ ALSO: Mokonyane's daughter scores R3m PPE tender: Company is just months old
3. 315 New fatalities, over 300 000 recoveries
Health Minister Dr Zweli Mkhize has confirmed the latest Covid-19 statistics as the nation continues to endure the pandemic.
In a statement released by the Health Ministry on Thursday evening, Mkhize commented that:
"As of today, a cumulative total of 482 169 confirmed Covid-19 cases in South Africa have been recorded with 11 046 new cases identified."
In addition to the surge in cases, a staggering 315 new fatalities pushed the death toll higher:
"Regrettably we report 315 new Covid-19-related deaths: 121 from Eastern Cape, 96 from Gauteng, 55 from KwaZulu-Natal, 34 from Western Cape and 9 from North West. This brings the cumulative number of deaths to 7 812."
Thankfully, the majority of cases have seen patients making a successful recovery from the virus, with the minister noting:
"The number of recoveries currently stands at 309 601 which translates to a recovery rate of 64%."
Meanwhile, Briefly.co.za reported that Nomvula Mokonyane's daughter Katleho has managed to score lucrative tenders thanks to the Covid-19 pandemic.
With the nation's attention turned to allegations of corruption in connection with the R500 billion relief fund set up to combat the virus in SA, the former minister's daughter was revealed as yet another politically-connected beneficiary.
Almost R3 million in tender payments was made at the end of March just days after the country went into lockdown. While the legality of the situation remains unclear, the company, Tuwo Rhodesia, was established less than six months before it secured the tender.
The Gauteng Government handed the company, headed by Katleho and one other, R2.79 million to supply PPE.
Enjoyed reading our story? Download BRIEFLY's news app on Google Play now and stay up-to-date with major South African news!
Source: Briefly.co.za