Explainer: Andile Ramaphosa's Covid-19 relief projects under SDI
Unflattering media reports have seen Andile Ramaphosa and the SDI's Covid-19 projects placed on hold. Briefly.co.za spoke to representatives of the initiative on the massive efforts undertaken to help citizens cope amid the pandemic.
PAY ATTENTION: Click "See First" under the "Following" tab to see Briefly.co.za News on your News Feed!
With allegations of Covid-19 corruption surfacing seemingly every day, Andile Ramaphosa's involvement with related projects caused quite a stir.
However, Supplier Development Initiatives, founded by President Cyril Ramaphosa's son and Brad Fisher, has spoken to Briefly.co.za to once again clarify that no state funds were ever involved:
"No government funding has been received for either SDI Force or the Adopt-a-Safe-Passage initiative, and no government tender of any sort was awarded, nor was one pursued or desired."
Instead, the initiative was funded by FNB and Bridge Taxi Finance, which the bank has vetted and PWC is providing advisory for.
Explore the projects undertaken by SDI during the Covid-19 pandemic to help South Africans overcome this difficult time: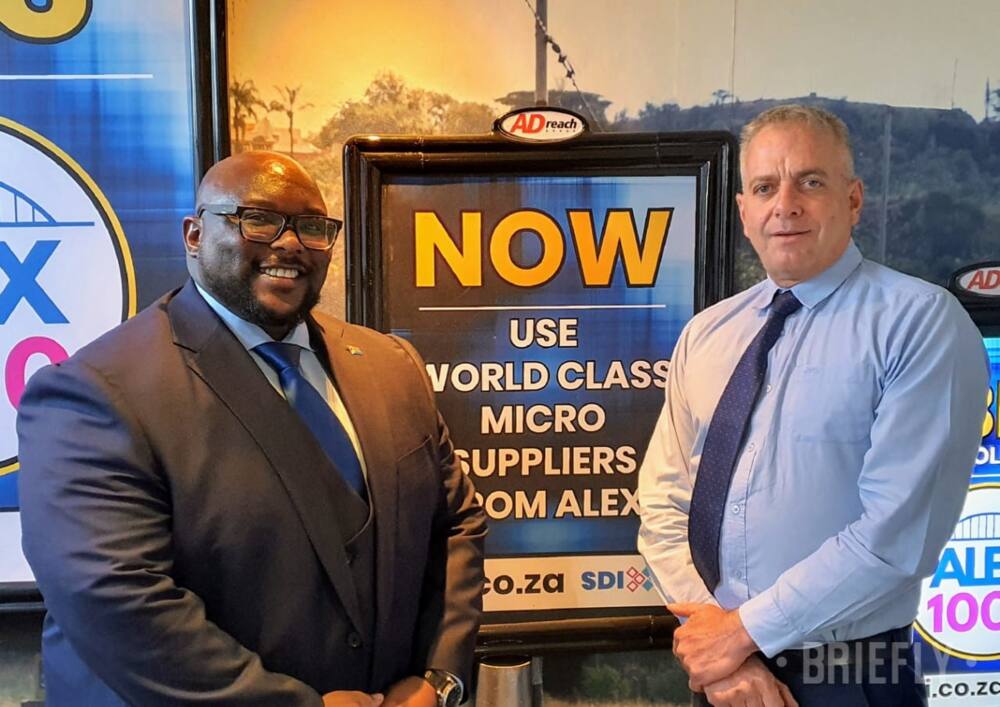 1. Food drive
One of the first projects was a huge food drive to provide 9 000 waste collectors with 400 000 food packs in Gauteng.
This project was crowd-funded and the City of Joburg had granted permission for the food parcels to be dished out by SDI.
2. Waste-picker drive
SDI was instrumental in ensuring waste pickers managed to return to work. The project repurposed WastePreneurs to become 'Covid-19 busters' who sprayed public places in order to disinfect them.
SDI explained that the economic value of the project was R720 million and employed 90 000 waste pickers for 40 days. This project was partially sponsored by FNB, according to the SDI.
READ ALSO: Fact Check: Origins of funding for Andile Ramaphosa's project verified
3. PPE drive
Another project was the effort to hand out 1 000 personal protection equipment parcels to WastePreneurs. This was funded through a social media challenge seeking to provide 1 000 ponchos to keep waste pickers warm.
In addition to this, Bolt vehicles had been fitted with protective barriers to limit the risk facing drivers. The drivers then managed to secure a deal with the NICD to transport frontline staff to work. The economic value of this project was listed as R20 million.
4. Safe passage to work and school project
The project that brought unflattering media attention to the SDI is the Safe Passage to Work Model which is aimed at ensuring taxis are fitted with technology to ensure passengers and drivers are kept safe during commutes.
The SDI says that the City of Joburg endorsed the project and that Solidarity is looking to use the blueprint for a national programme.
The economic value of this project is estimated at between R6 million and 8 million and had been sponsored by Bridge Taxi and financed by FNB.
The initiative says that this project has since been placed on hold due to the reports on the matter:
"Taxi Associations have put the programme on hold due to irresponsible, inaccurate media reporting. Thousands of lives are at risk."
The SDI insists that the best interests of citizens were at heart and that the programme was voluntary:
"This life-saving initiative was voluntarily implemented because no other institutions – governmental or corporate – were addressing this issue of national importance. The taxi industry keeps South Africa's economy going by transporting approximately 14 million people daily.
"Protecting these commuters and preventing unnecessary deaths is imperative, and Adopt-a-Safe-Passage has become a blueprint for how private initiatives can make a huge difference to the safety and wellbeing of our citizens."
Earlier, Briefly.co.za reported how while FNB and the Bridge Taxi Force have supported Ramaphosa's non-profit organisation, it hasn't stopped speculation that foul play is afoot.
Democratic Alliance shadow minister Leon Schreiber has called for transparency, highlighting the importance of disclosing how the project was funded:
"Did Ramaphosa's son get any state support in any form for this? Who are the "media alliance partners" he brags about in the advert? According to the company, SDI Force 'has also been involved in providing food parcels and personal protective equipment'. We need more clarity."
Enjoyed reading our story? Download BRIEFLY's news app on Google Play now and stay up-to-date with major South African news!
Source: Briefly.co.za