Beirut update: Ammonium nitrate fertiliser linked to explosion
- Lebanon's prime minister, Hassan Diab, has blamed the recent disaster in Beirut on the explosion of 2,700 tonnes of ammonium nitrate
- Ammonium nitrate can be used to make fertilisers and explosives
- Major General Abbas Ibrahim of Lebanon's General Security Directorate said highly explosive materials had been confiscated
- The death toll rose overnight to at least 100 and more than 4 000 people were wounded
PAY ATTENTION: Click "See First" under the "Following" tab to see Briefly.co.za News on your News Feed!
Rescue workers are still digging through rubble searching for survivors as fires continued to burn in the Lebanese capital where an explosion killed more than 100 and injured thousands.
While the cause of the explosion was not immediately clear, Lebanon's Internal Security Chief Abbas Ibrahim said the site of the blast had been housing highly explosive materials.
Lebanon's prime minister, Hassan Diab, blamed the catastrophe on the explosion of 2 700 tonnes of ammonium nitrate, which can be used to make fertilisers and explosives.
Major General Abbas Ibrahim also said the massive blast that shook Beirut's port was caused by confiscated high explosive materials.
READ ALSO: Explainer: Andile Ramaphosa's Covid-19 relief projects under SDI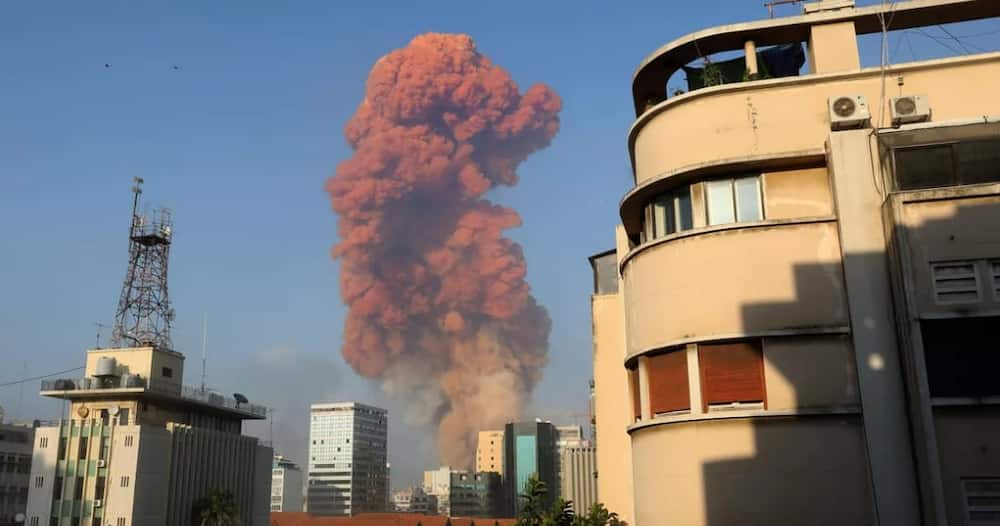 READ ALSO: ANC issues apology over lockdown violations at Mlangeni's funeral
A Red Cross official was quoted by the country's Daily Star stating that the death toll rose overnight to at least 100 and that more than 4 000 people had been wounded.
Beirut governor Marwan Abboud later told a local radio station that more than 100 people remain missing, including several firefighters
"Beirut has never gone through what it went through on Tuesday," Abboud said.
"It would be naive to describe such an explosion as due to fireworks," Ibrahim told Lebanese TV.
As is common after major disasters, there has been some confusion over the death toll. A named Red Cross official was earlier quoted by local broadcasters saying that the number of fatalities was expected to reach 100.
However, it now appears that the number of deaths has passed this grim milestone.
Nearly all the windows along one popular commercial strip had been blown out and the street was littered with glass, rubble and cars that had slammed into each other after the blast.
The buildings that remained standing in the blast area looked as though they had been skinned, leaving only hulking skeletons.
READ ALSO: Covid-19 update: WHO team to arrive in SA, Consol halts R1.5bn project
READ ALSO: Katy Perry and Kevin Hart stand up for their friend Ellen DeGeneres
READ ALSO: Tanzanian miner sells 3 Tanzanite stones for a combined $5.4 million
READ ALSO: Chasing cows, not skirts: Man shows off the whip he uses on farm
READ ALSO: Local hero: Girl asks for baby goods to donate instead of birthday gifts
READ ALSO: Emir Abdelkader El Djezairi: City in Iowa named after Algerian military leader
READ ALSO: Michelle Obama sends Barack sweet birthday message: "My favourite guy"
Meanwhile, Briefly.co.za earlier reported that two huge explosions rocked the Lebanese capital Beirut on Tuesday, August 4, killing and injuring dozens of people, shaking buildings and sending huge plumes of smoke into the sky.
It is not yet clear what caused the explosion in the city's port region but videos posted online showed a large mushroom cloud and destroyed buildings.
A report by BBC showed Lebanon's internal security chief saying the blast happened in an area housing highly explosive materials.
Lebanon's Prime Minister Hasan Diab declared Wednesday, 5 August a day of mourning. He also said that those responsible for the explosion at the dangerous warehouse at the port area would pay the price.
"I promise you that this catastrophe will not pass without accountability... Those responsible will pay the price," he said in a televised speech.
"Facts about this dangerous warehouse that has been there since 2014 will be announced and I will not pre-empt the investigations," he added.
Further reports indicated every shop in the Hamra commercial district had sustained damage, with entire shopfronts destroyed, windows shattered and many cars wrecked. Lebanese Health Minister Hamad Hasan spoke of many injuries and extensive damage and the Lebanese Red Cross says hundreds of people had been taken to hospital.
Sections of local media reported the blasts may have been an accident.
Among those feared dead is the secretary-general of the Kataeb political party, Nazar Najarian, according to Lebanon state-run NNA news. Najarian is reported to have been in his office when the explosion happened. He died after being critically injured.
Enjoyed reading our story? Download BRIEFLY's news app on Google Play now and stay up-to-date with major South African news!
Source: Briefly.co.za